Red Hair Is Summer 2023's Hottest Hue - How To Find The Right Shade For You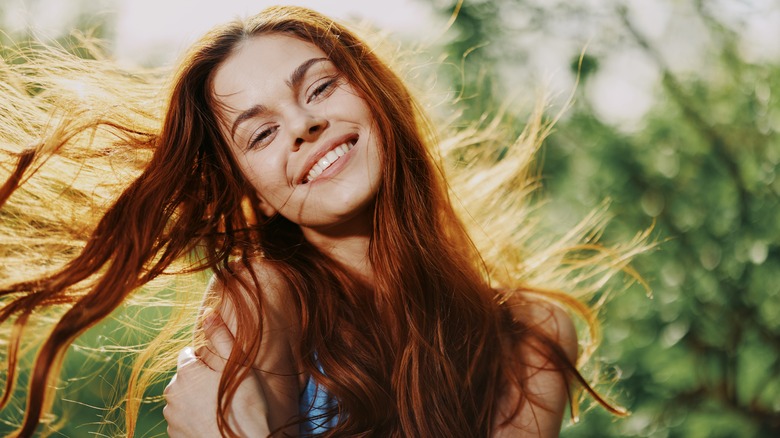 ShotPrime Studio/Shutterstock
Red hair is officially back, and this time, it's taking over summer. Though red hair has traditionally been seen as more of an autumn/winter hair trend, this time, it's here for the sun as a summer 2023 hair trend — and it doesn't look like it's going away anytime soon. "Red is in," celebrity hairstylist and owner of Adam Reed London, Adam Reed, told Express, noting that copper tresses in particular are having a bit of a renaissance. "I'm so happy to see people coming in to ask for copper hair, and we're now seeing everything from cooler-based coppers to really bright vibrant fake coppers," Reed shared.
But there are a few things to consider before going copper, or any other shade of red for that matter. Not every take on the bold hair trend will necessarily work for everyone, and with a tress transformation that requires such commitment, you want to make sure you get your shade right to start living your best ravishing red life.
Work with your skin's undertone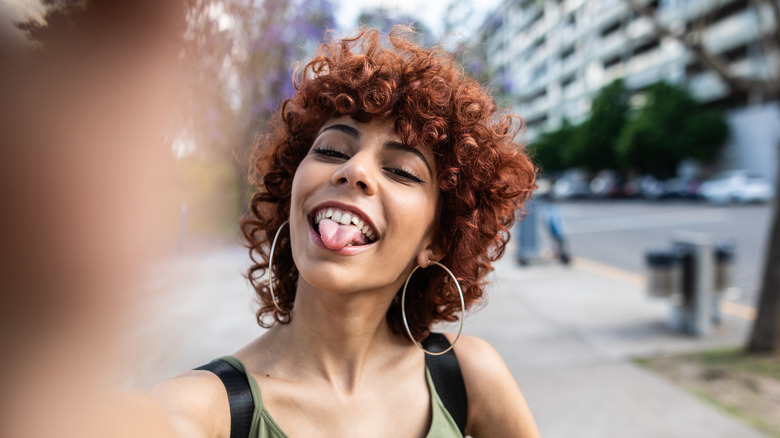 Miodrag Ignjatovic/Getty Images
One of the most important steps to finding out which color red will look best on you is by working out your undertone. As a general rule of thumb, you can look at your veins to find out what undertone you have. Those who have more blue or purple veins will have cooler undertoned skin, anyone with more green veins will probably have warm undertones, and those whose veins are a mixture of the two, or even seemingly match the skin, will have a neutral undertone.
Cooler undertoned people should gravitate toward lighter pinkier reds, while those with warmer undertones will suit more golden tones or coppers. Those working with neutral undertones in their skin are the super lucky ones though, as almost any red can work with their undertones. However, remember there are no set rules when it comes to your hair, only suggestions. If it's your dream to rock super bright red locks but your skin tone suggests a light red would work better for you, don't let anyone stop you from doing what you want!
Consider your existing hair color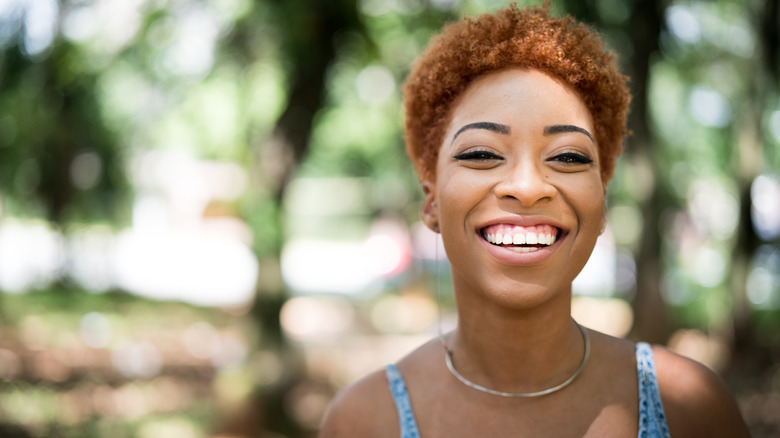 Fg Trade/Getty Images
Another thing to consider when turning red is how much time and effort you actually want to put into the process because starting out with certain hair colors will make the transformation much more difficult for some. 
For example, if you have dark hair and are hoping for a single salon trip without the hassle of stripping your hair before applying the red dye, the right shade for you will probably be something darker like a copper red that can blend with your existing tresses. If your hair is already on the lighter side, then going red will be much easier for you, which means you can play with more vivid shades without having to spend too many hours in the salon chair. 
Look at your eyes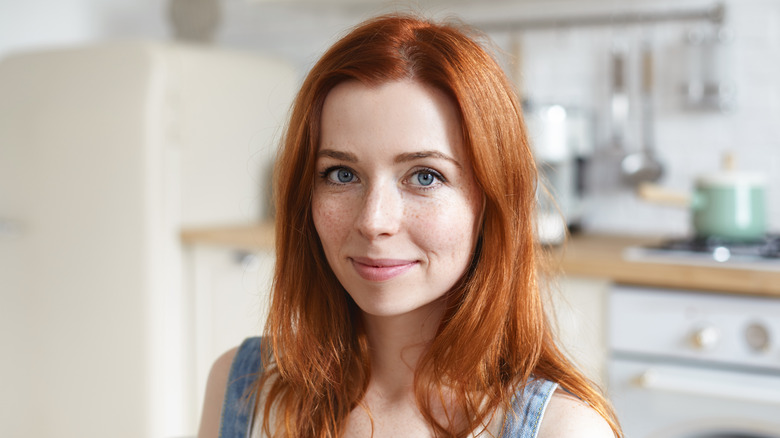 Shurkin_son/Getty Images
What color red will work best for you can also be found out by looking at your eyes. If you have green eyes, you may want to opt for auburn when rocking red. That's because red is the opposite of green on the color wheel, which means the two are complementary colors. Blue-eyed people, meanwhile, will probably best suit a more strawberry blonde. Additionally, if your blue eyes are on the lighter side, a deep red or red-ish purple will really work to bring out those peepers. Looking for something to complement brown eyes? Then going for a red-brown will really bring attention to your eye's warmer tones.
It's those with hazel eyes that will probably have the most red tones to play with here, though. A chestnut red will really bring out shades of the amber, blue, and green tones in hazel eyes, while a more orangey red copper tone will do the same, as it will contrast with hazel to really bring the focus to the blues and greens.
Temporarily try on different shades first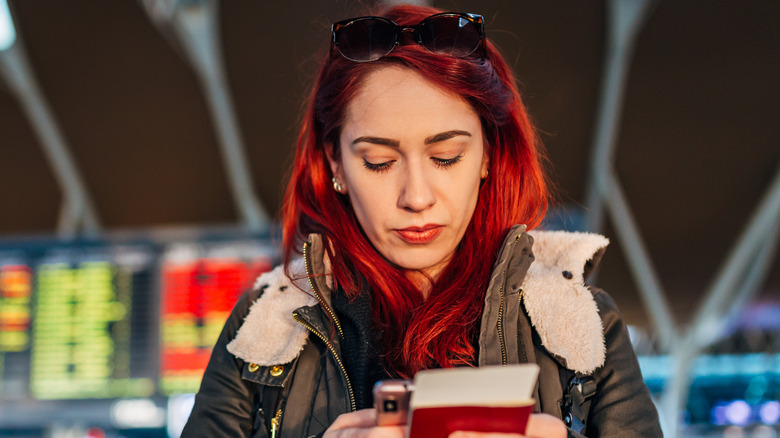 Kosamtu/Getty Images
Changing your hair color can be scarier than it seems, particularly if it's not something you've ever tried before. There are a few ways you can try a practice run before diving in, though. Firstly, if you have lighter hair, try a semi-permanent color that will wash out before taking the leap. Then you can try a few different reds before landing on your permanent shade. This may be more difficult for people with darker locks, as it can be difficult to get non-permanent colors to show up, but it could still be worth a try to give you an idea of what it might look like.
Another way to try out different reds before committing? Pay a visit to a wig store. This will give you the opportunity to see exactly how different tones will look on you without actually having to change your own hair color at all. But if a wig trip isn't for you, go online. A number of hair brands offer online tools that let you try on different hair colors from home, including L'Oréal's Virtual Hair Color Try On.
Remember that red can be high maintenance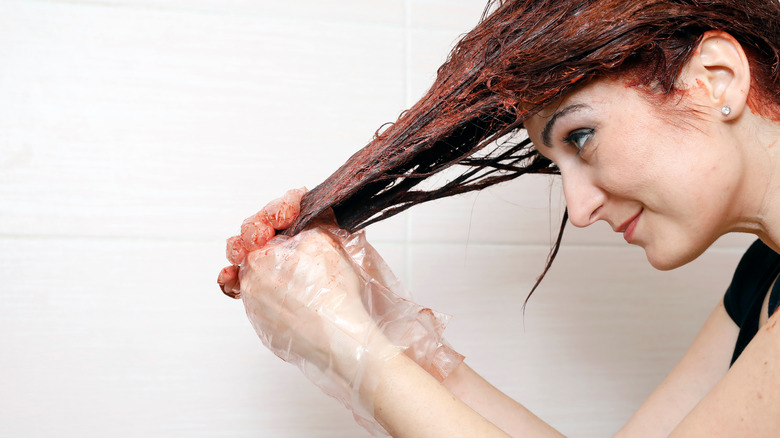 ID stock photography/Shutterstock
Red hair can actually be pretty high maintenance, so you'll really want to think about what shade you choose in regard to how much time and effort you're willing to put into the upkeep. Bright and light reds require the most maintenance so if you don't really want to change up your hair routine, you might want to opt for something darker instead.
The same can be said for the prep that initially goes into going red as well. If you're dealing with hair damage, not only could color be less likely to take, but it could also fade a lot quicker. This means that going for a bright and vibrant red could be a bit of a waste of time until your hair is in a better condition to receive the color.