Here's How To Find Your Perfect Lipstick Match Based On Your Skin Tone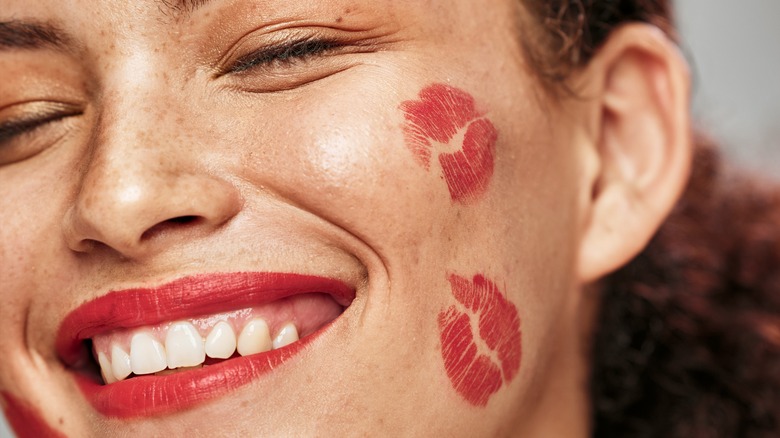 PeopleImages.com - Yuri A/Shutterstock
We may receive a commission on purchases made from links.
Finding your perfect lipstick shade can be tougher than you think. Of course, whatever shade you go for is a personal decision and should always be dependent on what you like, but knowing what will really suit you can come with so many variables beyond just which color you naturally gravitate toward.
One way to really make sure you find the go-to shade that will see you through all outfits and seasons is to choose your lipstick based on your skin tone. The first step? Learn about your skin's undertone. As makeup artist and Make-Up Therapy founder Tara Dowburd told Reader's Digest, "A lip color should enhance your beauty and compliment your skin's undertone, so that you are wearing lipstick instead of it wearing you." Just as you would before choosing your perfect foundation shade, there are a few ways you can work out your undertone, and one of them involves looking at your veins. Look at the back of your hands or inside your wrists, and if you have more blue/purple veins, you have cool undertones. Those with more predominantly green tones have a warmer undertone. Neutral undertoned people will have a mixture of both.
Once you've worked that out, it should narrow things down quite a lot, as you can then match the undertone of the lipstick to yours. But how do you do that? Let Women.com break it down.
Match your lipstick to your skintone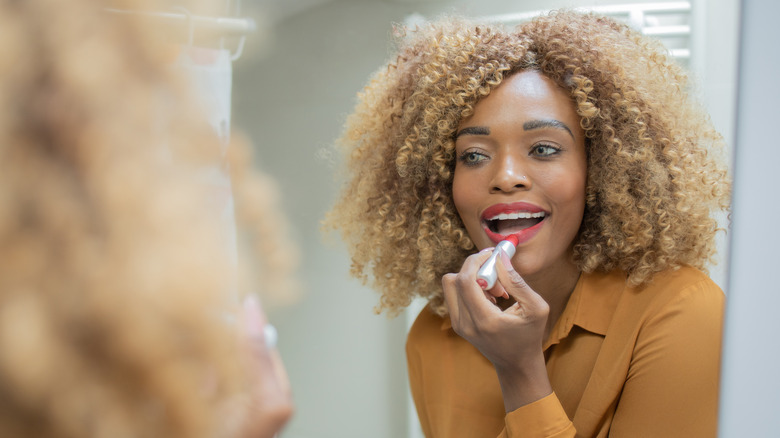 Rockaa/Getty Images
Have a cooler undertone? Then lipstick shades with blue or purple will work best for you. We don't mean you should necessarily opt for a blue or purple lipstick though (unless you want to, of course!). Instead, look at the actual tone of the lipstick. When looking for neutral lipstick shades, keep an eye out for hits of mauve and purple tones, while, when you're looking to go bolder with a red lip, berry shades and cherry reds will be your best bet. As for pinks, opt for a nude rose or a dusty shade to really complement your skin.
It sounds obvious, but it always bears repeating. If you have warmer undertones, you'll want to seek out warmer undertones in your lipstick. This applies to people who have olive skin or yellow undertones. The best colors here? Red with more orange in them, terra-cotta shades, and fiery reds.
If all else fails, go neutral. If you're not sure what your undertones are or just want to play it a little safer, we would recommend choosing your lipstick shade based on neutral undertones. In this case, if you're unsure or know your undertones are neutral, when you're looking for brown or neutral shades, something with gold or chocolate brown will be a solid choice. For those red lips days, opt for corals and cranberry shades, while more of a peachy tone will work on pink days.
Try the paper theory to work out what undertone your lipstick has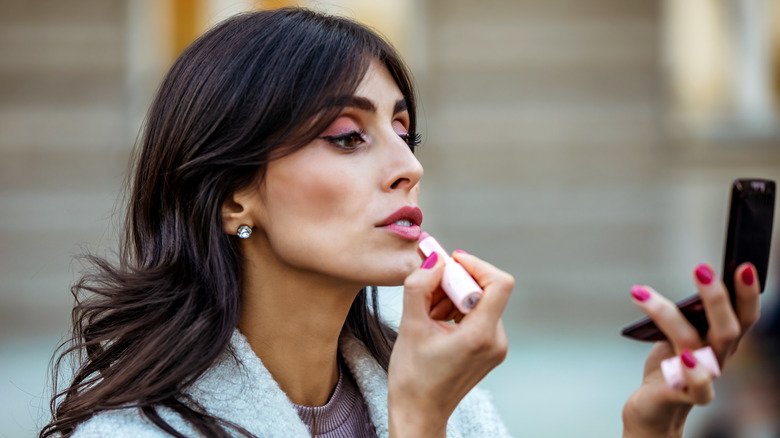 Realpeoplegroup/Getty Images
If you're struggling to work out what lipstick has what undertone, grab a red piece of paper and a blue piece of paper. Put the lipstick on the red paper and then on the blue paper, and see which one it blends the best with. If it's red, the shade's probably going to be a no-go for you super cool undertones folk, but it will be a green light for those with warm undertones or most neutral undertoned people. This method can also be another way to find out your own undertone if you're still unsure after the vein test. Put the papers up to your face and work out if the red or blue suits you better.
If all that sounds a little too advanced for you though, or you just want to know the exact shade that will work for you, let the experts or technology do the work! Of course, you can always head into a makeup store to ask the experts what they think will suit you, or go online to work it out for yourself. A number of makeup brands have tools to pick your ideal shade, including MAC, which has an online lipstick shade finder tool that lets you filter by skin tone, finish, and color. Charlotte Tilbury has a similar feature, helping you find your ideal lipstick by choosing a model who shares your physical characteristics.
Only test lipstick on your lips in natural lighting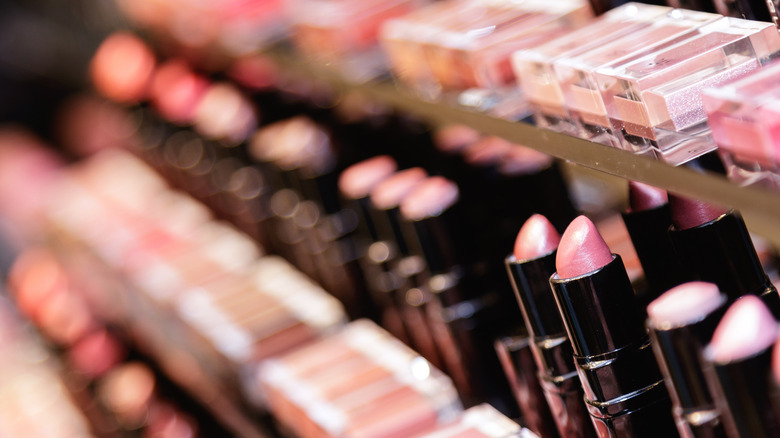 Jun/Getty Images
One of the best tips for working out what the undertone of a lipstick is and how it will look on you involves viewing it in natural light and only ever on your lips. That means avoiding the longtime trend of swatching colors on your hand or arm. Though it may feel natural to compare it to your skin tone that way, it's not always going to give you the most accurate representation of what it will look like. That's because a hand or arm swatch won't take into consideration the natural color of your lips or the fact that the skin on your face can be a slightly different shade (especially if you're a fan of self-tan or apply SPF on your face daily, whether it's winter or summer). "A lipstick color will look different on various skin tones, because of the undertone of your skin color, so you want to try the lipstick on your lips (nowhere else) and in the best natural light possible," makeup expert Tara Dowburd confirmed to Reader's Digest.
We'd suggest getting new testers of lipsticks you've been considering (never put the makeup store tester on your lips because of bacteria) and then look at them on your lips outside or by a window. All too often in makeup stores, lipstick can look totally different because of the fluorescent lighting, which can also change the appearance of your skin tone.