How Facial Acupuncture Can Transform Your Skin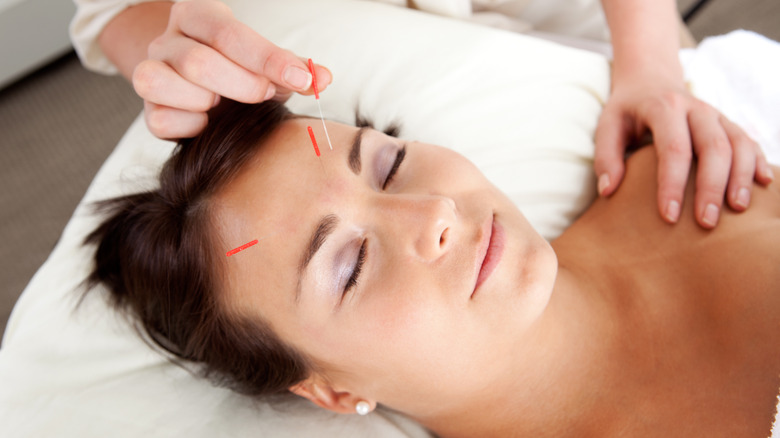 Tyler Olson/Shutterstock
While dermal fillers, Botox, and surgical facelifts aren't going anywhere, after a good 3,500-year run behind the scenes in China, acupuncture is having its moment and becoming a more accepted, mainstream treatment, according to the Cleveland Clinic. Facial acupuncture in particular, also known as cosmetic acupuncture, has recently come to prominence. Per Healthline, its purpose is to restore greater blood flow to the face, increase circulation, stimulate the lymphatic system, and move the qi, or energy, around for greater health. The treatments are meant to de-puff the skin, brighten the complexion, and minimize fine lines and wrinkles with none of the side effects or hazards associated with injecting foreign substances into your face. 
Although it's not universally covered by health insurance in the U.S., Medicare started covering acupuncture (for chronic back pain) in 2020, according to Forbes. Earlier, the treatment was only seen as creating a placebo effect. The University of California at Berkeley reports that acupuncture is now considered a holistic, complementary medicine that's been proven effective for pain relief in certain conditions. In any case, if you want the beautification of facial acupuncture but needles scare you, there are also benefits to using gua sha — it might be a great alternative.
What happens in a facial acupuncture session?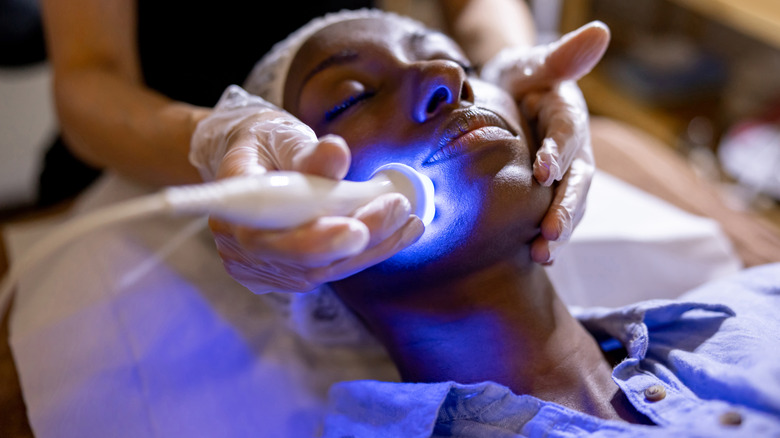 Andresr/Getty Images
Acupuncturists must be licensed, so make sure to include this in your research as you look for the right practitioner. As with choosing anyone intimately involved with your well-being, make sure you also feel personally comfortable with the acupuncturist.
You might find the first step of a facial acupuncture session includes a deep facial cleansing. The practitioner then inserts between 20 and 50 tiny needles into the face, jaw, around the hairline, lightly near the eyes, and on the neck while the client lies still for anywhere from 20 to 45 minutes. Some of these details will vary between practitioners. Depending on what's offered, you might be able to get light therapy, a facial massage, or a cupping session afterward to further increase blood flow and oxygenation, according to InStyle.
When you do a vigorous weight-lifting workout at the gym or at home with smaller weights, you create micro-tears in your muscles. A good night's sleep is key to helping with muscle repair — that's how you get stronger. In the same way, the needles create microtrauma on your face that initiates the anti-inflammatory healing response of your body.
Benefits and drawbacks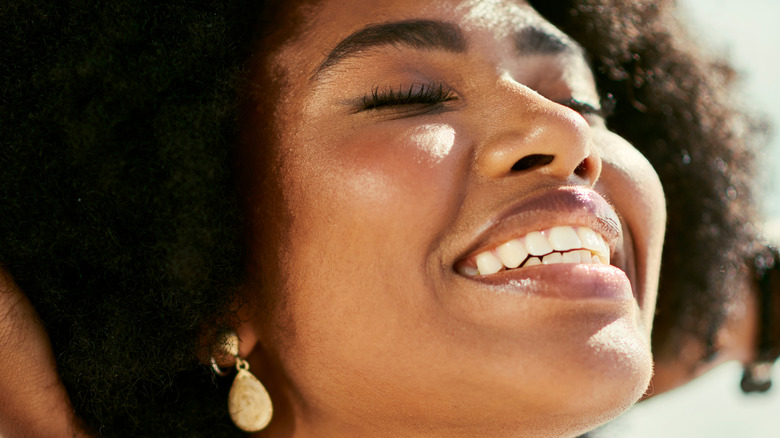 Delmaine Donson/Getty Images
Some people radically change their look with fillers and medical procedures, while others use more low-key techniques, like micro-current, and yet others choose a buffet of all of these. Facial acupuncture requires multiple sessions, at least five (per this Effects of Facial Cosmetic Acupuncture study), but usually somewhere between six and 12. Then, expect a once-monthly maintenance regime.
You might need to readjust your mindset to get the most benefit from a holistic approach. This is not a quick fix that dramatically changes how you look, like a dermal filler, but it is slower, healthier, and less risky than other procedures. It uses the body's own internal healing processes, rather than a substance or surgery. Per Medical News Today, you're nourishing the face and neck with increased blood flow, reducing jaw tension, and improving elasticity and texture. And remember: It's never too early to start treating your neck. 
Acupuncturist Amanda Beisel shared with Healthline her recommendation that clients get a full-body treatment and not just the face alone. "If you were just going to put a large number of needles in the face and not the full body, this would result in energy congestion in the face," says Beisel. Check with your practitioner. Facial acupuncture is not for people who are pregnant, on blood thinners, have blood disorders, uncontrolled Type 2 diabetes, or have a history of epilepsy. If you're allergic to silicone, note that most needles are coated with it. Some people do experience bruising.