Twitter's Reaction To Keke Palmer Being Outfit-Shamed Proves Just How Far We've Come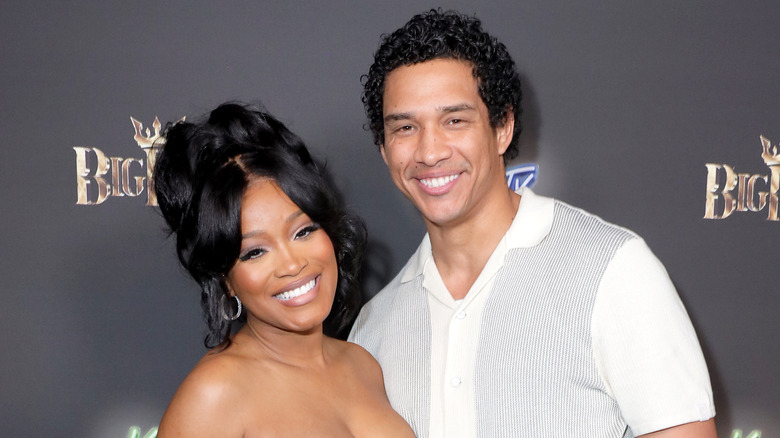 Rebecca Sapp/Getty Images
Keke Palmer's boyfriend, Darius Jackson, publicly shamed his partner, and regardless of whether he learned his lesson or not, he's definitely regretting his words right about now. It all started when a tweet from RNB RADAR showed an image of Usher serenading Palmer at his concert. In the photo, Palmer looks beyond amazing in a body-hugging dress. We find it pretty shocking that Jackson could see Palmer in this dress and think she looks anything short of stunning, but not only did he have a problem with the ensemble, he chose to air his grievances on the internet. To quote Julia Roberts in "Pretty Woman," "Big mistake. Big. Huge!" And, Twitter had no problem telling him just how big his mistake was.
Jackson retweeted the image with the caption, "It's the outfit tho.. you a mom." This take made us feel like we were transported back to 1950, but unfortunately, it can sometimes seem like we've stepped into a time machine when a man feels insecure or has low self-esteem. Luckily, these days, one cannot simply mom-shame and outfit-shame your partner online and get away with it. Yet, when folks pushed back against Jackson's statements, he doubled down and made things even worse, tweeting, "We live in a generation where a man of the family doesn't want the wife & mother to his kids to showcase booty cheeks to please others & he gets told how much of a hater he is." He has since deleted his Twitter account.
Darius Jackson's statements are disheartening, but the internet's response gives us hope
While Darius Jackson's comments and the public way he chose to share them made plenty of people feel uncomfortable, the internet swooped in to tell him that he was in the wrong. Regardless of how Jackson chose to communicate his grievance, his take would have been unacceptable. Yet, the pushback feels especially like a victory, since sharing this take publicly was clearly an attempt to gain the support of others and indirectly encourage the internet to bash Keke Palmer's outfit choice. Jackson didn't, however, get his wish, and this fact gives us hope. The commenters even included men agreeing that women should all be allowed to wear whatever they want and that becoming a mother has no bearing on how you can and cannot dress. 
In the past, everyone — women included — would have hopped onto Jackson's statement to shame Palmer. It's clear based on this instance, though, that while some men's weak egos can make us feel like it's the '50s, again, we're actually far from it. In fact, we've come a long way in just the past few years. The utterly strange and pervasive mom-shaming trend has had the public trashing moms like Beyoncé, Cardi B, and Jenna Dewan-Tatum as recently as 2019. So, while comments like Jackson's may make us feel like we're taking a step back, it's clear that, as a society, we've actually come a very long way.