Don't Count Out A Good Hair Mousse - It's More Versatile Than You Think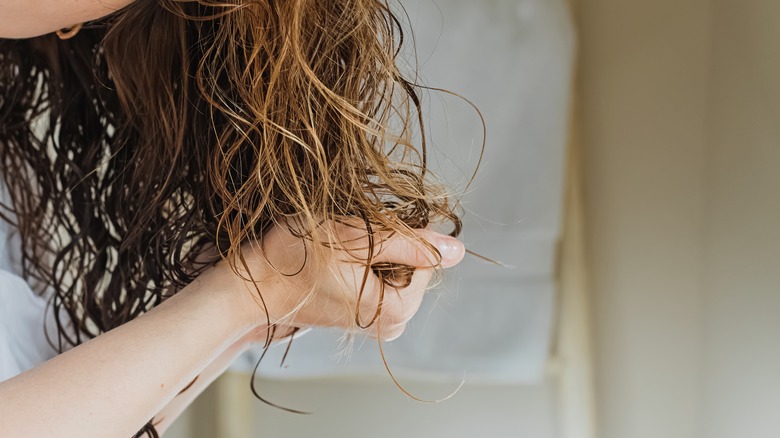 Chiociolla/Shutterstock
We may receive a commission on purchases made from links.
If you're into beauty tips and tricks, you might have already discovered the best way to maintain volume throughout the day, a go-to heatless curls hack, or different ways to restore your natural curl pattern. Another fabulous hair styling solution? Mousse. Much like gel, hair mousse has garnered a reputation for making hair crunchy and stiff. But with a good mousse and the right techniques, you won't have to worry about crunchy tresses.
Whether you're looking for volume, curl definition, or a perfect blowout, hair mousse can address a variety of concerns. According to hairstylist Larry King, "Hair mousse was first created around the '60s with the idea to create maximum volume to hair," he explained to Who What Wear. Since then, mousse has served as a versatile foam that can help shape, volumize, and hold hair (particularly for those of us with curls). The popularity and regular use of hair mousse continue to skyrocket, yet few have truly mastered the method for a perfect mousse hairdo. If you're one of the many people who feel lost when it comes to mousse, we've got you covered.
Which mousse to choose for the best results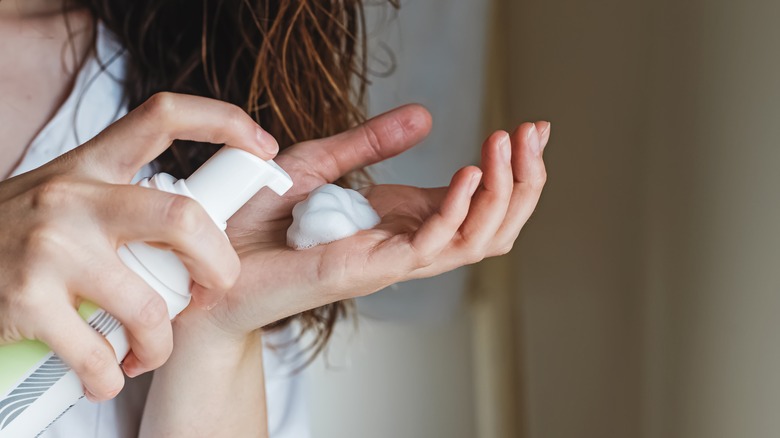 Chiociolla/Shutterstock
Rather than grabbing any mousse on the rack, the new wave of mousse products delivers the best results, especially if you've struggled with mousse in the past. For example, companies like Not Your Mother's, Garnier, and Amika are just a few brands that have modernized their mousse products to address today's styles, concerns, and climates. Many of these products are also sustainably sourced, so you don't have to sacrifice environmental safety for perfectly bouncy hair.
Modern hair mousse is also effective for color-treated hair, which is prone to brassy or dry-looking results if treated incorrectly. If you're a woman or femme-identifying person of color, you might have further hair concerns that aren't addressed by many products on the market. Thankfully, more brands are coming to the forefront of the hair movement, like Shea Moisture, Camille Rose, and The Doux, which are just a few BIPOC-owned brands that are sustainable, inclusive, and effective.
It's great for thin or fine hair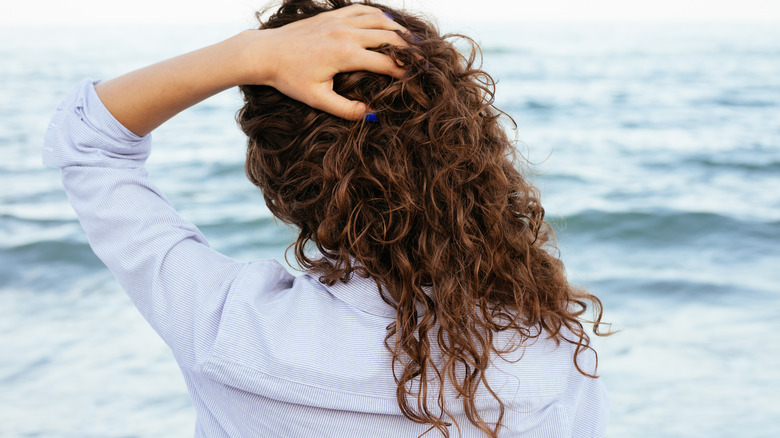 Iprogressman/Getty Images
Since mousse combines a wide array of benefits into a foamy cream, it can help address a variety of hair concerns. Thin or fine hair has some of the best results when paired with the right mousse, allowing hair to lift, bounce, and stay in place all day. If you've tried a volumizing spray or thickening shampoo and nothing seems to work, a good mousse might save the day. The unique formula of mousse helps volume build directly from the roots, so you're not held down by the weight of a heavy product.
When choosing the perfect mousse for thin hair, you'll want to avoid ingredients that contain silicone, parabens, sulfates, and alcohol that can make your hair dry and more prone to breakage. This JVN Volumizing Foam is a great option and also contains biotin to promote thickness. After applying the product, you can either blow or air dry. You can also apply before styling hair with heatless products, like finger curling or styrofoam curling rods.
How to effectively apply hair mousse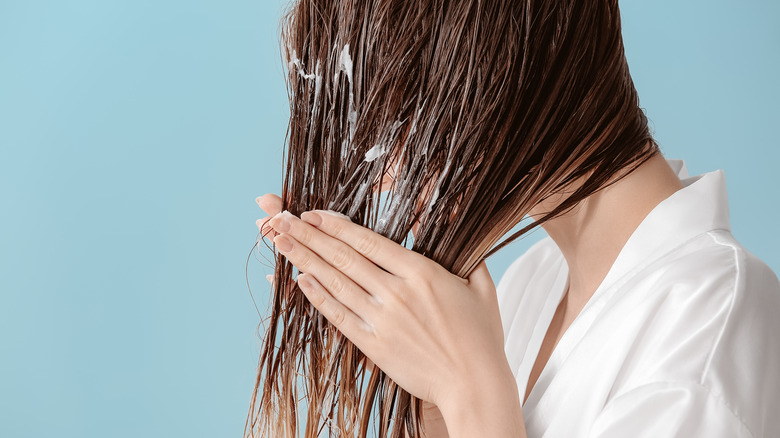 Pixel-Shot/Shutterstock
Since we've filled you in on finding the best mousse for your hair, let's talk about how to use it. The best time to apply mousse is after a shower, as you'll want to use it on damp hair. On non-wash days, you can also just spray your hair with water to achieve the desired dampness. Then, apply a golf-sized amount of foam to your hair – although how much product you use can vary depending on hair length and density. 
You can start at the ends and work your way up to the crown, making sure the product is thoroughly worked into each section of hair. Depending on your hair type, you can follow up by brushing the hair out or scrunching to shape curls to your liking. The last step depends on how you typically manage your hair, whether that means using a blow dryer, or air drying your hair. And voilà! Perfectly styled tresses courtesy of mousse.