Here's What Pimple Patches Can And Can't Do For Your Skin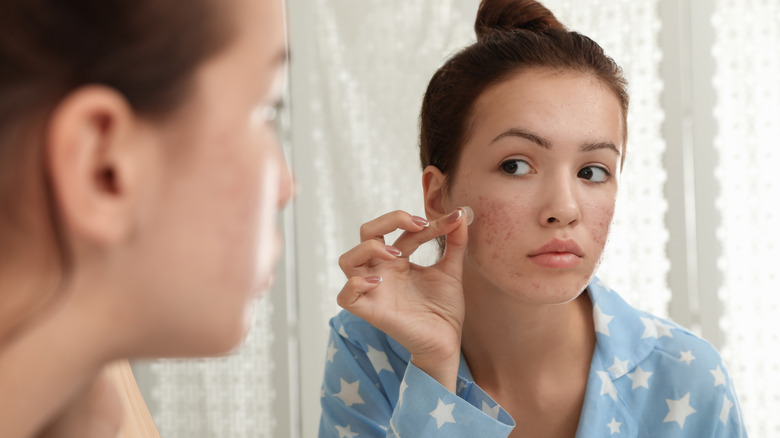 New Africa/Shutterstock
Pimple patches have become the hot new thing in acne treatment over the past few years. You may have seen social media ads or branded testimonials preaching about different products that all claim to do the same thing: break down and close open acne spots. This is achieved through a polymer called hydrocolloid, which Healthline says can also be used to treat open wounds. In fact, it's only been in recent years that studies have shown hydrocolloids' effectiveness in treating acne on normal or combination skin. 
However, the promises of pimple patches seem too good to be true, since most acne treatment products like scrubs and cleansers require regular application. There has been significant research into the effectiveness of hydrocolloids for acne-prone normal and combination skin types, including a 2021 trial from Johnson & Johnson. What this means is that, yes, pimple patches can actually help alleviate acne and pimples. 
That being said, there are some important things to take into consideration before you go all in on these patches. Those with sensitive skin may experience stinging or irritation upon application, according to WebMD. They also won't help with more severe acne issues such as cystic acne. Regardless, if you have normal or slightly oily skin and need a case-by-case acne treatment, hydrocolloid pimple patches could be for you.
How pimple patches work, and what they can do for you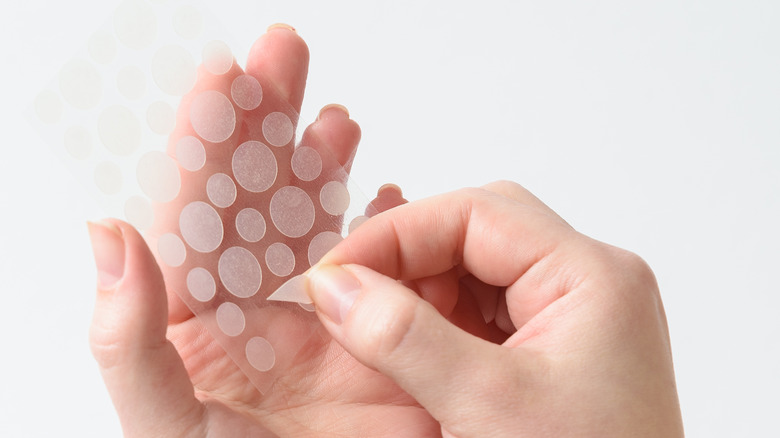 Rabizo Anatolii/Shutterstock
If you're wondering how pimple patches are actually effective at reducing your acne, here's the science behind them. According to dermatologist Debra Jaliman, the hydrocolloid sucks up the clogged fluids in the affected pores. When discussing this with Everyday Health, she explained that the dirt and impurities from these fluids are sucked out from the infected pore.
"It then converts those impurities into a gel-like substance that sticks to the patch and is sealed away from the face," Dr. Jaliman explained to the website. 
Pimple patches don't have to be just for alleviating pre-existing pimples, either. Depending on the type of patch you get, they can also disinfect the open wound area using ingredients like salicylic acid. Not only that, but you can use them to prevent picking at developing pimples, or if you have a skin-picking habit that you want to break. For them to be the most effective, clean the pimple with a disinfectant before applying the patch with a pair of tweezers.
What pimple patches can't do, and what to do instead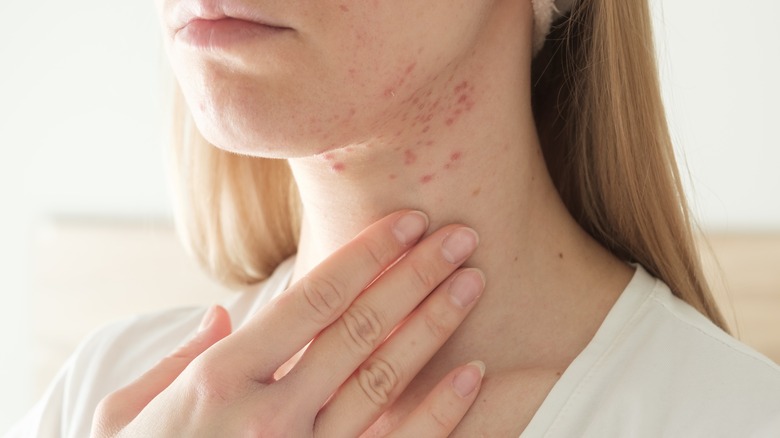 22Images Studio/Shutterstock
If you have mild or moderate acne, these products prove that big results come in small packages. The catch with pimple patches is that they won't work on all types of acne. The ingredients in these patches can't prevent another pimple from forming in the long run, so you'll still want to use your regular acne prevention routine after use. As previously mentioned, those with sensitive skin might also find that the areas where you placed each patch are drier or more sensitive to the touch than normal. 
However, the most important thing to consider is the type of acne you have. If you get the run-of-the-mill whiteheads or blackheads, give them a shot. That being said, if your acne is more cystic and chronic, the hydrocolloid is not effective in alleviating it. This is because cystic acne develops under the skin deeper than these patches can reach, according to Medical News Today. They are also more inflammatory and sensitive than other types of acne, and improper care of them can lead to scarring. For these more unique situations, it is recommended that you see a dermatologist for an acne treatment plan instead of purchasing pimple patches. These plans will likely include products with low doses of salicylic acid or benzoyl peroxide, along with moisturizers and cleansers without fragrance.