How To Maintain Your Confidence After A Bad Haircut (It's Happened To Us All)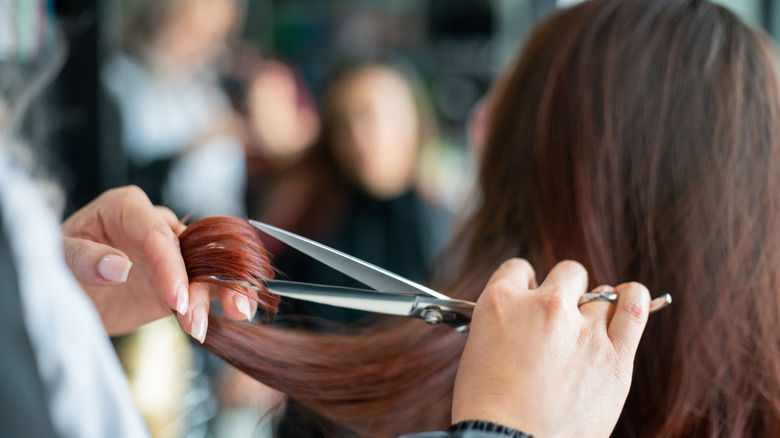 Hispanolistic/Getty Images
Getting your haircut is an important part of any beauty routine — the removal of dry, split ends helps keep your hair looking healthy. However, there are those times when you go in looking to try something new, whether it's a new cut or a new stylist, and things just don't go how you expected. While you can let your stylist know you're not happy with the cut, this can be intimidating to start a conversation about. You may not even notice you don't like the cut until you get home, and then what? Perhaps the cut just wasn't right for your hair type, or maybe you're not able to recreate the style as easily as the hairdresser did after cutting your locks.
Whatever the reason you're not happy, you're going to have to learn to adjust and accept this look while you wait for your hair to grow back out. In the meantime, we have some tips that will help increase your confidence and take your mind off that bad cut.
Don't take the scissors to it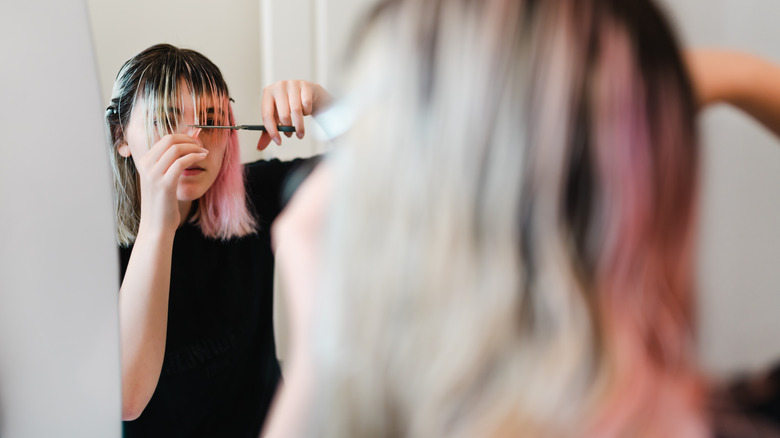 Kemal Yildirim/Getty Images
Before we get into what you should do to feel more confident with a less-than-stellar haircut, we want to point out one thing you shouldn't do — take the scissors to it yourself. Unless you're an experienced stylist, or you've watched a bazillion videos on cutting your own hair, cutting your own hair could leave you worse off than you were. 
Instead, consider heading to a different salon and getting it cut again. Let them know what you were going for in the first place and what you don't like about how the cut turned out. While you'll be paying for another haircut, you'll have the chance to get your cut looking more like you'd hoped. Of course, there are other things you can do to build your confidence and take away from your dislike of your hair, and we're about to dive into them.
Try a different style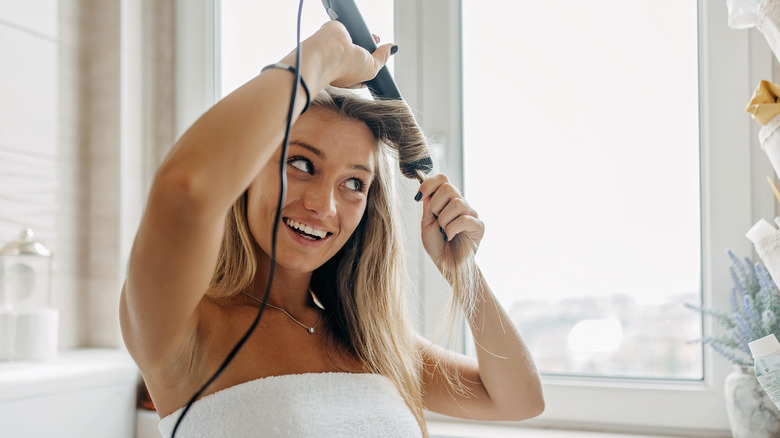 Supersizer/Getty Images
When it's time to head out into the world with your new cut, why not try some new styling techniques to see if you can create a look you love, for now anyway. There are all sorts of things you can do, from using some products that add volume, grabbing the hair gel to try something drastic, or perhaps letting it airdry and see what it does on its own.
Depending on the length of your cut, you may be able to use some styling tools to help give your hair more body, like using your curling iron. Try adding some waves or tighter curls. For a bob you don't like, try curling your ends under or out, to see which you like and if one of them offers you some more confidence. You can even try a new look every day until you find something that works for you until your hair starts to grow back out.
Go for a new color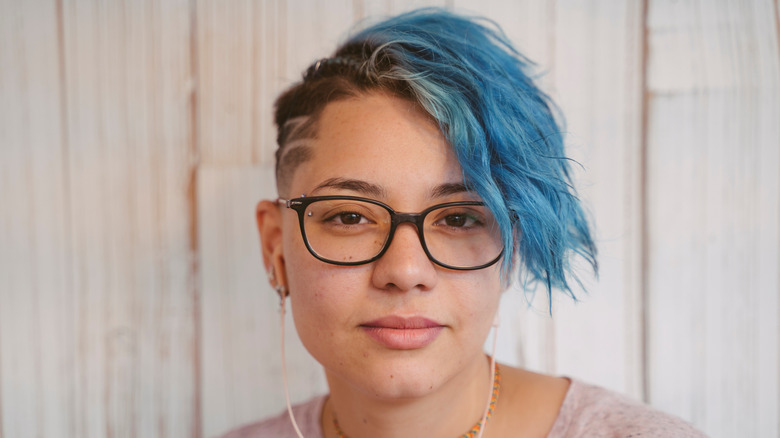 Beatriz Vera/Shutterstock
Sometimes all you need to boost your confidence and feel good about a disappointing haircut is to change your color. A fresh new hair color can do so much for our moods. If you're the brave type, try something like experimenting with blue hair. You can go with something natural, like trying out auburn or black, or go with a fun color. Remember — it's just hair. It will grow back out over time, and even a new color will start fading after a few washes.
If you're not brave enough to color your hair, and you want to alter your bad cut without doing any more cutting, you could try out some fun wigs. Wigs are an affordable option to try out all sorts of cuts and colors, and with a little collection of them, you can have a new look each day (and perhaps find exactly what you want for your next haircut once your hair grows back out again.
Play around with accessories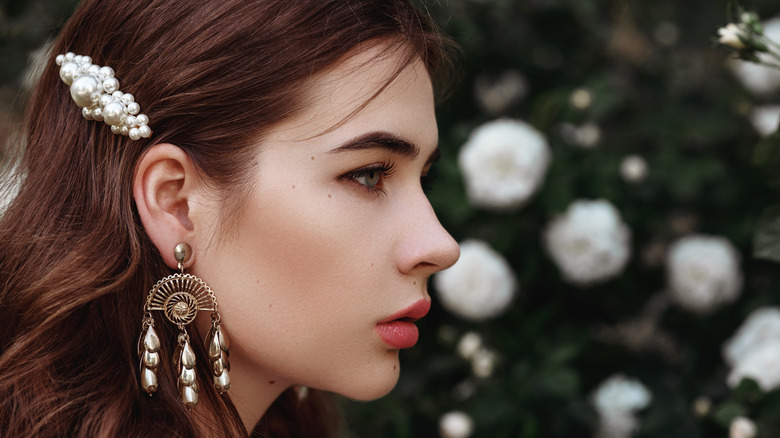 Victoria Chudinova/Shutterstock
Speaking of hair accessories like wigs, you don't have to deal with a bad haircut if you grab the right fun additions, whether you like bling or something more subdued. A strategically placed barrette can cover up a spot your dislike. Pull your hair back with a fun scrunchy that can take people's eyes off a crooked cut. Even a headband can make a huge difference, and there are so many options — from your basic plastic headband to a stylish scarf, or even something you've fashioned with pretty flowers that looks more like a crown.
Playing around with hair accessories can be fun, and it offers you quite a collection of new looks. Retro hair accessories are coming back in style this year as well, so why not grab your favorite banana clip or a big bow and rock that vintage look while boosting your confidence over a bad haircut that you've probably already forgotten about because you look fabulous?
Do something different with your makeup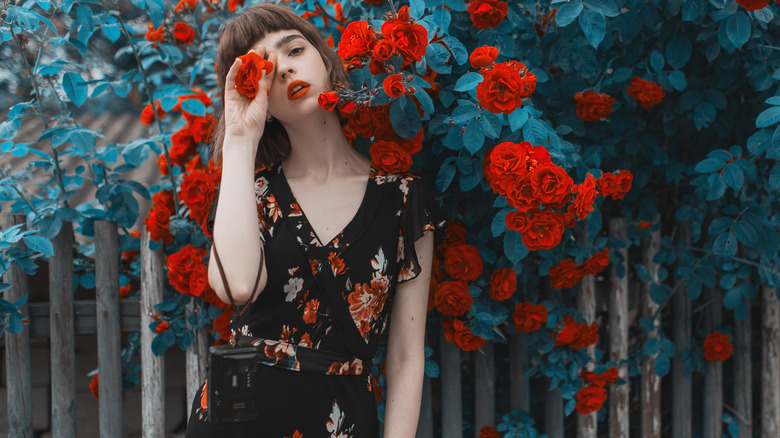 Iiievgeniy/Getty Images
We all know that the right makeup can change how we feel about ourselves, and it can change how you feel about that disappointing haircut too. Make your face the focal point with some bright red lips or some neon shades of lip color. With your lips standing out, no one will even notice your hair. Or, you could try some winged eyeliner or go for a smokey-eye look. Why not try something you've only dreamt of sporting in the past like a soft goth look? A completely new makeup look could be just what you need to make you feel like yourself again.
With the right makeup, you may even find that you suddenly like that botched haircut. Perhaps it was just what you needed to push you into an updated look, from head to face. Giving it time, it just may grow on you.