Tread Carefully With The Sea Salt Spray This Summer — It May Be Drying Your Hair Out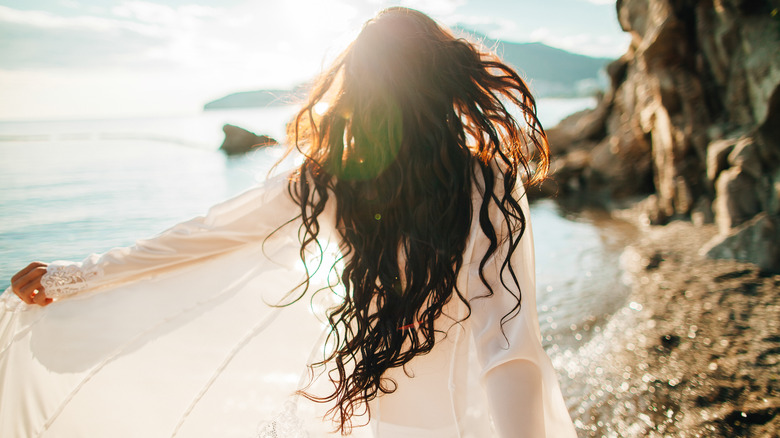 Shevtsovy/Getty Images
Sunny days mean plenty of time on the beach, but we all know you can get beach waves without setting foot in the water. One of the most popular ways to get the perfect beach hair is through the use of sea salt spray. It doesn't matter what hair type you have, sea salt spray brings something to the table, from giving you a naturally wavy look to adding texture to your hair. It can give lifeless hair more body and it sucks up grease making your dirty hair look a little cleaner without diving into the dry shampoo. Charles Worthington's Art Team Director Marc Trinder told Cosmopolitan "The slightly gritty texture they give the hair, dries in to encourage any movement or natural bend in the hair. Perfect for hair which has subtle soft kinks, a salt spray can be layered up depending how 'beachy' you want the result to be."
One of the ingredients in this go-to summer hair spritz is salt, and salt is known for drying things out. So, the question is — how safe is it to use your favorite sea salt spray? And how often should you use it?
What sea salt spray could be doing to your hair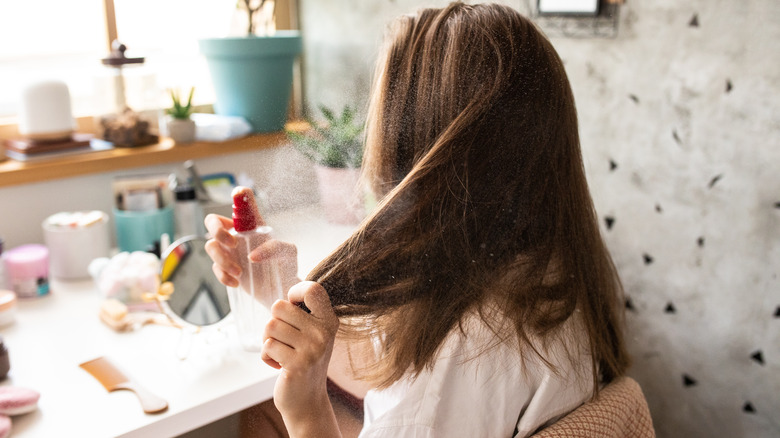 Cicy/Getty Images
Hairstylist Lana Grand told Ipsy "The most common salt spray gripe is the tendency to make hair feel dry and stiff when all you really want is the effortless tussle."  The salt has a tendency to strip moisture from your hair. If you already have dry hair, this can leave your hair looking frizzy instead of wavy. However, Grand added that "To combat that, some formulations now swap the salt for sugar, rice, or wheat proteins to give hair the body people crave without sucking away moisture."
Too much use of your sea salt spray, especially on hair that's already dry, can cause brittleness and potentially lead to breakage. It's the drying effects of the salt that gives the hair a thicker, wavier texture, though. If you want to keep using your sea salt spray, there are some things you can do to help protect your hair.
How to safely use sea salt spray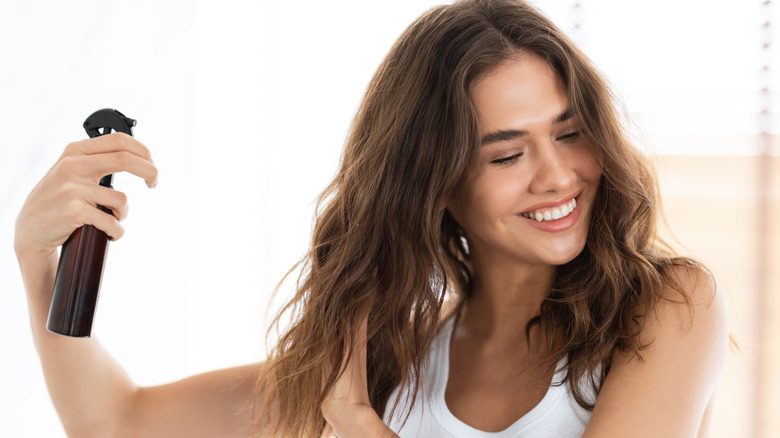 Prostock-studio/Shutterstock
If you're a fan of sea salt spray, there are some things you can do to help keep your hair from drying out too much or getting frizzy. Grand suggested to Ipsy that "Adding a moisturizing conditioner or leave-in spray is a great way to counteract the drying effect of sea salt sprays." This also gives your hair an extra protecting coat of moisture. 
Another option would be to limit how much salt spray you use. Celebrity hairstylist Brant Mayfield added that it's important to "Never spray too close to the hair and don't go overboard. It's meant to gently coat the hair, not to dampen it." If you're using too much salt spray it can dry your hair out even more. Whether you use it on damp hair so it spreads easier or dry hair to just get that messy look, you don't want to overdo it.