Your Guide To BIAB Nails, The Acrylic Alternative That Helps Promote Nail Growth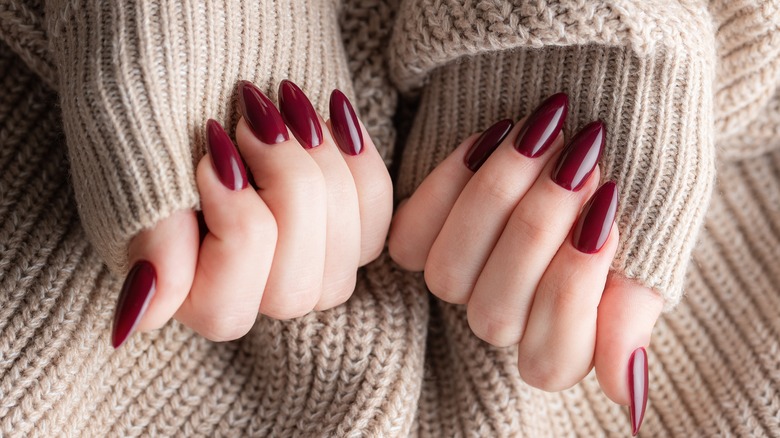 Olena Rudo/Shutterstock
For decades, there have been many nail services to choose from, such as acrylic, dip, or gel. However, a new innovative emerging nail technique has been taking social media by storm. BIAB nails, aka "Builder in a Bottle," is a type of polish formula that was invented by The Gel Bottle, a UK-based professional nail company.
But what exactly are BIAB nails? Giorgia Capella, the head educator at The Gel Bottle, told Glamour UK that it's a formula softer than acrylic, yet sturdier than gel or regular polish. The purpose of BIAB nails is to act as a layer over the natural nail which is then adhered via an LED or UV lamp (per Byrdie).
If you're looking to switch things up from your acrylics, this may be the perfect option for you. Here is everything you need to know about BIAB that may actually be your nail's best friend.
What are the benefits of BIAB nails?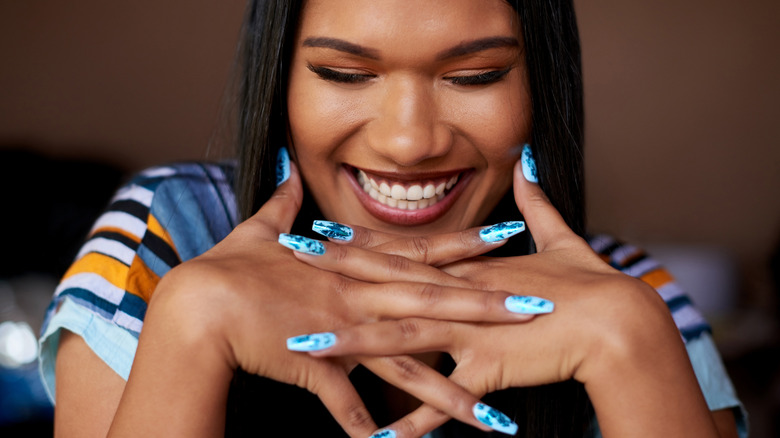 Tassii/Getty Images
The main element that makes BIAB stand out from other nail services is that it doesn't damage your nails as much as acrylic or dip. In fact, BIAB is actually healthy for your nails, promoting strength and growth. This is because, according to Giorgia Capella, the gentle BIAB formula creates a protective layer over your natural nail which helps to prevent breakage.
BIAB is also a very versatile option for your nail style needs. Not only does it come with an assortment of nude shades to choose from such as clear or pink, but you have multiple functional options when it comes to using BIAB as well. It can be used to create a lengthening tip, or it can be simply placed along your natural nail accompanied by gel polish or used on its own (via Refinery29).
If you're totally into the natural look, BIAB nails are for you. Because of BIAB's flexible consistency, you won't have to worry about your nails looking thick or lumpy. On top of that, BIAB is vegan and cruelty-free.
How are BIAB nails applied?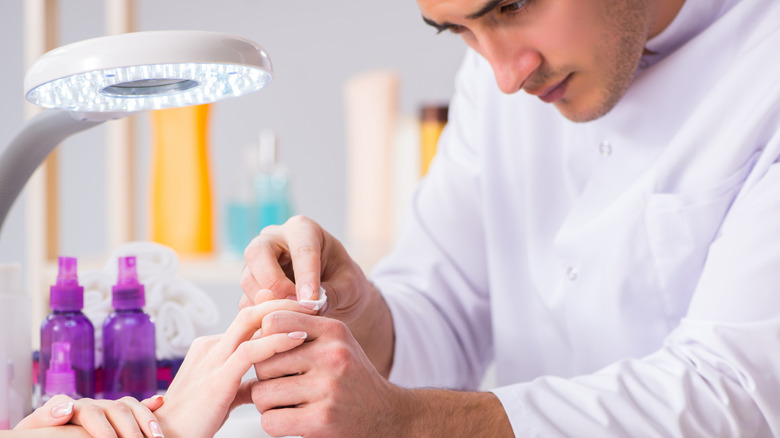 Elnur/Shutterstock
For your BIAB appointment, Glamour UK recommends that you carve out up to an hour and a half for the full experience. During this time, your manicurist will prep your nails with acetone and apply the base. For the next step, you can choose between a neutral or a bold BIAB color. You can also specify if you want the application done twice if opting for a more opaque tone. Your manicurist will spread out the BIAB evenly on each nail, refining the look afterward with alcohol for a glossy effect.
According to Byrdie, there are two main ways to apply BIAB nails: the "Perfect Form" and the "Fast Form". The difference between the two is that the perfect form involves putting the sculpting base beneath the nail, while for the fast form, the sculpting base is put on top of the nail. While perfect forming results in a more natural look, it's more time-consuming, so the method depends on the individual's preference.
How long do BIAB nails last?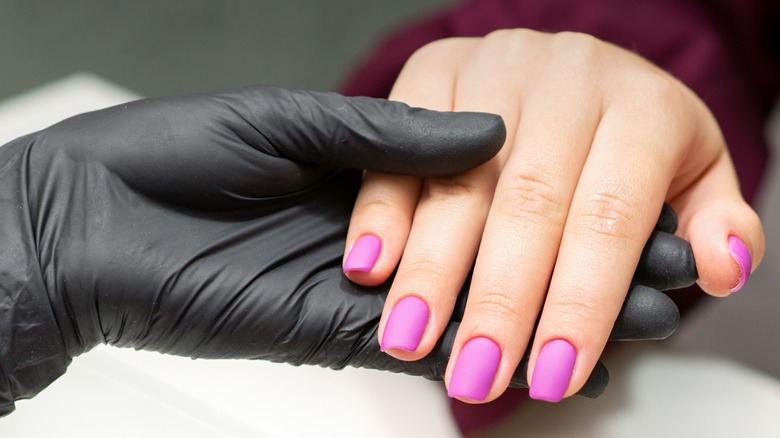 Michelle Aleksa/Shutterstock
In general, BIAB manicures last for around two to four weeks, depending on how you use your nails and how quickly they grow out. For maintenance, it's best to visit the salon for regular fills, but experts recommend a full removal and brand new set every three to four visits (via Glamour UK)
If you're looking to compare and contrast your nail care options, BIAB has a similar schedule to acrylics. With acrylics, you would also need a fill around every two to three weeks, with a brand new set being needed around every six to eight weeks.
Meanwhile, dip is a little more sturdy, lasting up to five weeks before you need a fill, but will cost you a pretty penny. When it comes to gel polish, you can also expect it to last for two to three weeks, but you won't be able to achieve any lengthening effects with just gel alone.
If you're looking to achieve length with your nails, then the tips on acrylic and dip will last longer and achieve a greater length than BIAB (via Woman & Home). If your nail health is your main concern, then BIAB is the way to go.
What are the cons of BIAB nails?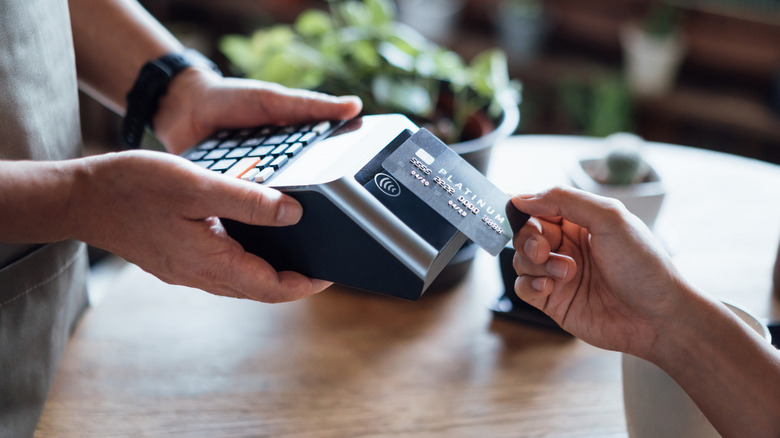 Asiavision/Getty Images
The main downside of BIAB nails is — since the formula is so new — not many salons out there offer the service right now. However, since the invention is rapidly picking up traction in the beauty world, hopefully, more salons will be jumping on the bandwagon soon. If you wish to cut out the middleman and perform the task yourself, you'll need to be highly, highly skilled to achieve favorable results.
If you do get lucky enough to track down a place that offers BIAB, be sure to hit the bank. The average cost of BIAB service is around $65, depending on the location. If you plan to keep up with the maintenance of this nail service, you may certainly feel a strain on your wallet.
Another con of BIAB nails is that, if you choose to remove them, it's not an easy process. You'll need to soak off the polish and potentially use a file, depending on the shade you chose. If you're someone whose nails grow rapidly, you'll have to do more touchups to avoid awkward regrowth.
Who should and shouldn't get BIAB nails?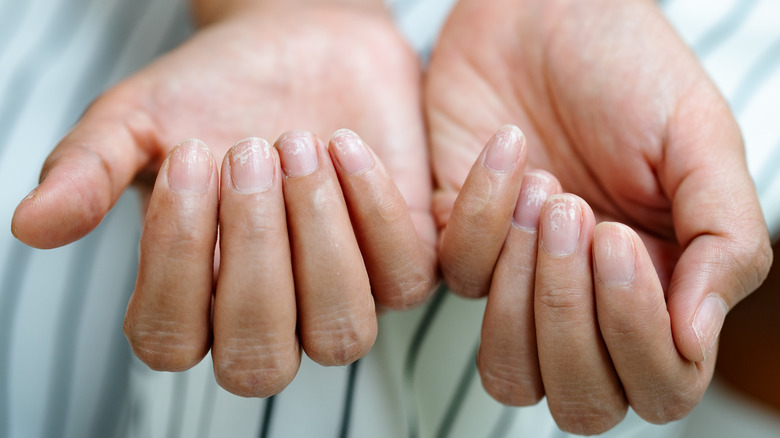 Pornchai Soda/Getty Images
Good news: if you're prone to nail biting, BIAB nails may be a saving grace for you. This is because if your nails are prone to breakage, the BIAB formula will help repair them by reshaping and filling in damaged areas.
When it comes to those who should avoid BIAB, nail professionals Sadie Jordan and Charlotte Emily told Refinery 29 that those with extremely damaged nails or psoriasis shouldn't get the service, as the formula could cause a painful stinging sensation. A professional will examine your nails and assess you at your appointment, but turning away a client for BIAB is apparently rare.
When it comes to the optimal design type and style, overall, if you're looking for a natural effect with a nude shade and possibly some — but not too much — length, then BIAB nails are right up your alley.