Drag Queens Paved The Way For Some Of Your Favorite Makeup Trends - Why That History Is Important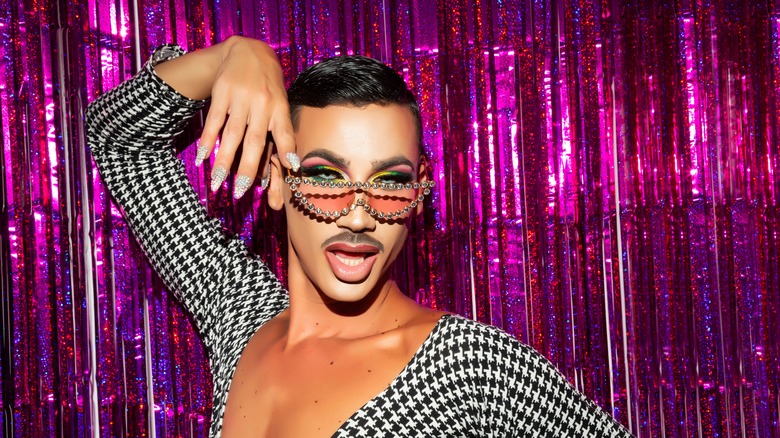 JG Fotografia/Shutterstock
If you've ever perfected a makeup look with vibrant eyeshadow, artificial lashes, or bronze-y contouring, then you have drag queens to thank. The concept of drag was identified long before its colloquial term was coined, when Shakespearean actors would dress as women to play both male and female roles. It is believed that the term "drag" was coined by audience members witnessing male actors wearing long costumes which would drag across the floor.
The modern version of drag, however, arrived in the late 1860s. Annual galas held in New York City's Harlem district were the first documented evidence of drag balls, later transitioning into vaudeville entertainment that featured female impersonation, burlesque, comedy, song, and dance. Vaudeville performers experimented with makeup with a similarly extravagant and glamorous technique that's used in modern drag today. Although the early 20th century faced creative restrictions through Prohibition, legislation, and world wars, drag itself continued to grow — and as a result, so did its captivating makeup styles.
While makeup trends are often credited to TikTok influencers or A-list celebrities, we have the LGBTQ+ community and drag performers to thank for some of our very favorite makeup looks and techniques. In a time when discourse surrounding LGBTQ+ support beyond voting or what it means to be gender non-conforming are at an all time high, rightfully crediting the drag mothers who came before us is essential. We are eternally indebted to drag queens for inventing and perfecting some of our most-used makeup looks, and we're here to make sure their history isn't erased.
Bright and vibrant colors replaced stage makeup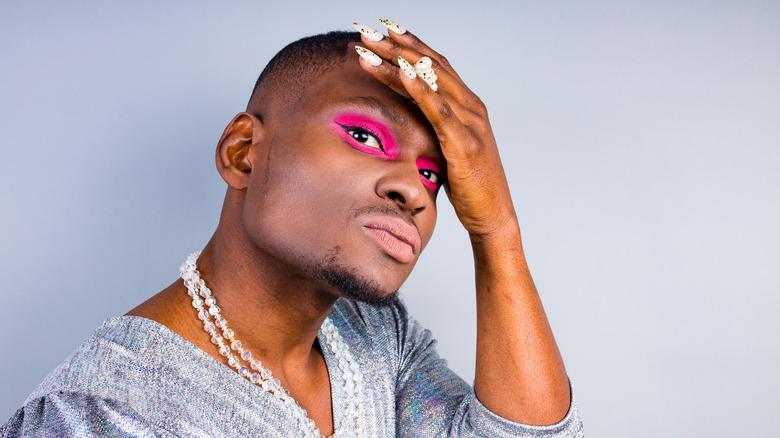 yurakrasil/Shutterstock
From iconic purple blushes to YSL's fluorescent eyeshadows, drag queens began using color as a way to captivate audiences and stray from the use of common stage makeup. For older drag queens, the growing popularity of drag performances made room for self-expression through bold colors. "As drag became more mainstream people started to really embrace color," veteran drag queen Sherry Vine explained to The Zoe Report. "Now we have tutorials on YouTube, but back in prehistoric times we learned from watching others and practicing."
Today, learning new makeup techniques is as easy as looking up a YouTube video online. Back in the '80s, '90s, and early 2000s, however, drag queens were learning makeup from one another and developing bold and daring looks collaboratively. Behind closed doors at bars, older drag queens guided younger performers on what are now highly popularized makeup techniques — blending, lip lining, and contouring.
Contouring and outlined lips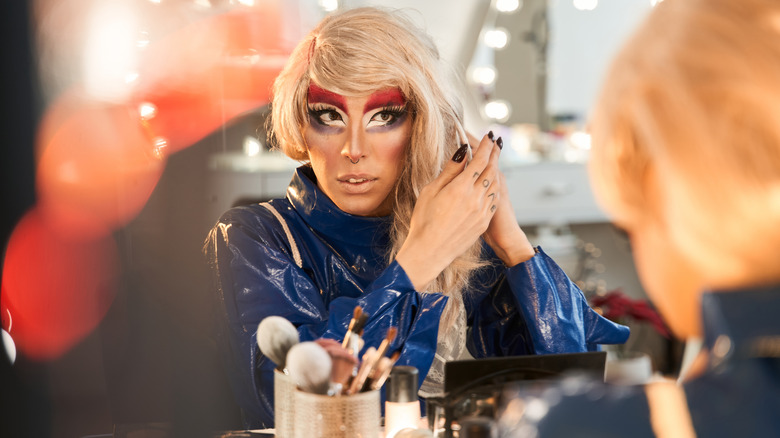 Yakobchukolena/Getty Images
While a vast majority of people will tell you that sharp contouring and big lips were perfected by the Kardashians, it was actually early drag queens who founded and refined the iconic look. These looks play with facial proportions to enhance the on-stage performance, which is one of the many facets of drag that challenges tradition. Drag queen BenDeLaCreme told PopSugar, "I always think of a drag face as what you paint for people sitting 10 to 20 feet away. When your makeup becomes amplified in terms of size and proportion, that's when you move into the drag world in the best possible way."
The intention behind these looks is to perform without being washed out by stage lighting, but the larger-than-life bigness of drag also speaks to the eccentric, glamorous, and individualist traditions of the aesthetic. Despite its invention during a time when self-expression and challenging the gender binary was not supported by the majority of people, these performances continued on and created an inclusive community that still lives on today.
Glue-on false eyelashes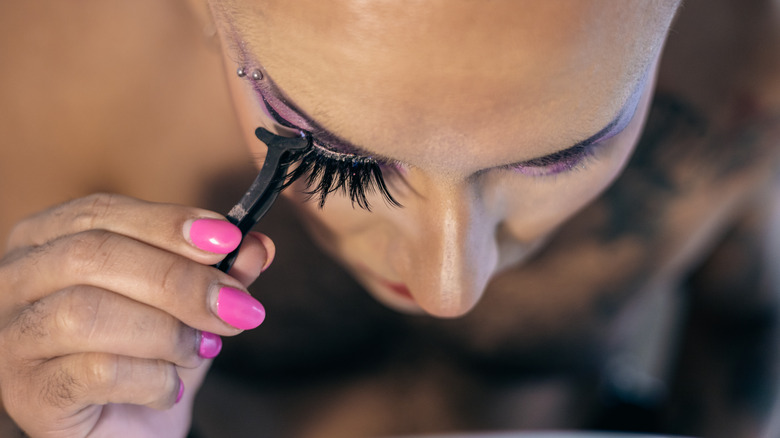 Amparo Garcia /Getty Images
Falsies, falsies, falsies! You can thank drag queens for enhancing all your extravagant going-out looks. If you have small eyes, false eyelashes are probably a godsend. As drag performer Willam explained to The Zoe Report, "Women have started wearing lashes way more now, and I think that's definitely due to drag queens and showgirls." These lashes brought a theatrical approach to drag performances, but it had an impact beyond fashion and makeup. "The everyday woman wants to feel more of that glam in her day-to-day too," added Willam.
Fluttery eyelashes have also been perfected by drag queens through application technique. In an interview with Allure, queen Shea Coulée offered a unique application technique that keeps her lashes sturdy all night. Rather than placing the glue on the inside of the lash, it's better to focus on the top of the lash track instead. While pushing the lash down to stay in place, focus your head down while lifting the actual lashes upward. Although these false eyelashes are often attributed to femme-identifying beauty influencers, they were acquired, utilized, and ultimately popularized by drag queens — you can thank them for your rich and sparkly-eyed looks.
Drag queens of color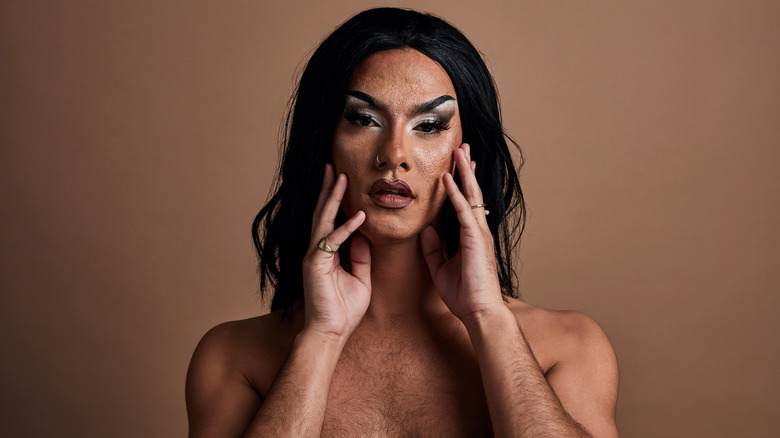 Luminola/Getty Images
Within the general population of drag performers, drag queens of color are some of the most important and prominent figures of the drag movement. From Asia Thorne to Yshee Black, the visibility of these queens has made drag a more intersectional space, and with the help of platforms like "RuPaul's Drag Race," we hope it continues to grow without tokenizing the power of diversity in drag. 
Drag runway performer Mayhem Miller shared a similar sentiment with GLAAD. "From a young age you're already facing an uphill battle with maintaining a healthy self-esteem," she explained. "'Drag Race' has given many queens of color the opportunity to be seen by these young people and encourage them that it's okay to be who you are."
Having the platform to celebrate their identity also inspires the millions of queer youth who see drag queens of color on screen. Miller emphasized that at the core of these queens sharing their stories is the knowledge that it will inspire generations. "Know who you are and the greatness that you carry," she said. "Your uniqueness is what makes you special and set apart from the ordinary. You're beautiful, don't let nobody tell you different."
What it means to erase drag history — and why it needs to be preserved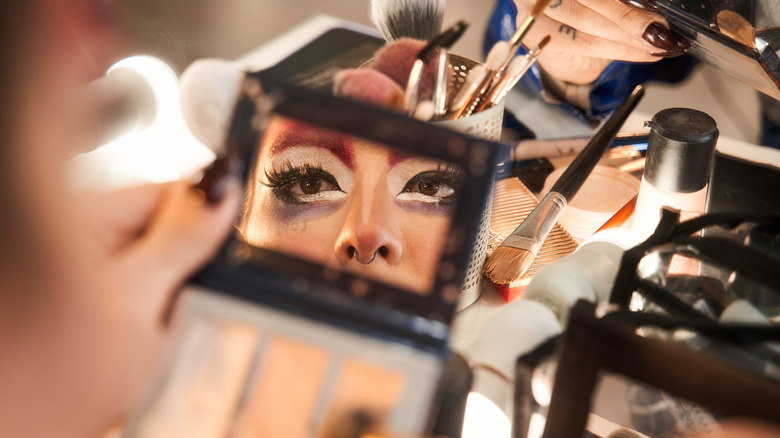 Yakobchukolena/Getty Images
As Pride Month and its celebration of identity unfolds, the preservation of drag history is essential. Drag has always existed as an art form that celebrates self-expression, clearing the path for LGBTQ+ liberation. In an apocalyptic time where anti-gay and anti-trans legislation has swept through Congress and state legislatures, recognition of drag history and its multifaceted influence on makeup, fashion, and progressive activism is crucial for the marginalized communities who have continued to fight for liberation. If you're trying to enhance your makeup looks this season, consider supporting and buying from queer-owned brands.
BenDeLaCreme said it best: "The most beautiful makeup is an expression of what you want to put into the world." Drag queens have emphasized this time and time again by using makeup as an expression of diversity, inclusion, and acceptance. The next time you perfect a contour-heavy look, top your lips off with liner, or glue on long lashes, we hope you'll thank the drag community for introducing some of our favorite looks. They've paved the way for us to shine.