9 Fashion Designers Who Upheld Their Promise To Support Body Inclusivity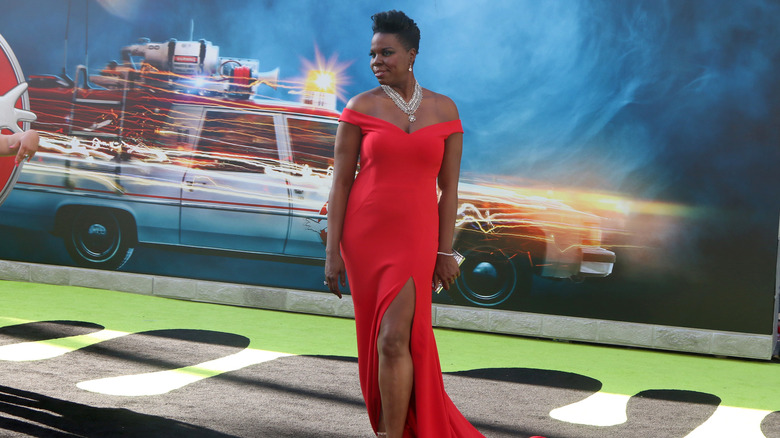 Kathy Hutchins/Shutterstock
Historically, plus-size clothing has been something of an afterthought to the fashion world, which has led to many brands putting out designs steeped in fatphobic assumptions. In reality, most plus-size folks just want what anyone else wants – a chic ensemble that feels great to wear. And since most American women these days wear size 16 or up, it makes sense to meet consumer demand.
Still, designers have been slow to get the memo – a fact that has been nowhere more apparent than on the runway. While runways have featured a steady increase in racial and gender inclusivity over the past decade or so, many still sadly lacking in body diversity. During the years leading up to the pandemic, it finally looked like change was on the horizon, with body casting diversity climbing dramatically in 2020 as dozens of curvy models took to the catwalk.
But any victory for body inclusion would be short-lived as some labels effectively dumped their commitment to body inclusion as far as the catwalk is concerned. By 2023, curve watchers like The New York Times' Vanessa Friedman and Huffington Posts's Carrie Berk were already calling out the return to a more homogenized and straight-skewing look at Fashion Week, as many designers excluded curve bloggers from invitations or clothing pools. Because body inclusivity should be more than just a passing trend and every body shape deserves a gorgeous 'fit, let's tip a couture hat to the designers still upholding their commitment to body inclusivity.
Sinéad O'Dwyer highlights real body contours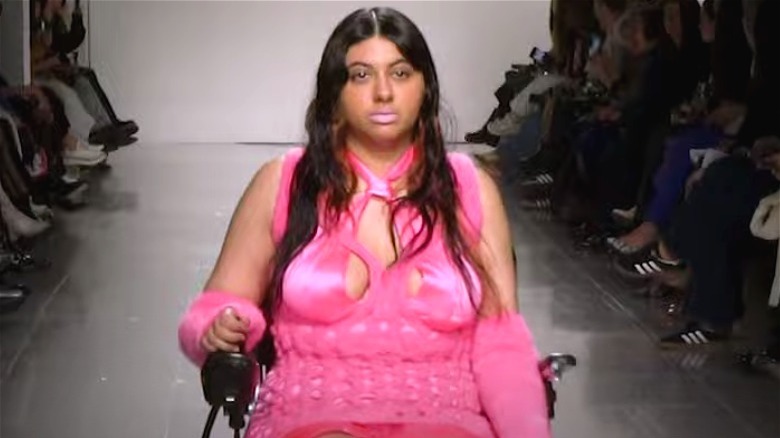 https://www.youtube.com/@NoraNord22
For Irish-born designer Sinéad O'Dwyer, body inclusivity is a deeply personal issue. O'Dwyer's approach to fashion is informed by her own struggle with body dysmorphia and an unhealthy relationship with food that peaked in her fashion school years  Part of the problem, she told Hero Magazine, stemmed from her fashion school's design and production processes. Rather than designing fashions specifically for a certain size or body, O'Dwyer said, "Patterns are basically cut for size eight and then scaled up to size, which is ridiculous."
Burned out on the culture and consumption of the fashion world, O'Dwyer set out to reassess her relationship with the human body through silicone casts she made using the body of her friend Jade O'Belle. The experience proved transformative, with O'Dwyer ultimately ditching patterns altogether in favor of using the casting method to develop her fashions. While traditional patterns force bodies to conform to a standard shape, casting follows the contours of a real human body for a more representative sizing. Presently, O'Dwyer's sample sizes run from sizes 18 to 22. In addition to her runway shows being known for displaying beautifully diverse body sizes, the designer also made waves by featuring two wheelchair models on the runway in 2023 during her shibari-infused spring show. It's all in line with O'Dwyer's insistence that "Fashion should be for everyone."
Collina Strada features models that reflect human diversity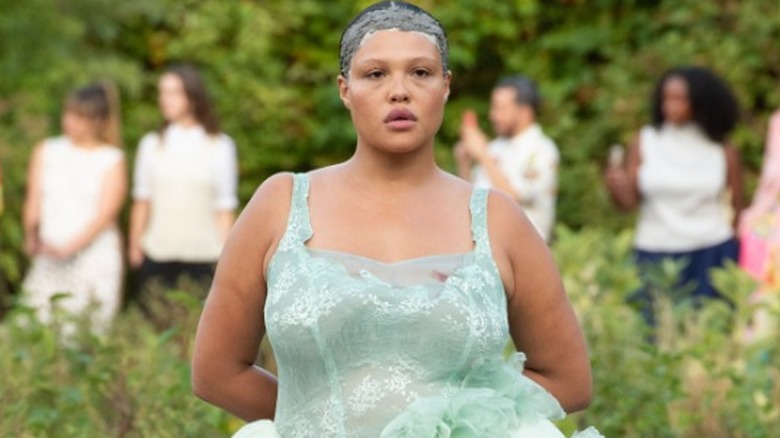 Yuchen Liao/Getty Images
Envisioned as a socially and environmentally conscious brand by its founder Hillary Taymour, Collina Strada is a colorful, funky label featuring looks craftedwith deadstock textiles. As fashion's cheerful disruptor, Collina Strada is all about defying expectations from creative, offbeat looks to Taymour's insistence that buyers should hold on to clothing they love rather than constantly updating. And that defiance extends to its models' bodily autonomy as the artists, musicians, and activists Collina Strada enlists to show off their wares are encouraged to improvise, bringing their own humanity to the runway.
Since its 2009 launch, the line has openly defied industry norms in terms of its runway models and sample sizes. Taymour regularly casts friends from New York's artistic community in her shows. At any given Collina Strada show, looks might be modeled by Charlie Engman's septuagenarian mom Kathleen McCain Engman, whom he's been photographing since his college years. Or there's Antiguan-American model Aaron Rose Philip, who, in addition to positively slaying, happens to be both trans and disabled. And every Collina Strada show features plus-size and mid-sized models, with curvier looks making up nearly a third of their New York AW23 runway.
Coach is setting a course for body inclusion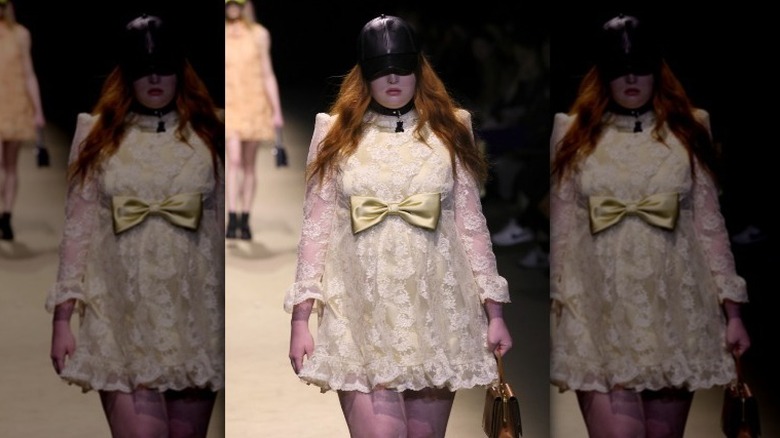 Dia Dipasupil/Getty Images
Besides its reputation as the world's most generational divide-spanning handbag manufacturer, Coach has been putting in extra credit over the past few years as a surprisingly body-inclusive RTW fashion label. With its comfy, wearable casuals, and collabs with everyone from Disney to Lil Nas X, the brand has a way of constantly reimagining its relevance, so it's no surprise it has spent the past few years evolving on size inclusivity.
Founded in the 1940s by a group of leather artisans and for a time owned by Sara Lee of pastry fame, Coach is probably the last brand one might expect to run on the cutting edge of diversity and inclusion. But the label's decision to bring British designer Stuart Vevers on board in 2014 would prove a boon to the company's commitment to both, a commitment the designer would establish early in his tenure with the company.
When UK Vogue featured curve model Ashley Graham on their cover in 2016, editor Alexandra Shulman expressed dismay at the designers who "flatly refused" to style her for the shoot. But according to Shulman, Vevers was "enthusiastic" to take the gig, swiftly stepping in at a moment's notice. While Coach products could use some size expansion (they currently run up to XXL), the line was one of the few major brands to continue prominently featuring mid-size and curve models at fashion week in 2023.
Christian Siriano says looking great is for everyone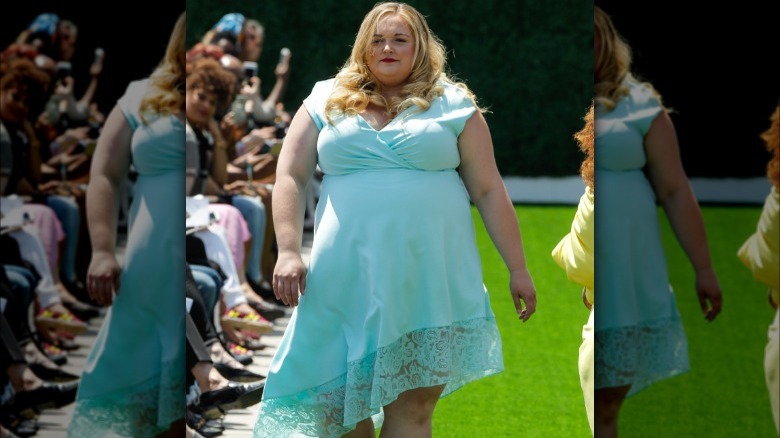 Thomas Concordia/Getty Images
Since launching his eponymous collection in 2008, Christian Siriano has consistently prioritized body inclusivity in his designs and through his vocal commitment to making them available to everyone regardless of race, gender, size, or income. Siriano rose to fame at just 21 years old after his Season 4 appearance on "Project Runway," and he's been styling the likes of Lady Gaga with his dreamy and dramatic designs ever since.
Siriano sees body inclusivity as something that should be a given, finding the idea that designers are less willing to dress curvy women baffling. To Siriano, who grew up with a size 16 mom and a size zero sister, the world is naturally full of diverse bodies, and fashion should reflect that. It's a commitment he doubled down on in an open letter calling out designers who don't realize they're limiting themselves by refusing to make fashion more accessible. As Siriano wrote in Teen Vogue, "My message has not changed. It has grown."
And unlike many designers, Siriano is more than just talk. He's developed a reputation for styling curvier celebs like Whoopi Goldberg, Kelly Clarkson, Lizzo, and Oprah Winfrey. Within an hour of Leslie Jones tweeting her frustration that no one would style her for her 2016 "Ghostbusters" premiere, Siriano happily reached out (via Vogue), dressing her in a stunning red gown he called her "Pretty Woman" moment on Instagram. A pioneer of runway diversity, the designer has consistently featured a range of body sizes in his shows, with about a third of his New York AW23 looks falling into the mid-size or plus-size category.
Karoline Vitto sees beauty in the details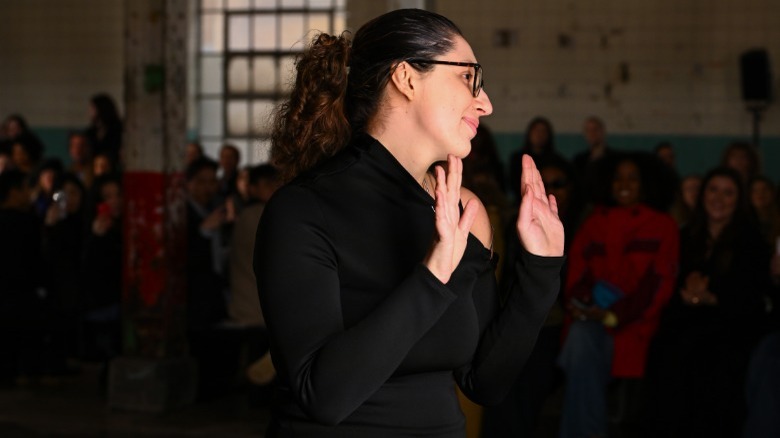 Joe Maher/bfc
London-based Brazilian designer Karoline Vitto believes true body inclusivity means not only dressing and designing for but celebrating all body shapes. Growing up in Brazil, Vitto was immersed in a culture where body image was everything, a fact that negatively impacted her own relationship with her body. After moving to London for fashion school, she began photographing her own body to become more comfortable with its folds, lines, and flaws. During the lockdown of 2020, Vitto found inspiration in women who felt at ease in their own skin and wanted to capture that sentiment through her designs. Through a series of collaborations, Vitto set out to create looks that embrace the curves, folds, and under appreciated details that women often feel the need to hide or de-emphasize. As the designer told AnOther Magazine, "I want to celebrate those areas that we are almost told to hide."
In a world where bin stores sit overflowing with mass-produced clothing, Vitto's form-fitting designs feature knitwear and metalwork, with each piece custom designed to lessen waste and ensure everyone gets a seat at the fashion table. Vitto's fashions are available in U.S. sizes 4 to 24, and her work has been modeled by some of the fashion industry's hottest curve models, including Precious Lee and Paloma Elsesser. Vitto's runway track record is full of mid-sized or plus-sized models, with both her London AW22 and AW23 runways featuring them exclusively.
Ester Manas is revolutionizing curve fashion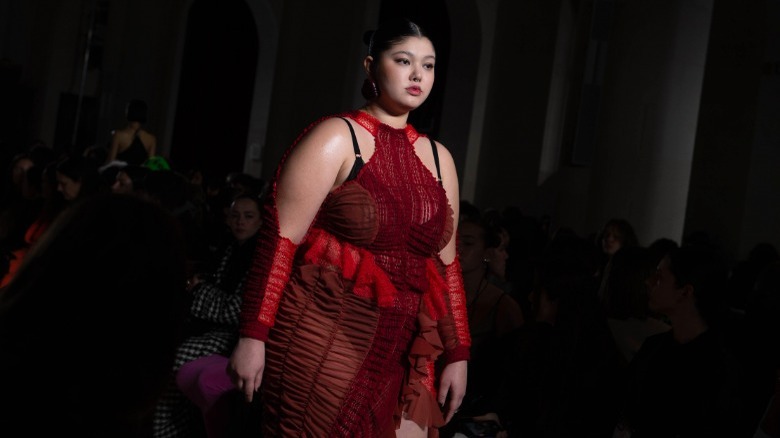 Kay-paris Fernandes/Getty Images
Touted as a "size inclusivity pioneer" on its website, Ester Manas is the eponymous Belgian brafounded by Ester Manas and Balthazar Delepierre. For Manas, who has always struggled to find fashions that fit her body, inclusivity was always going to be part of her line. The exclusion baked into the fashion industry was particularly apparent as she worked on her graduate project. Because her body was considered nonstandard, she had to use her own form as a foundation for her designs.
Manas and Delepierre noticed a troubling tendency early in their fashion careers – designers who might feature a token plus-size model on the runway would often not carry many selections in their stores. They also realized that too often, designers are reluctant to accentuate the bodies of curvier women. Frustrated by fashion's treatment of larger bodies, Delepierre and Manas set out to develop something transformative. As Manas told Elle, the two began creating fashions they hoped would, "'fit the body, rather than trying to make bodies fit the clothes."
To develop designs that look great on a range of bodies, Manas and Delepierre drew on their internship experience with Paco Rabanne, Balenciaga, and Acne Studios. Envisioning a socially responsible and sustainable line crafted with upcycled textiles, Manas innovated a one-size-fits-all line of soft, sultry, and livable clothing replete with cutouts, smocking, and other gorgeous details. For the designers, this type of sizing flexibility is essential to creating sustainable projects that last through life changes like shifting weight or pregnancies. Suffice it to say Ester Manas' runway reflects this ethos, with the label's Paris show featuring 19 mid-sizedand plus-sized models.
Becca McCharen is disrupting the status quo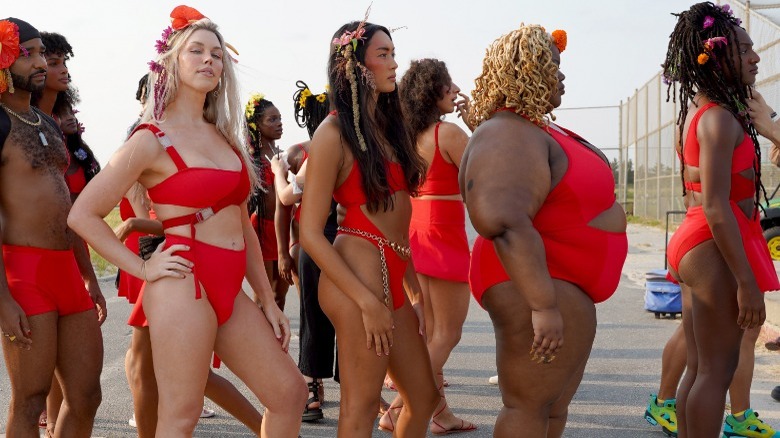 Sean Zanni/Getty Images
Becca McCharen-Tran, the designer behind Chromat, grew up in a fundamentalist faith tradition that didn't leave much room for those outside of its restrictive mold. For the designer hailing from Lynchburg, Virginia, questioning this system would prove fundamental to the subversiveness she would later bring to the fashion industry. As McCharen-Tren told Vogue, "I can see now that my early questions about this narrow definition of faith and how it prioritized one way of thinking as the right way translate to my questioning of the fashion industry's beauty standards as well."
McCharen-Tren has always enjoyed creating fashions for herself and her friends, which meant making clothing that were gender and body inclusive — a rarity in 2010 when she rolled out her line of bodywear and swimwear meant for everyone. Like Christian Siriano, McCharen-Tran sees body inclusivity as simply a reflection of the world we live in rather than the exception in the fashion industry. Chromat fashions are sized from XS to 4X, with campaigns highlighting models of all sizes, genders, and abilities.
But for McCharen-Tran, fashion inclusivity means more than just using curve models and offering inclusive sizing. It means taking a sledgehammer to outmoded ideas about policing others' bodies, an ethos Chromat embraces whether they're accessoring runway looks with Flamin' Hot Cheetos or rolling out a new set of "Pool Rules" that embrace stretch marks, scars, and cellulite. Chromat's 2022 collab with Tourmaline expands on that promise, offering up to 4X fashions "for girls who don't tuck, trans femmes, non-binary and trans masc people who pack, intersex people, women, men and everyone embracing Collective Opulence Celebrating Kindred."
Marco Rambaldi is committed to kindness and inclusivity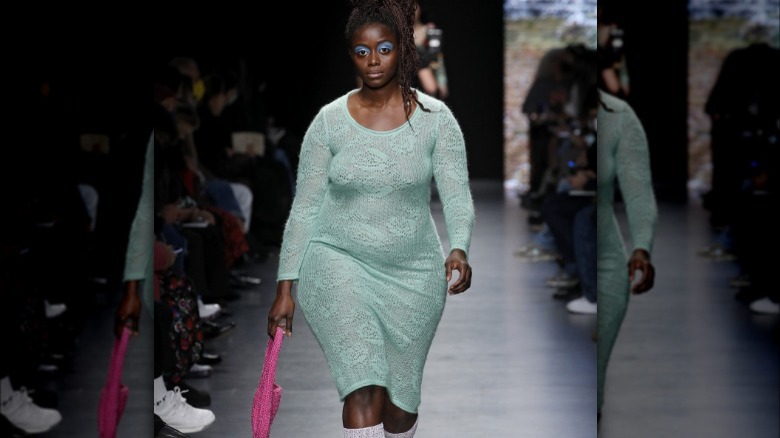 Estrop/Getty Images
Italian designer Marco Rambaldi has been on the fashion scene since his 2014 Milan Fashion Week debut, with his eponymous label rolling out in 2017. Rambaldi's vibrant, approachable take on fashion is all about artisanship, upcycling, kindness, and inclusivity. His 2022 RTW runway, supported by Valentino's mentorship program, drew praise for the diversity of models layered in colorful knitwear attire that's as suitable for everyday living as runway fashions come. As Rambaldi told nss magazine, "Our brand finds its core in the themes of feminism and the fight against discrimination of all kinds. Don't reject but include and support, this is what we believe in."
In a world where runway models have historically been objectified, Rambaldi's inclusive approach to casting centers each model's individuality. Speaking to Say Who, the designer emphasized, "Every model has their own story, their style and that's part of the message. They are unique individuals and they are special in their own differences." It's an ethos that stood out at Milan Fashion Week, where Rambaldi featured four curve models on a runway where only 14 of 2400 models to walk were curve or plus size in 2023.
Rixo shined a light on curves at London fashion week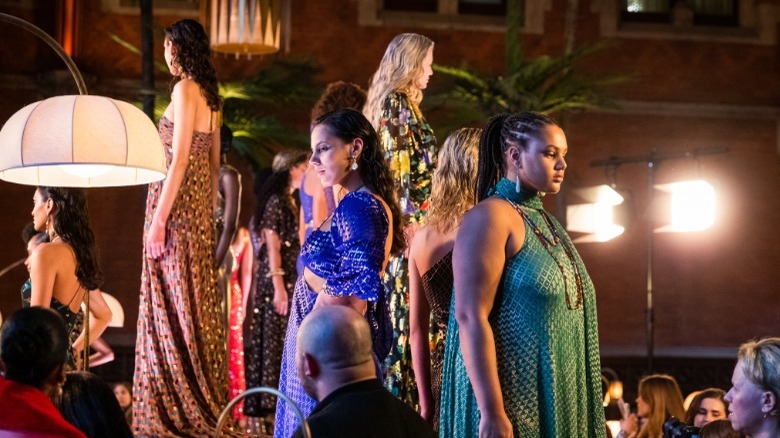 Tristan Fewings/bfc
Milan's fashion world might be weak when it comes to body inclusive casting, but as InStyle observed in 2022, a whopping 70% of designers cap their sizing at 12, with London Fashion Week coming in last in terms of size offerings. Enter Rixo, a line of improbably flattering dreamy floral dresses. Created by friends Henrietta Rix and Orlagh McCloskey in their 2015 uni flat, vintage-inspired Rixo has consistently shined as the most body inclusive label at LFW since extending their line to include sizes up to UK 20 (US 16) in 2021. In 2022, the label took that promise a step further by extending their sizing up to UK 24 (US 20), making them the only brand at fashion week to do so. And according to Rix and McCloskey, they're just getting started. In an August 2022 Instagram post, Rixo's creators confirmed that "we're not stopping there...we're working behind the scenes right now to be able to expand our size range both up & down so watch this space #humansofrixo."
As McCloskey told Grazia Daily, "'We didn't actually realize at the time that we were the only on-schedule brand to offer up to a size 24, and when we heard this, we were both quite surprised." When it comes to creating fashions for all bodies, Rix and McCloskey emphasize that simply sizing up isn't enough. Each item needs to be fitted on and restyled for larger body sizes, responding to customer feedback throughout the design process. But Rix says it's worth the effort: The plus sizes consistently sell out.