We Regret To Inform You Lower-Back Tattoos Are Staging A Comeback (Who Let This Happen?)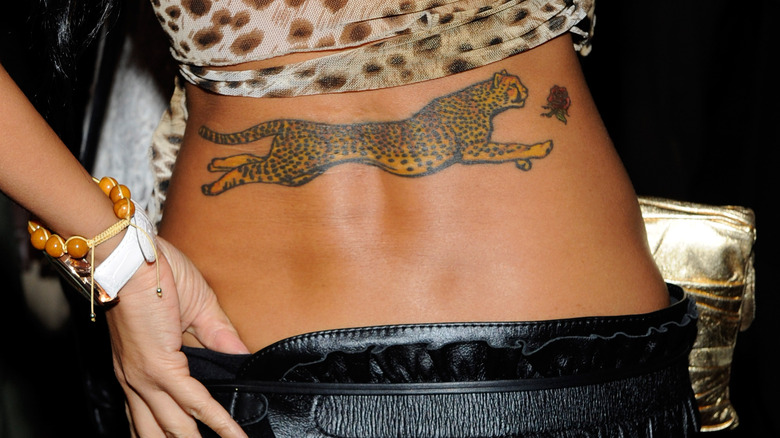 Ethan Miller/Getty Images
The '90s and Y2K revivals have spared no trend in recent years — that includes the infamous lower back tattoos, aka tramp stamps. But as with other revival trends, like vanilla fragrances, which are also all grown-up now, these tattoos have received a new, modern spin to make them feel fresh and classy. Rebranded as tail tats, these tattoos sit at the lowest part of your back before you reach the tailbone.
These tattoos were popular in the '90s and early 2000s as an accessory for low-rise jeans and miniskirts. Celebrities such as Britney Spears and Christina Aguilera rocked these tats on the red carpet, adding to their prevalence. As the placement began to rise in popularity, it also rose in promiscuity. Lower back tattoos were hyper-sexualized and labeled as trashy, often becoming a target of lewd jokes at the expense of women. But the rebranding of this tattoo placement has given us hope that this time around, it's executed in a way that has us all itching to get inked.
The tramp stamp rebrand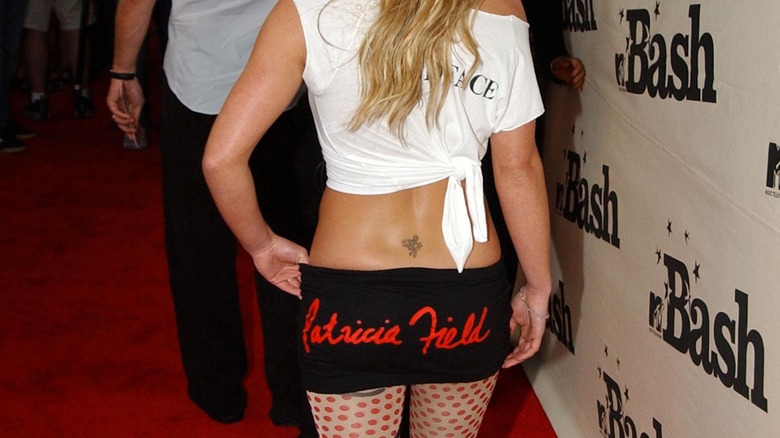 Jeff Kravitz/Getty Images
Tail tats and tramp stamps may share a placement on the lower back, but there are different attitudes surrounding each name. Tail tats have been reclaimed by a younger audience to honor the Y2K style, and challenge previous connotations about the tattoo. The sexualization of tramp stamps was hard to ignore at the height of their popularity. Psychologist Nicolas Guéguen even conducted a study on women in France to see if there was a correlation between tattoos and promiscuity, finding that men associated lower back tattoos with increased promiscuity, according to Psychology Today.
Tail tats carry a sense of nostalgia for those who seek them today. Many younger women associate them with their Y2K icons. In addition, attitudes as to how women are perceived have evolved greatly, as seen by movements like Free Britney. Tattoo artist Carisa Fitoussi has also noted an uptick in clients receiving lower back tattoos, telling Yahoo, "In the last two, three years, a lot of people have been getting them. I've always loved them, regardless of the stereotype behind them."
How to pull off a tail tat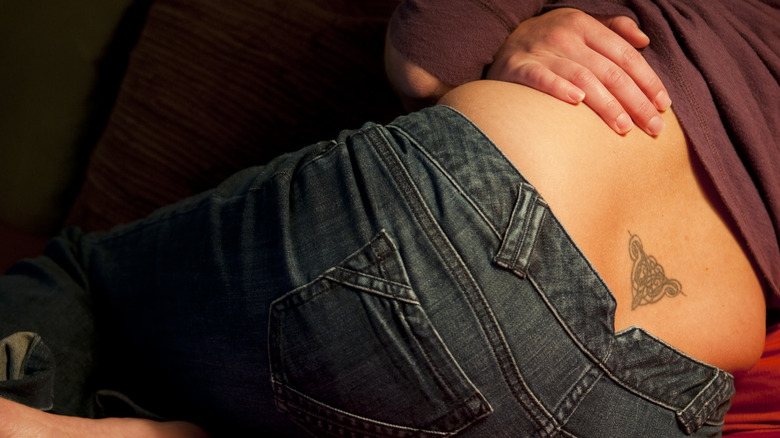 Joel Carillet/Getty Images
The key to pulling off the tail tat is to make sure you go to a reputable artist who has done the style and placement of the tattoo you are looking for and searching for design inspiration that feels timeless. One design that has stood the test of time is butterflies.
Butterflies were a popular design option in the '90s and are again having their moment in the Y2K revival. The simple design choice elegantly fits the curve of the lower back, and offers a safe, fun way to experiment with tattoos. The minimalist tattoo trend combined with a tail tat is another way we see the placement breaking into the modern age. The dainty look of minimalist tattoos offers a subtle way to showcase the trend without feeling too aggressive. But tail tats can be whatever design you want. Designer and founder of Rhee Studio, Cherry Kim, told i-D Magazine she chose to get her brand's name as a tramp stamp to honor her mother and promote her business. Making the design of your tail tat your own is the key to mastering this trend.
Whether you pay homage to the original Y2K or pursue an original design, tail tats are back to reclaim their role in fashion today. The tattoo pays homage to the women who were wrongly labeled promiscuous in their time and shows a shifting attitude for women to reclaim their bodies and do what they please.