Vanilla Fragrances Are All Grown-Up Now, Proving The '90s Revival Is Here To Stay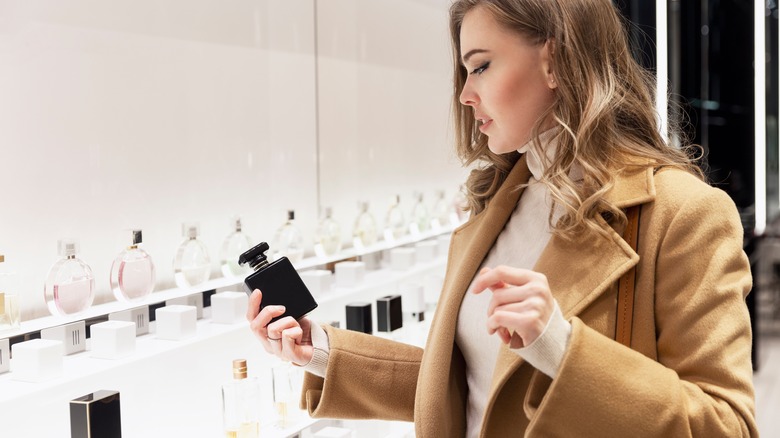 Deman/Shutterstock
When you find a fragrance you love, just one small spritz can lift your mood, up your confidence, and leave you feeling your absolute best. That's not mumbo jumbo either — it's science. Pleasant aromas have been used to influence our physical, mental, and spiritual well-being since the beginning of recorded history, and countless studies have demonstrated the evocative power of smell. Simply put, humans are hardwired to respond to scents we like — and we historically love vanilla.
The scent's popularity has ebbed and flowed over the years, but it's consistently found to be of the most universally pleasant smells across geographies and cultures. That mass appeal is partly why vanilla-based fragrances often get labeled juvenile or unsophisticated. But, here comes Summer 2023. Gourmand fragrances are going viral among expert noses and perfume collectors. And the chicest scents of the season bottle up vanilla in complex formulas that offer elevated ways of smelling sweet. 
Wait...how did vanilla get cool again?
Scents are powerful at conjuring memories. For millennials, this might mean a whiff of vanilla triggers flashbacks to Bath and Body Works's Warm Vanilla Sugar drenching classrooms and locker rooms. And while '90s and Y2K fashion are having a renaissance, that cloying, heavy scent is hardly the aroma wafting through the current zeitgeist. Instead, it's the smell of Kayali's Vanilla 28, which is one of many gender-neutral fragrances popular right now.  The scent's profile includes spicy, amber, and musky notes, which reduces the risk of smelling juvenile. "It is just one of the best vanillas I've ever smelled," says perfume collector and TikToker Taylor Valentine adding, "I get relentless compliments on this."
Viral videos pushed the scent into chic territory earlier this year, but Kayali isn't the only fragrance house winning people over. Like the Fashion TikTok era that came before, trending fragrance videos are pushing vanilla to new, yet nostalgic heights. Dulce Eau de Parfum from the brand By Rosie Jane also proved popular on TikTok following a social media campaign. "We did this organic seeding with influencers just to sort of test the waters," founder Rosie Johnson told Coveteur. "It wasn't something we'd ever done before. And the response was just phenomenal." 
How can I find a sophisticated vanilla scent?
When looking for a sophisticated scent, it's important to look at the overall scent profile and to keep an eye on the base notes — the ones that linger long after a spray. The fewer notes, the more dominant the vanilla. "Vanilla on its own is a straightforward scent, but pairing it with complex notes that are unexpected brings what most people want from a fragrance: something familiar and something that is elevated from everyday scents," Chrissy Fichtl, the founder of fragrance brand Apotheke, tells Well and Good. "A 'good' vanilla fragrance will bring in other elements to complement or contrast the sweetness of vanilla, such as clove or rose. Ingredient quality also makes a difference in how luxe a scent comes across."
In addition to rose and clove mixes, tobacco is often used to balance out the saccharine, innocent associations of vanilla. Tom Ford Tobacco Vanille uses this strategy and is, without question, a mature and dense scent. Dolce Garden Eau de Parfum, on the other hand, is rounded out with mandarin orange and coconut for a fruitier blend. Finding your own vanilla fragrance might come down to trial, error, and testing. You can even get started layering a vanilla fragrance with your current go-to scent to create your very own signature combination.