9 Inclusive (And Safe) Dating Apps For LGBTQ+ Relationships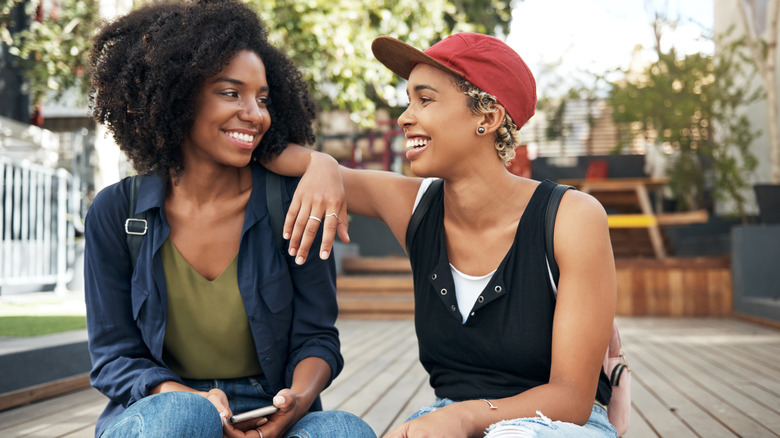 Shapecharge/Getty Images
It's human nature to look for love, and with all of our technological advances, many look for it online. Unfortunately, online dating isn't always the safest bet, and it can get even more scary for LGBTQ+ persons who have to worry about meeting up with the wrong date, being misled, or possibly being the victim of a hate crime. Not only that, but there are plenty of dating apps that offer little to no inclusivity for LGBTQ+ persons, leaving them flipping through people they might have no interest in at all. Taking the dark side a step further, some of the risks that come with dating apps include can include sexual assault, violence, or even death. However, there are safer options out there when you opt to go with apps that focus more on LGBTQ+ dating and user safety.
A few things you can do to help protect yourself include doing some research on the people you're connecting with before meeting in person, and using the dating app's video chat service (if they have one). When you do meet up, never leave your drink unattended with your date. Ever.
Unfortunately — like most internet products — we can't say that any app is absolutely and truly safe, but the apps we're looking at have gone out of their way to put precautions in place to offer friendly and safer environments for people looking for love, romance, or just a night of fun.
If you or anyone you know has been a victim of sexual assault, help is available. Visit the Rape, Abuse & Incest National Network website or contact RAINN's National Helpline at 1-800-656-HOPE (4673).
Feeld
Pixel-Shot/Shutterstock
Feeld advertises itself as a place where open-minded people can find love with people who relate to them. Not only is it a great space for polyamorous couples to look for fun, but they offer the choice of over 20 gender identities and sexualities. That's great for LGBTQ+ persons looking for a date without needing to skim through people who don't meet their preferences. This all-inclusive app prioritizes those looking for one-time meetups and flirty adventurers over long-term relationships, but it's not strictly devoid of monogamous relationship seekers; just be sure to be clear about what you're looking for! There's always a chance a fun casual date can turn into something more serious if both parties are open to it.
One of the things we like about this site is that it uses your personal interests and your location to help you find matches, so you have a better chance of finding folks who live nearby and will enjoy the same things you do — that may also cut down some awkward moments when it comes to things like politics and religion. Feeld is free to use but offers some upgrades at varying price points. But, what makes them safe is that they offer things like an incognito mode and other privacy additions, and they encourage their users to report anyone who seems unsafe or untrustworthy. 
Kaylee Moser shared her experience switching from Tinder to Feeld in search of polyamorous people in an essay with Insider, and had nothing but great things to say about the app. Her review of the site backs up their concept of matching like-minded folks.
Hinge
Edwin Tan/Getty Images
When Hinge hit the scene, it touted the fact that it's a dating app that's meant to be deleted. This is important because many of the dating apps out there, at least a decade ago, made it nearly impossible to remove yourself once you were off the market. Of course, what really put Hinge on the map was Pete Buttigieg, U.S. Secretary of Transportation, finding his match through the site. If someone once running for President of the United States could find his Mr. Right on the site, it's got to be good ... right?
As far as safety goes, Hinge is doing what it can to protect its users with ease in reporting issues, and even includes a first-date check-in feature. Hinge used to require you to connect it to your Facebook account, as it uses your friend's friends to match you with people. However, now you can log into the app without connecting it to social media (using your phone number instead), which we think is a nice added safety feature. Of course, when you log in with Facebook, you automatically get profile photos added to your Hinge account, which saves on some of the set-up time — but using photos you already have online also opens you up to the potential for stalkers.
With all dating apps, it's important to trust your gut when you notice any red flags. Even sites that encourage users to report sketchy accounts still aren't completely free from scammers. 
Lex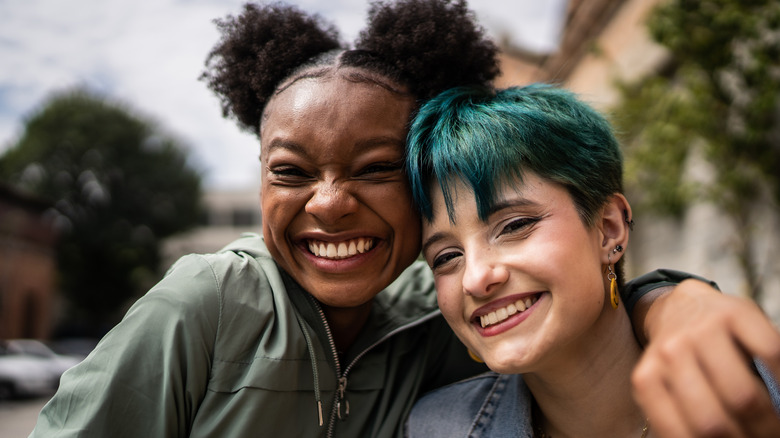 Fg Trade/Getty Images
Touted as a dating app by reviewers around the web, Lex actually advertises itself as a place to find LGBTQ+ friends. When you can spend the rest of your life with your best friend as your partner, that's good too, and that's why we think this is an app worth looking into when it comes to inclusive options. Essentially, Lex is a social media feed-like app specifically for the LGBTQ+ community. It's also free to use. Like Facebook, Lex allows you to set up groups where you can mingle with like-minded folks who have the same interests and hobbies as you. And, since you're taking time to get to know someone in an online social situation that's not just about dating, it eases up the pressure you may feel from other dating sites. Of course, the "friends" aspect of this dating app is a new addition, and some OG Lex users appear to wish the app would have stayed more like Tinder.
What originally attracted LGBTQ+ persons to Lex was that the site replaced a need for online ads looking for queer fun. Now that they've removed that aspect of the app, members are worried that it won't be as effective for finding casual fun, and may end up going the way of most social media sites — as in a place for clean fun instead of the raunchy, more adult fun Lex users are used to. The site is as safe as any other social media sites, meaning you still want to watch for red flags.
OkCupid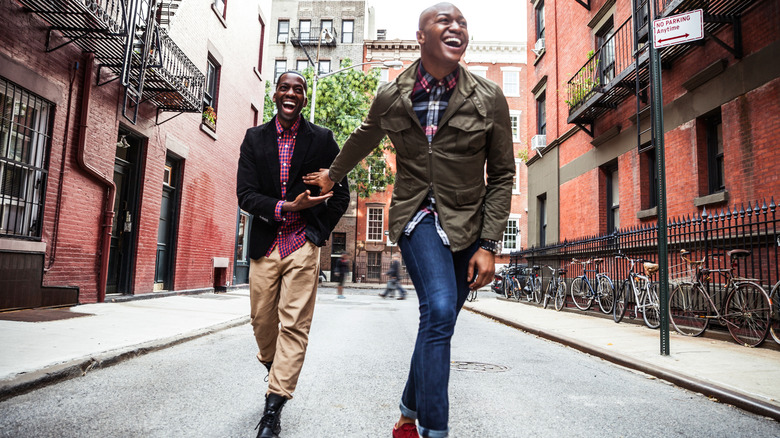 Leopatrizi/Getty Images
OkCupid is almost two decades old now, but they've chosen to work hard at being inclusive and continue to work toward being more innovative. Part of that innovation was adding more LGBTQ+-friendly questions in early 2022, and being sure they had a range of options for gender and sexuality. So, if you're looking for an LGBTQ+ dating site that has been around for a long time and works hard to make sure users looking for love are able to find it, OkCupid is a great way to go. While you can sign up with OkCupid for free, a premium account option opens up more doors with the app, starting around $5 a month.
When it comes to safety, one of the cool features offered by OkCupid is the ability for those choosing bisexual or gay as their sexual preference to shut off the ability to see straight people as an option. They also have an incognito setting that makes you invisible in searches. If you prefer being the one to reach out first, this is a great feature to take advantage of. Once you like a person, they can then see your profile. Of course, this feature comes at an extra charge, but OkCupid offers those who feel unsafe and can't afford incognito some other options if they reach out to the company. While many LGBTQ+ dating apps focus on flirting and having fun rather than long-term relationships, OkCupid may be a refreshing choice for someone looking for more than just a hook-up.
NUit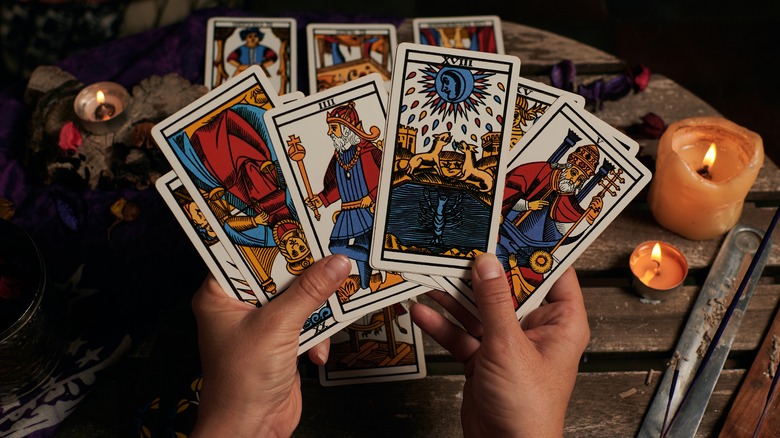 Cristian Blazquez/Shutterstock
If you're the type of person who checks their horoscope daily, has their natal chart saved on their phone, and always knows what sign the moon is in, NUit is the dating app you should be looking at. Not only will it help you find an astrological match, but you'll be sure you're meeting someone with the same interests in astrology that you have (and that's not always easy to find, trust us). The bonus is that this unique dating app is also LGBTQ+ friendly. There's no swiping with NUit, and the system can match you for more than just love — it also will let you know if you'd make great business partners or should just be friends. Unlike some apps, NUit doesn't just look at people within a certain distance from your location, they can match you with people around the world. However, you can adjust the settings if you'd prefer to only get matches from people nearby.
When it comes to inclusivity, the app asks you if you want to see straight people or be seen by them while you're setting up your profile. We weren't able to find any specific safety information about the NUit app, but with any dating app, it's important to vet the people you talk to before giving them too much personal information or meeting with them for the first time. With an app that matches you with people from different countries, be sure not to fall for romance scams where people ask you for money.
Taimi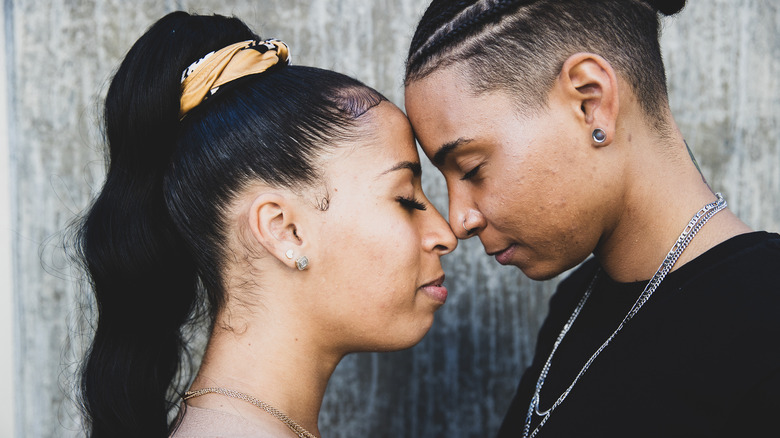 MPH Photos/Shutterstock
Taimi is another app specific for LGBTQ+ persons looking for dates and fun — no cishet identifiers allowed. This means there's no need to edit your preferences to keep straight people out of your connections. According to the app, there are over 16 million users looking for their next romantic rendezvous. The app is free to download and sign up for, but there are premium paid options that give you a little bit more when it comes to usage. Most sites describe it as a mix of dating sites and social media, which seems to be common in dating apps these days. This type of platform may feel more comfortable to those not looking to rush into a long-term situation.
When it comes to safety, Taimi allows users to choose to verify their accounts with photo verification. If you want to be sure someone you're talking to is a legit user, look for verified accounts. If someone seems sketchy, you can report them and even block them. They also have a stealth mode that makes your profile invisible to other users until you like them — with Taimi, this option is free. While Taimi offers these safety precautions, they also warn users to be wary of sharing private info with users and suggest staying within the app for communication until you feel confident someone is who they say they are. They also suggest video chatting through the app before you meet in person (and we agree).
Hornet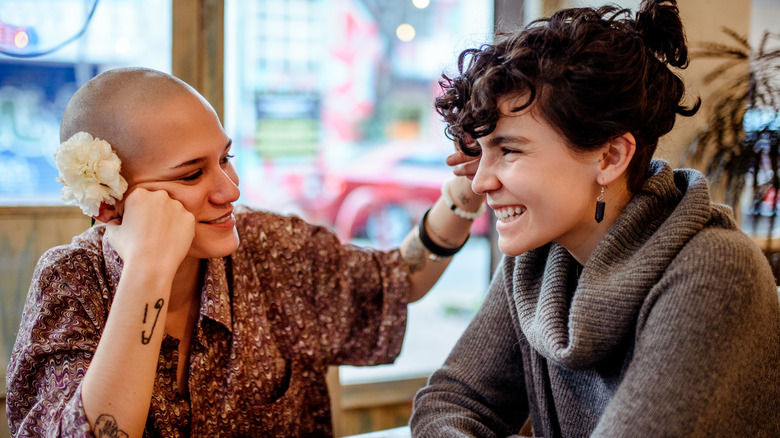 Mstudioimages/Getty Images
It looks like Hornet may have started out as an app for men only, looking for fun with other men. But, as of their current status in the Apple apps store, they are open to a wider variety of users in the LGBTQ+ community, including lesbians, transgender, bisexual, and non-binary persons. Of course, because it started as a men's-only site, it could be more difficult for women/non-men to find matches. Like Taimi, Hornet has an authentication badge users can get that shows they've proven that they're real people. This means that if you want assurance you're not getting catfished, you can opt to only accept messages from people with the badge. Again, keep your own safety in mind when you run into a user who gives you negative vibes — no dating app can be completely free of scammers, and it's ultimately your responsibility to protect yourself.
If you want the best of the LGBTQ+ community in a combo dating and social media app, with videos about queer life, the ability to give out user awards for accounts you enjoy, and a chance to connect with like-minded people around the world, Hornet is a good place to start. It's more than just an app to find dates, but is also a place to make real connections outside of romance. They claim to have the most free features of any of the LGBTQ+ dating apps out there, but you definitely get more bang when you throw in some bucks for paid accounts.
Tinder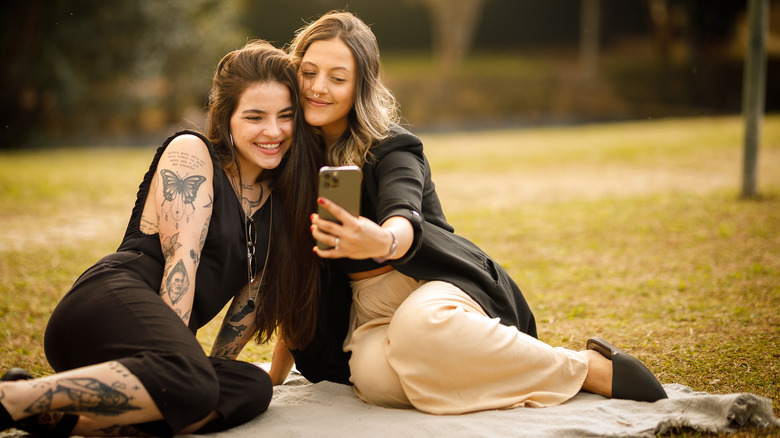 Capuski/Getty Images
The original app that had us swiping right is LGBTQ+ friendly to some extent, even if it hasn't caught up to other dating apps like OkCupid that have integrated their systems to be far more inclusive. It does not have any options for trans or non-binary persons. You can choose male or female as your gender, and then choose whether you want to meet men or women. In this sense, bi, lesbian, and gay persons have an opportunity to find romance here, and that's pretty much it. They have different subscription tiers depending on the experience you're looking for and how much money you want to spend.
Some users don't like the app because it takes too much time getting to know people before anyone feels comfortable meeting up. Then again, taking time to get to know each other is a preference for some, especially when it comes to working toward safety. If you want an instant hook-up, Tinder may not be the right choice. In safety matters, Tinder has a nice set of community guidelines, allowing you to report sketchy users. However, the app has been prone to spam bots in the past, so you'll want to be sure you're not giving strangers money, sharing private info, and reserving your trust for those who really earn it. They also have a photo-verification feature, which can help you discover real people — a blessing when even your basic social media sites are filled with fake profiles.
Zoosk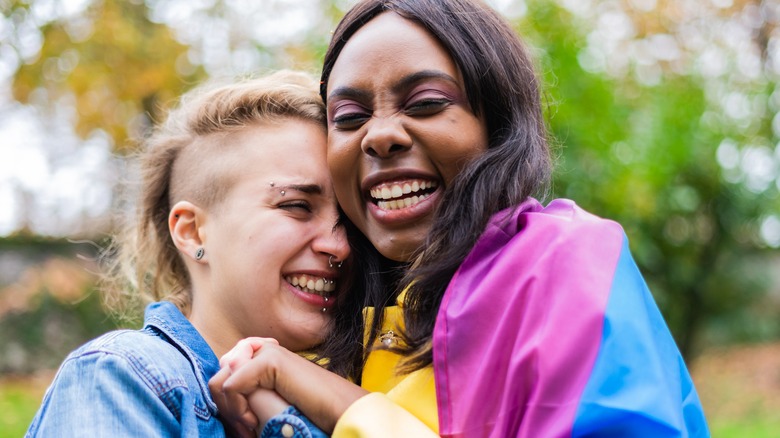 Mr.vicpix/Shutterstock
If you're old enough to remember when dating apps weren't a thing yet and you had to go directly to Matchmaker International to get matched with the person of your dreams, Zoosk looks to be the online, modern-day version of this. They claim to have personalized dating to make it easier on you — no more stress when it comes to scrolling through all of the singles in your area, and no more worries about whether or not you'll have anything in common. It's an algorithm they have set up that makes the matches. You can still search on your own, though. Zoosk makes it easy to pick criteria that are important to you, weeding out those without similar interests. While Zoosk claims to be LGBTQ-inclusive, it does look like your only options for gender are male and female. You can be a male looking for men, or a female looking for women, but, like Tinder, it looks as though trans, gender nonconforming, and non-binary folks are left in the dust.
For safety, Zoosk has photo verification measures and also has a Facebook verification option. They have these set in place to ensure the site has real connections available for users, so you'll find far fewer photo-less listings and scammers. However, no dating app is totally free from the bot or scammer slipping through the cracks, and that's important to keep in mind while looking for love online.