Two Ways To Embrace The Naked Shoe Trend (Even When You're Embarrassed About Your Feet)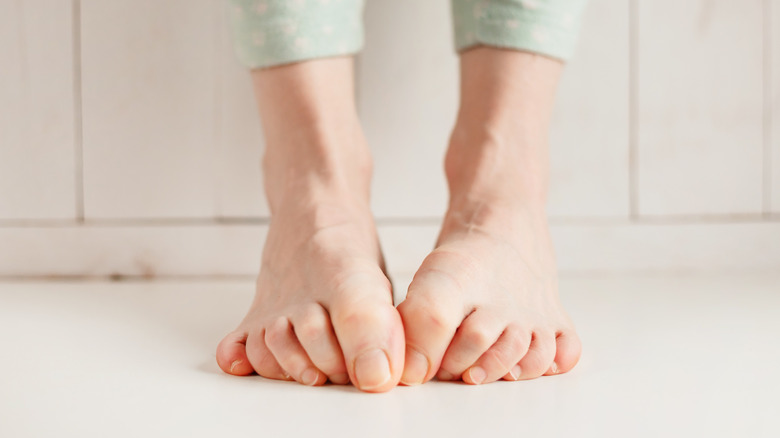 Vladdeep/Getty Images
Move over, naked dresses. It's all about the naked shoe in 2023! But what does this new fashion trend entail, exactly? Think clear plastic heels, sandals, and flats, barely there nude pumps, and the occasional pair of mesh-covered or fishnet boots or booties. But why are these naked shoes suddenly all the rage? 
"Transparent shoes are the foot's answer to the sexy, barely-there dressing we are seeing across the ready-to-wear collections; it's an ode to the 90s PVC a la old-school Mugler," Josie Gardner, the head of accessories and shoes at Harrods, told Vogue Arabia. 
But that's not all. Besides complementing naked dresses, they also do wonders for elongating the legs! Alas, not everyone feels comfortable baring their tootsies. So how do you rock the new naked shoe trend, especially if you're embarrassed about your feet? Here are two ways to put your best foot forward and embrace the naked shoe trend!
Opt for a medical pedicure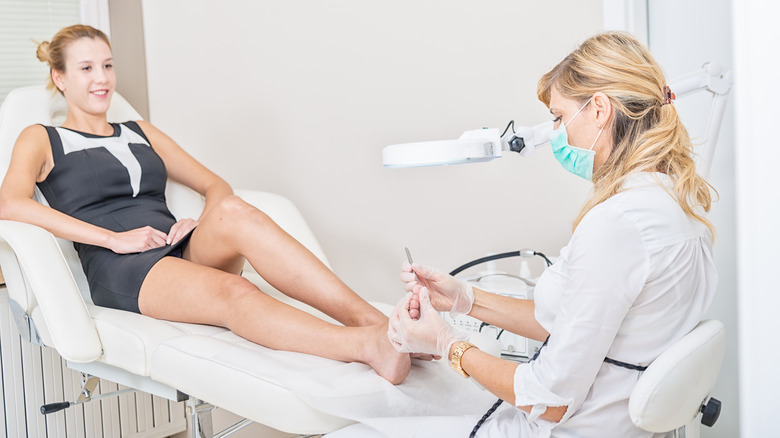 Gregorbister/Getty Images
Before hopping on board the naked shoe train, you might want to consider a pedicure. Pedicures are a great way to freshen things up — especially after a long winter. But if you're embarrassed about your feet, you can always take it a step further and opt for a medical pedicure aka a medi-pedi. After just one 45-minute visit, you'll have those tootsies ready for their naked shoe debut!
According to licensed medical pedicurist Marcela Correa, a medical pedicure is "the bridge between podiatry and nail care." This dry and sterile procedure is used to treat a plethora of conditions, including ingrown toenails, fungal infections, and dry and cracked heels. "Combining education and foot care, medical pedicures provide a one-of-a-kind foot care experience," Correa told Women's Health. "This sterile and waterless pedicure is tailored to target the needs of each individual. This includes dead skin removal with professional equipment, nail nipping, filing, shaping, and buffing your nails to shiny perfection," she explained. 
Keep your tootsies dry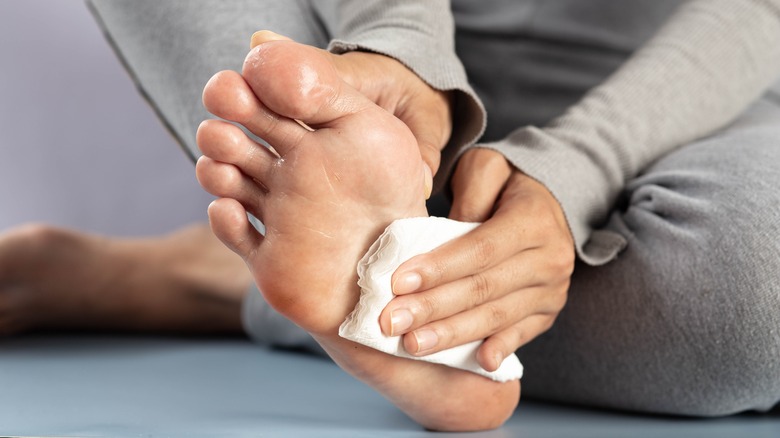 Parkin Srihawong/Shutterstock
Foot fog be gone! Naked shoes may be in, but stinky and sweaty feet are not. Sadly, the plastic and mesh parts of naked shoes are notorious for fogging up and trapping moisture around your feet. And if your feet are already prone to excessive sweating? Well, you've got a recipe for a disaster. Hello, foot and nail fungus! 
Even if you have excess sweating, or hyperhidrosis, there is a way to combat the problem and keep those tootsies nice and dry while rocking the naked shoe look. "For people who have hyperhidrosis, I recommend they wash their feet at least twice a day and completely dry them with paper towels," podiatrist Isaac Tabari told The Strategist for New York Magazine. Meanwhile, Dr. Alex Kor recommended applying antiperspirant products with aluminum chloride, such as Certain Dri, to the bottom of your feet twice weekly to combat excessive sweating. 
But that's not all. It's probably a good idea to keep some wet wipes on hand as well! "My main concern with this trend is condensation," Laura Hawkins, the fashion features editor for British Vogue, confessed. "If you're stepping out in something sheer, wet wipes are a handbag essential," she advised.