Ceramic Or Titanium? Your Guide To The Flat Iron Materials, Because They're Totally Not The Same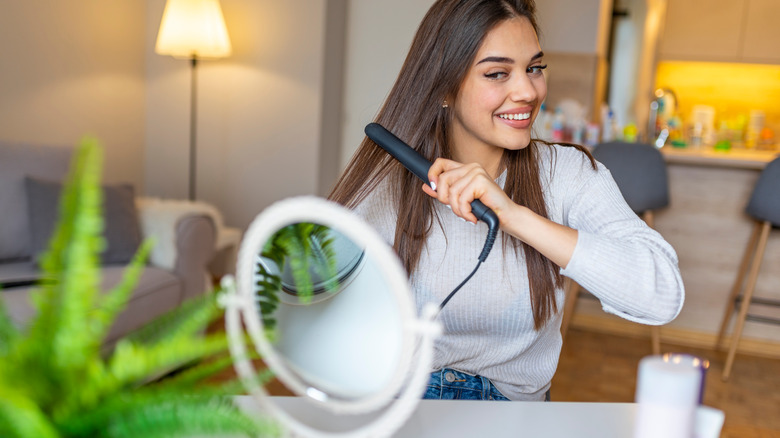 Dragana Gordic/Shutterstock
There's often a misconception that the good 'ol flat iron is a one-trick pony when really, it's capable of delivering far more hairstyles than just shiny, stick-straight locks. A multifunctional styling marvel, many flat irons have evolved to also deliver luscious curls and beach waves, making it a worthy addition to your arsenal. But with the thousands of options available, it can be tricky to pick which one would work best for your hair and lifestyle. There are irons that are specifically designed to provide quick heating, while there are ones that are more concerned with providing salon-quality results.
Aside from the maximum temperature they can supply, the plates that make up the hair iron play a big difference in the finished product. Flat irons are usually made out of either ceramic or titanium, and each type has different benefits and delivers slightly varying results. So here's how to make a choice that ultimately depends on your specific hair needs.
The lowdown on ceramic and titanium hair irons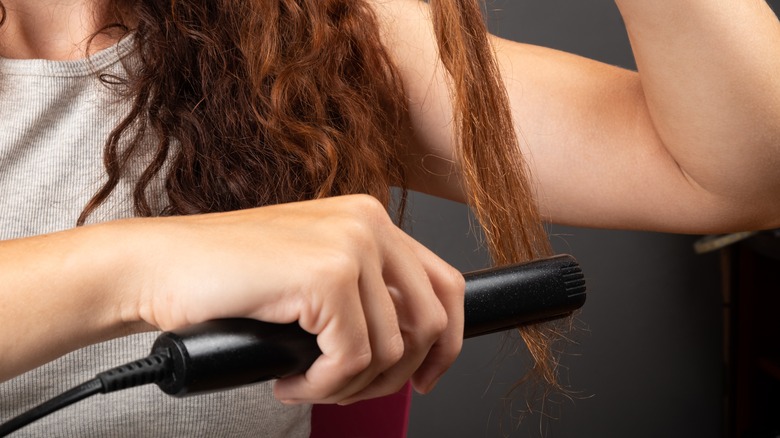 fukume/Shutterstock
When it comes to choosing hair irons, it's easy to get blinded by those with swanky features, but the type of material is what should heavily factor into your decision. If your priority is to save time styling your mane, you may want to look into titanium irons instead of ceramic options. "Titanium is preferred among stylists because [it tends] to get hot really quickly," hairstylist Eugene Toye shared with Good Housekeeping. Titanium can distribute heat throughout your locks very evenly, resulting in sleek, smooth hairstyles. With this plate type, you shouldn't have to pass the same sections over and over to get your desired result. 
Meanwhile, ceramic-plated hair irons are slower in terms of heating ability, and they don't usually reach the extremely hot temperatures that their titanium counterparts do. But this is advantageous to people with finer locks since less heat means less chance of damage. Expert stylist Kadesiha Placide also pointed out that while they may require a lengthier time commitment, ceramic flat irons are kinder on your locks. "Ceramic-plated irons help to eliminate frizz and make heating plates smoother, so they're less likely to pull hair," she told New York Magazine.
How to choose between the two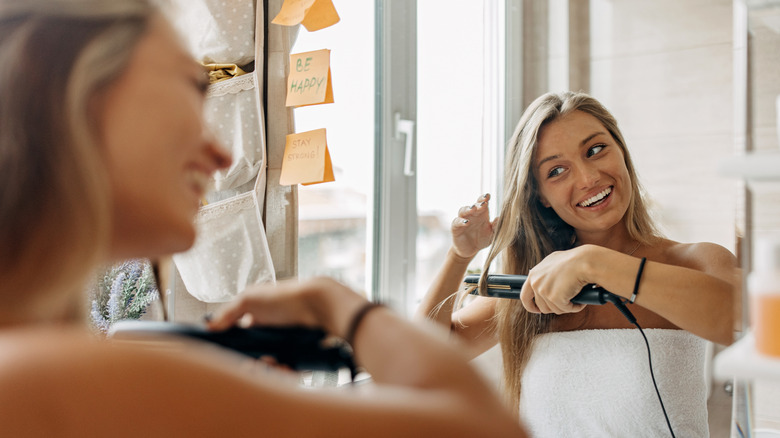 Supersizer/Getty Images
Now, selecting between ceramic and titanium hair irons hinges on the type of hair you have. If you have thin locks or strands that easily succumb to heat, ceramic plates will be the better option for you. But if you have thicker, tightly-curled hair that demands more effort in styling, you might need to purchase and learn to properly use a titanium-plated flat iron instead.
In case you're unsure, it's crucial to determine whether your hair is susceptible to breakage or damage. You may also want to lay off titanium-plated irons if you're not confident about using them correctly. "The heat transfer from titanium is intense, quick and, if used frequently or improperly, can create irreversible heat damage and breakage," Bridgette Hill, a certified trichologist and scalp expert, explained to NBC News. 
So while titanium is a professional favorite, it's not recommended to those inexperienced in styling their hair. For safety's sake, a ceramic iron may work better for you, especially if you're a hair tool newbie. And besides, they're an affordable option, with many top-rated options ranging from $150 and below. Once you're used to ironing your hair and have a better understanding of what your strands can and cannot withstand, then you can make the upgrade and move on to more professional-grade titanium irons.