Is An SPF Powder As Effective As Lotion?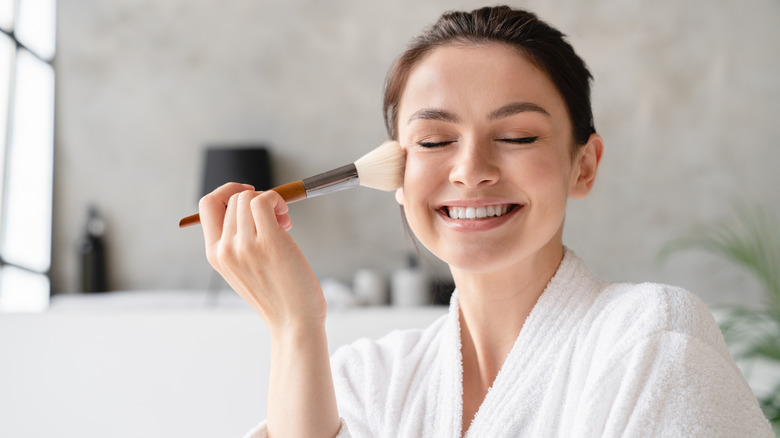 Inside Creative House/Shutterstock
Foregoing sunscreen is a cardinal sin in any skincare regimen. If you refuse to apply SPF on your face, you're basically encouraging the development of wrinkles and fine lines on your face. You're also increasing your risk of certain skin cancers brought about by the sun's harmful UVB rays. "The sun's UV rays damage the skin and cause wrinkles, dark spots and sagging," dermatologist Dr. Melissa Piliang explained to Cleveland Clinic. "Regular sunscreen use reduces and prevents these effects." 
Anytime you're exposed to the sun, whether outdoors or otherwise, you should do yourself a favor and apply SPF. So unless you're in a dark, dingy basement 24/7, you must use sunscreen day in and day out — full stop. Then again, sunscreen is notorious for leaving a sticky residue and an unflattering white cast. It's part of why some people are averse to the product; none of them want to look like a ghost in their selfies. 
This is where SPF powder comes in. The product is an attractive alternative to lotion sunscreen because it's easier to apply, isn't greasy, and doesn't leave a white cast. Unfortunately, SPF powder is also not as effective as lotion and gel counterparts.
Do SPF powders even work?
SPF powders have SPF in them; there's no doubt about that. But according to experts, they shouldn't be considered as your primary source of sun protection. Even if the powder claims to have SPF 30, which is the recommended number when it comes to sunscreen, it's doubtful that you'll get that amount due to the physical composition of the powder itself.
"Because skin is uneven, if you apply less than half the recommended amount, you usually end up with a lot less protection since it'll be patchy and you end up with a lot of uncovered 'hills' on your skin," cosmetic chemist Dr. Michelle Wong shared with Well+Good. "This is a big problem with powder, since it tends to apply more unevenly than other product forms like lotions and sprays." Unlike creams that let you visualize how much you're applying, powders are much harder to gauge, considering the product fallout they usually cause. It can be tough to figure out whether you're using the right amount of product or not.
If you insist on using powder SPF, however, it should only be as a touch-up. Experts still advise that you apply an SPF lotion to receive the protection you need. "Apply a mixed chemical and physical sunscreen to the skin first thing in the A.M.," dermatologist Anna Guanche told Allure. "Then touch up with the powder sunscreen throughout the day on the most sunburn-prone areas: midface, nasal bridge, and upper forehead."
How to pick the right SPF type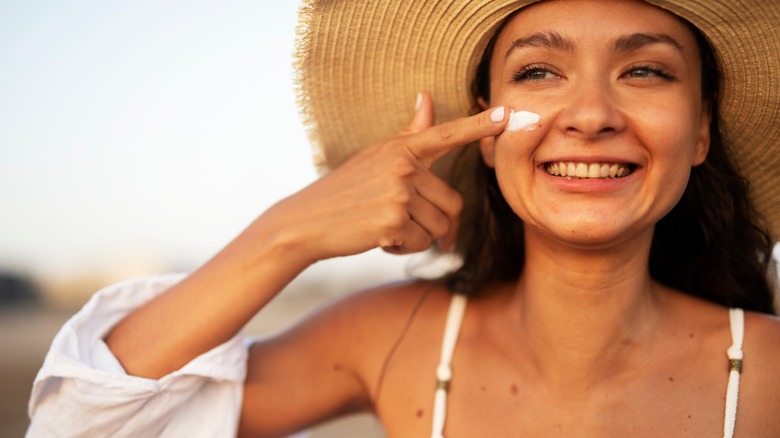 Pepper cinema/Shutterstock
SPF comes in various types and formulas, from lotions and sticks to sprays and gels. With the seemingly endless amount of choices, it can be tough to pick which one would offer the best sun protection for you. But according to dermatologist Dr. Ellen Marmur, you shouldn't limit yourself to using only a single sunscreen type or product.
"I suggest having a plethora of all of the types of sun protection and select what is best for your life each day," she told Today. "For instance, a spray at the beach, a lotion at the pool, and a stick for your kids and your eyes, lips, nose. A powder for reapplication during the day over your makeup is also good to keep on hand." You may also want to look into mists since they're easy apply, and gels for a more even application.
Whatever you end up choosing, make sure that it offers an SPF of at least 30. Anything less of that is unfortunately not strong enough to get the protection you need. "The American Academy of Dermatology always recommends an SPF of 30 because it is clinically proven to be a sufficient amount of protection to reduce or minimize the adverse effects of sunlight," dermatologist Dr. David Colbert explained to Allure. And, of course, don't forget to reapply throughout the day. At the very least, you should touch up every two hours.