A Bold Buzzcut May Be The Beauty Reset You Need (Trust Us)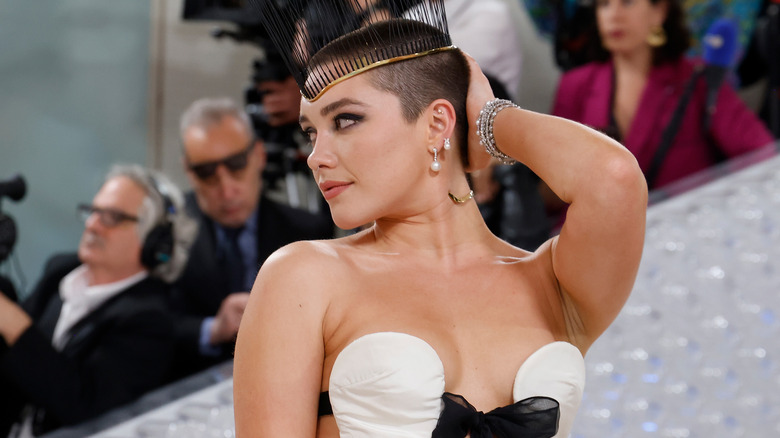 Taylor Hill/Getty Images
If you tuned into the Met Gala, then you probably saw Florence Pugh sporting a new look. As she walked the red carpet in a full-length white Valentino gown and a black feather headpiece, it was hard not to miss the fact that the actress was rocking a buzzcut — and it looked amazing.
Although Pugh isn't the first actress to buzz her hair, every time someone does it, especially if that person is femme-presenting, it immediately becomes a topic of conversation. For some reason, our culture is under the belief that only people with penises should be going for a buzzcut. But the thing is, buzzing off all your hair is really empowering for everyone who does it. It's not just about making a bold fashion statement, but making a choice for your body and how you want to present yourself to the world. 
While there are those who have shaved their heads for roles, others have done it for personal reasons. "Hair has also been a big indicator of racial issues in my life," Halsey told Nylon in 2016 when she buzzed her hair. "It's one of the ultimate symbolic struggles for women of color. Shaving my head was important to me because I needed to be able to prove that I could still love myself if I did it."
It doesn't matter why someone might get a buzzcut, but it might be a look worth giving a try. Not just because summer is around the corner, but because it looks so darn good and it's likely to give you confidence that you didn't know you had in you.
It's liberating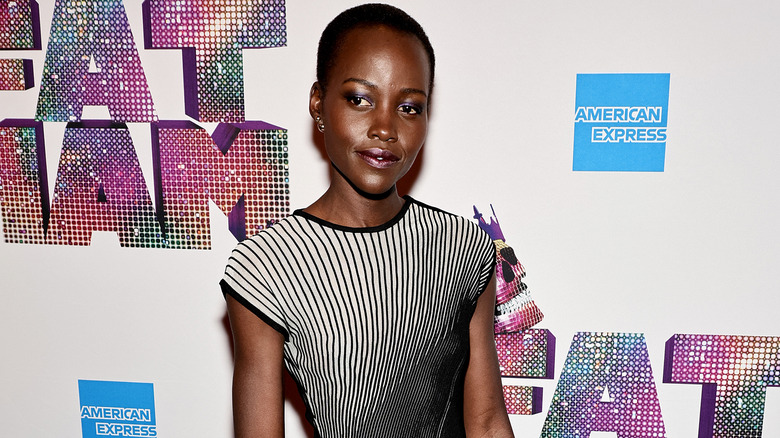 Jamie Mccarthy/Getty Images
Let's cut to the chase: hair can be a total pain. Long, bobbed, lobbed, permed, dyed, or any other way one chooses to wear their hair often requires a lot of work. But to buzz it all off? Now that's liberation at its finest. You've not only ditched those high-maintenance locks for something far easier, but you've just cut down your beauty routine by 90%. With a buzzcut, all you have to do is roll out of bed and the world belongs to you and your bold, striking look. 
"From Cara Delevingne, Kristen Stewart, and my personal client, Halsey, the buzz cut seems to be becoming a more popular look," celebrity stylist Joseph Chase tells Mane Addicts. "This cut can be such a freeing experience."
Freedom from society's expectations, freedom from hours in front of the mirror, freedom from hair dryers, and freedom from looking like everyone else. Not that there's anything wrong with that, but walking into any room with a freshly buzzed head is going to demand a few head-turns. And sometimes, that's exactly what we need. 
It can be a great reset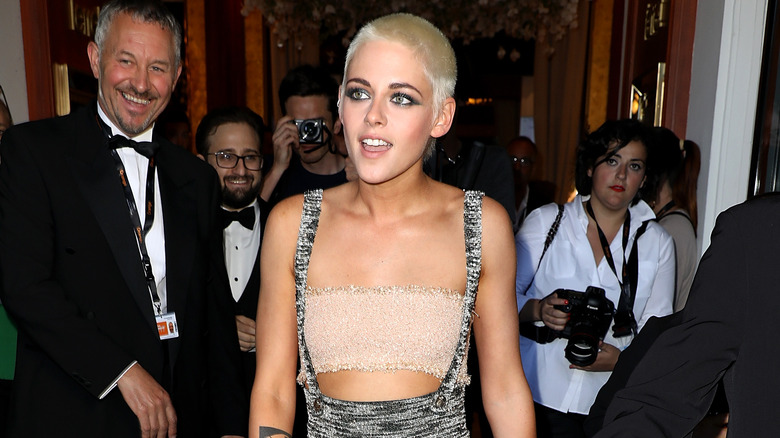 Pierre Suu/Getty Images
Although we don't realize it, our hair carries a lot of energy in it. Like the rest of our body, it's been exposed to things that we don't usually take into consideration because we think of it as, well, just hair. But there's more to it than that.
"Each strand is a tiny chronicle of every emotional, hormonal, and nutritional experience," co-owner of Framed Salon in Santa Monica Andi Scarbrough tells Byrdie. "Most people with shoulder-length hair are carrying with them the last three to six years of every sickness, setback, or traumatic incident."
Even if you don't 100% buy into this mentality, the reality is that, when needing to do something new and drastic, lots of people go for their hair first. They cut it, bleach it, dye it, or, in some cases, shave it off. It's a way to shake the past from your body and reset — both literally and metaphorically. It doesn't just create a new you, but a rebirth that symbolizes a change.
While the idea of going for a buzzcut may be daunting for some, if you've never tried it, maybe it's time. Granted, you may be shocked at first because it can be a big transformation depending on the hair you have now. But hair grows back, so it's a risk worth taking.