Your First Facial Can Be Frightening. Here's What To Expect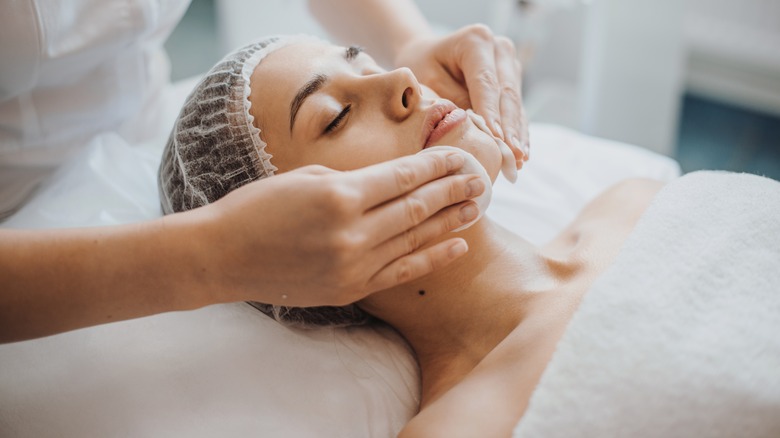 dekazigzag/Shutterstock
Getting a facial is a relaxing way to treat yourself to much-needed pampering. While it's mostly known for being a calming experience, it can be frightening if you've never gotten one before and don't know what to expect. Speaking to Time, Dr. Adam Friedman explains that a standard facial consists of, "a deep cleaning, followed by some kind of pimple or blemish extraction, a massage and steam treatment, a mask or peel, and a final application of some type of moisturizer." From an oxygen facial to a phenol peel, there are plenty of treatments to choose from, and each comes with its own set of benefits.
"Regular facials improve skin texture, reduce the appearance of fine lines, wrinkles, and acne scars, help reduce pore size, increase the effectiveness of your home care routine, deep cleanse pores to help prevent future breakouts, and, most importantly, promote relaxation — a lot," Trina Wood, former spa director at The Spa at Four Seasons Hotel Seattle tells Byrdie.
If you're thinking about getting a facial for the first time, it's important you know all of the dos and don'ts before starting your skincare journey.
How to prepare for your facial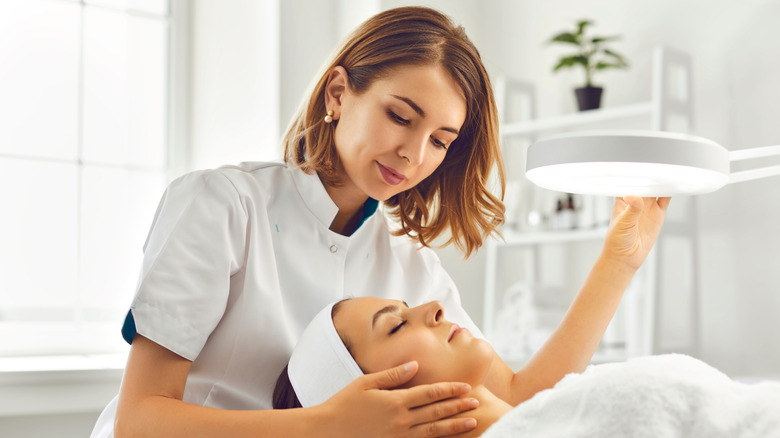 Studio Romantic/Shutterstock
Your skincare prep routine will depend on the type of facial you're getting. Taylor Worden, a celebrity aesthetician and founder of Taylor Worden Skin, tells Who What Wear, "Don't exfoliate your skin four days before the facial." Exfoliating close to the date of your facial can result in redness and irritation, leaving your skin looking worse than before. Per InStyle, avoid using retinol, BHAs, and AHAs a week before your facial to avoid any inflammation, redness, and irritation post-treatment.
Make sure to book with a licensed esthetician — always look through reviews and ask those you know for recommended estheticians to ensure you're going to a professional who you can trust with your skin. 
Another important tip to remember is to be as honest as possible with your esthetician. Let them know about what skincare products you're currently using, any allergies you have, and any struggles you experience with your skin like sensitive or dry skin. This will help them to provide you with a treatment curated specifically for your needs.
Post-treatment care tips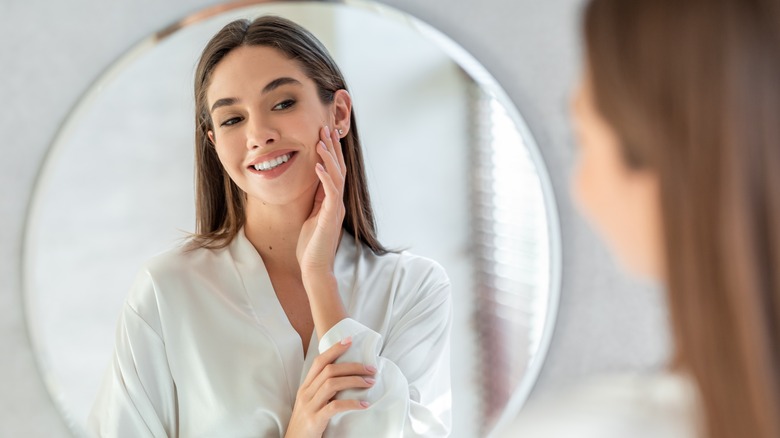 Prostock-studio/Shutterstock
Your post-treatment care is just as important as your pre-facial routine. When booking a facial, don't book the treatment ahead of a big event where you'll need to get glammed up. Renée Rouleau, celebrity aesthetician and skincare expert, tells Who What Wear: "It's best just to let your skin calm down naturally and not have to worry about applying makeup to cover it up. This is especially true if you will be having extractions for the removal of blackheads and clogged pores."
When you're letting your skin calm down post-treatment, it's best to avoid touching it or doing any other treatments until it heals. Trina Wood tells Byrdie, "If you are receiving more intensive facials like chemical peels, microdermabrasion, microblading (which is actually removing the top layer of the skin), you need to wait until your skin has some time to regenerate."