Products You Should Steer Clear Of After A Wax To Avoid Irritation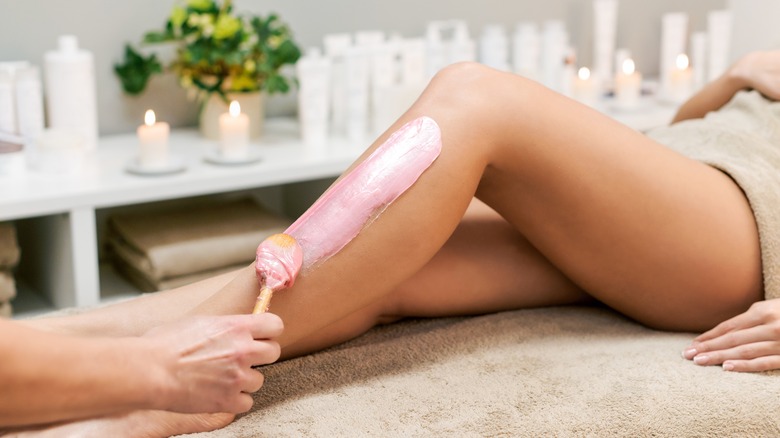 Photology1971/Shutterstock
Having hair on your body is a natural occurrence, but that doesn't mean you get excited about where or how often it grows. Sure, you can rely on your trusted razor to remove unwanted hair, but you might not have the time or desire to shave on a daily or weekly basis. There's also the chance you're tired of accidentally nicking yourself or causing irritating ingrown hairs — ouch. Luckily there are options you can try, like laser hair removal or wax treatments, that reduce how often you pick up your razor. Naturally, there are different reasons you might prefer to schedule wax sessions instead of committing to laser hair removal treatments.
Whether you're interested in receiving anything from a facial wax to one that targets your bikini area, there are certain things you should be mindful of to ensure your skin reacts well to each session. In addition to prepping your skin before you receive a wax, you also have to pay attention to the products you use afterward, even if you don't have sensitive skin.
Avoid oils, makeup, and retinoids after facial waxes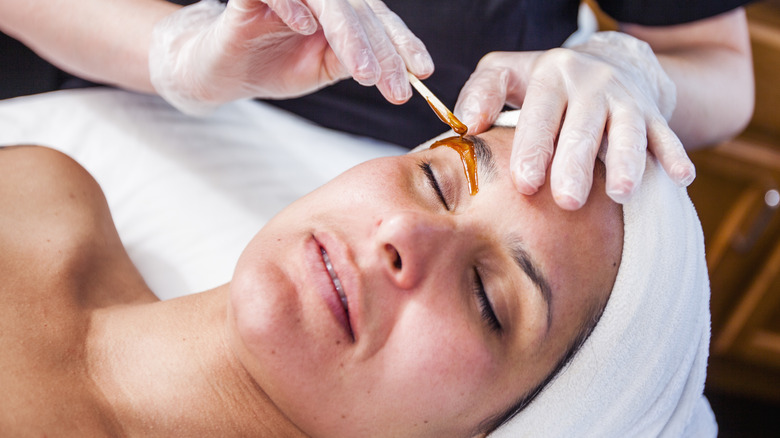 Renphoto/Getty Images
The types of facial waxes you can get target areas such as your chin, upper lip, or eyebrow area. When you receive a wax of any kind, the area you're getting treated is generally sensitive because not only does wax remove the hairs on your body, but it also exfoliates your skin. The type of wax your esthetician uses, such as hard wax, fruit wax, or sugar wax, can also play a role in the sensitivity level of your skin post-treatment.
Nevertheless, ensuring you don't use makeup or certain skincare products after a facial wax for at least 24 hours is vital to avoiding breakouts. Gina Petak, the learning program manager at European Wax Center, told Women's Health, "Keep away from products containing pore-clogging ingredients such as mineral oil or heavy creams and lotions." Unbeknownst to you, some of your favorite products may be comedogenic, which can trigger breakouts. Additionally, this is the time to begin understanding parabens in skincare. As an extra precaution, it doesn't hurt to ask your esthetician about how they may also affect your freshly waxed skin.
Wait a few days before using any products with fragrance or artificial ingredients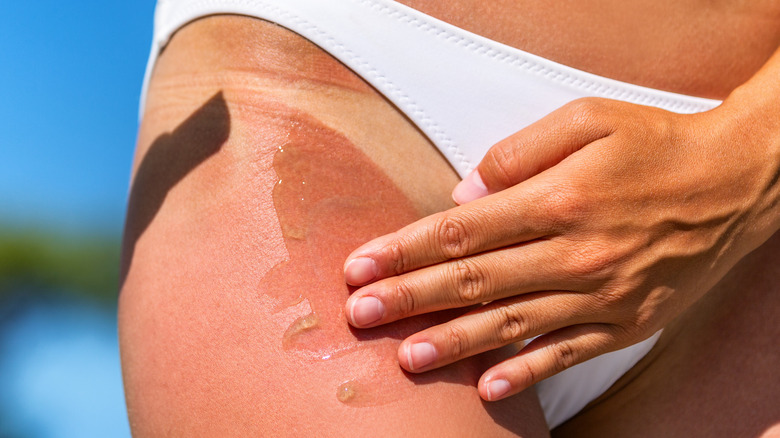 Maridav/Shutterstock
Other products and ingredients you should avoid are those that have fragrance or artificial ingredients — think scented lotions and sprays. As good as they may smell, they can irritate the area of your body that's just been waxed. For instance, if you receive a bikini wax, not only will your pores be open, but your vulva will be very sensitive. Using soap or body wash that isn't mild or formulated for sensitive skin will cause unbearable irritation. Using milder products will allow your vulva to breathe and heal from your wax treatment. You can also ask your esthetician if it's safe for you to use anti-inflammatory or anti-bacterial products.
Not only that, but if your esthetician says it's okay, you can exfoliate your waxed area. Joshua Zeichner, a dermatologist, told Allure, "Stay away from strong chemical exfoliators, as they can cause skin irritation and increase your risk of a burn from the hot wax." He went on to say, "Instead, stick to mild scrubs that contain hydrating ingredients that keep the skin barrier as healthy as possible."