Tips To Help You Moisturize Dry Hair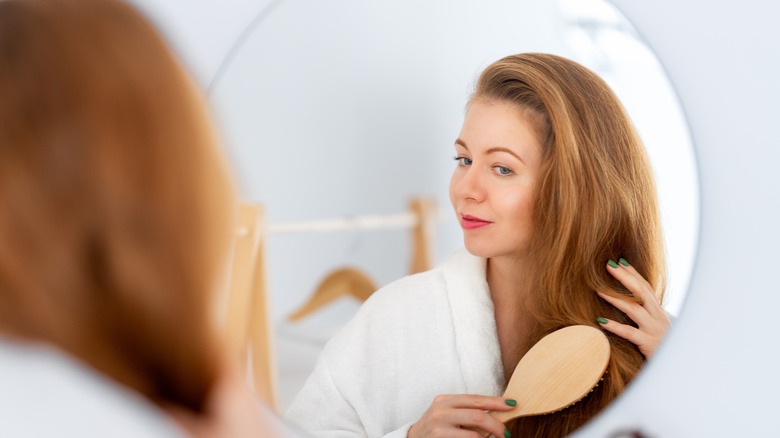 Yuganov Konstantin/Shutterstock
We may receive a commission on purchases made from links.
Shiny, hydrated, and healthy hair is a goal we all strive to achieve, but split ends, breakage, and dry hair can often prevent us from getting our dream mane. Dry locks are a common issue that many people experience at one point or another, and it can be a serious struggle to try to get rid of. If you notice your tresses are frizzy, untamed, breaking off, or have a straw-like texture to them — you more than likely have dry hair. 
When it comes to moisturizing your locks, everyone's needs are different. "Moisturizing is a tough topic to speak about broadly, as everyone's hair texture is so different and has its own unique needs," Ashley Streicher, a celebrity hairstylist and R+Co collective member, tells PureWow.
Fortunately, there are a few universal steps you can take to give your mane an extra boost of moisture and keep it soft, shiny, and hydrated.
Condition your hair before shampooing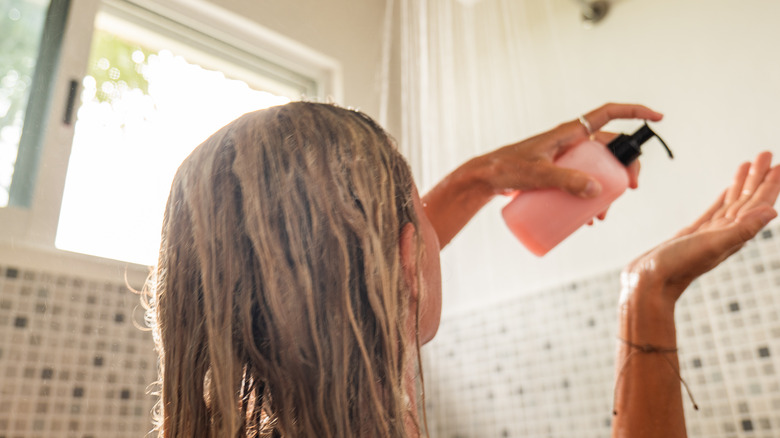 Mystockimages/Getty Images
While you may be used to conditioning your hair after shampooing it, it can be beneficial to condition your hair before washing it. Justin Toves-Vincilione, an Authentic Beauty Concept advocate and celebrity hairstylist, tells Byrdie: "This is a conditioning method where an oil, mask, conditioner, or deep conditioner can be applied to dry hair and left on for an extended period. Some people do this overnight and others for as little as an hour."
Along with keeping your hair super hydrated, conditioning your hair pre-shower comes with other benefits too. Conditioning your hair before washing it will help tame frizz, prevent product buildup, and also makes your locks much more manageable. 
It's important to know which hair mask you should be using for your specific hair type. For a hydrating hair treatment that works for all types of hair, try Amika's Soulfood Nourishing Hair Mask. Put the mask on your hair and let it sit for five to 10 minutes to benefit from the moisturizing vitamins and nutrients of the treatment.
Use a hydrating shampoo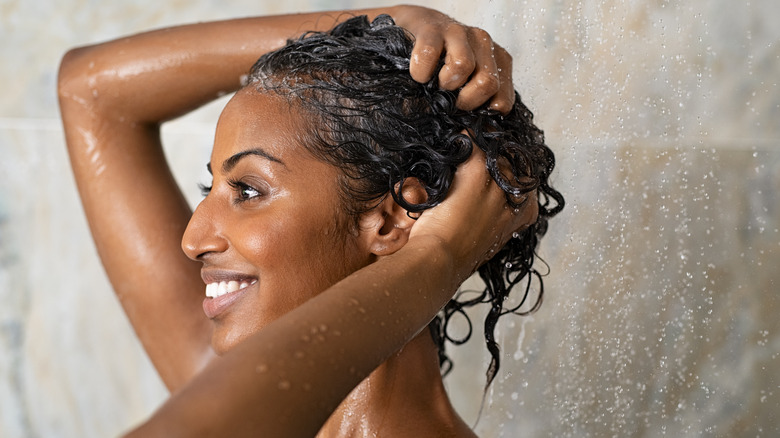 Ground Picture/Shutterstock
Adding moisture to your shampoo routine is just as important as it is when conditioning your tresses. There are many shampoos out there that claim to moisturize your locks, but not all shampoos live up to their promise. When you're choosing a shampoo, look out for hydrating ingredients like coconut, jojoba, argan, avocado, apricot kernel, or almond oil. Sulfur is another great ingredient that can be the solution to all your dry hair problems. We recommend trying the Morrocanoil Hydrating shampoo to treat your dry strands. This hydrating shampoo includes antioxidant-rich argan oil and nutrients that will replenish and nourish your dry hair. 
There are also certain ingredients that could potentially dry out your hair even more, including alcohols like propanol, ethanol, isopropyl, and propyl alcohol. Ditch shampoos with these ingredients and always check the label before purchasing a new shampoo to avoid doing more damage.
Avoid shampooing daily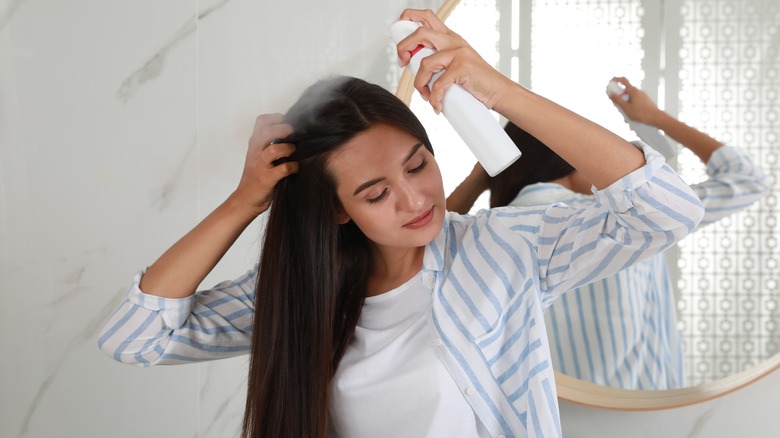 New Africa/Shutterstock
Having a steady, consistent haircare routine is essential to achieving hydrated and healthy hair, but you also don't want to overdo it. One sure way to dry out your hair is to shampoo it every single day. Overwashing can strip your mane of its natural oils and lead to brittle, dried-out locks. While your hair may look much better when it's clean, there are other ways you can keep it from getting oily and dirty sans the daily wash.
Opt for swapping your daily hair washes for a dry shampoo, especially if you struggle with visibly oily locks. When your hair looks greasy and oily, add a small amount of dry shampoo to your roots. Opt for products specifically formulated for oily scalps and hair, like the OUAI Super Dry Shampoo. This dry shampoo will absorb the excess oil on your scalp and leave your hair feeling clean.
Opt for a leave-in conditioner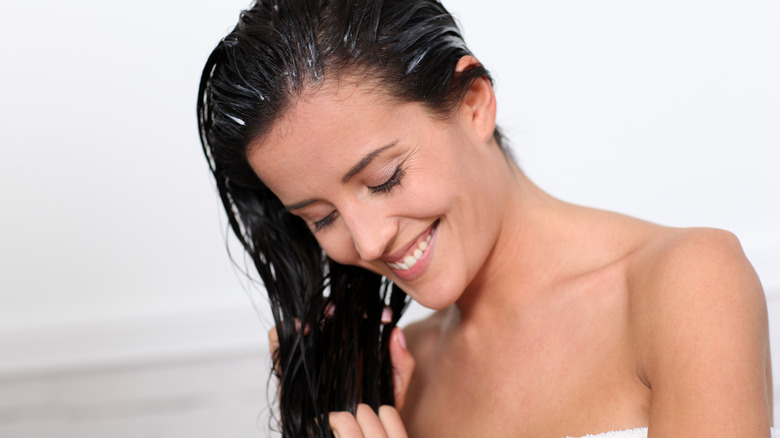 Goodluz/Getty Images
To help keep the moisture in your hair post-wash, you'll want to opt for a leave-in conditioner. "The best step to take after conditioning your hair is to layer on a moisturizing leave-in to help lock in the moisture," Justin Toves-Vincilione tells Byrdie. Leave-in products like conditioner not only hydrate your hair, but also detangle your locks and protect them from further damage. 
A leave-in conditioner spray, like Amika's Hydro Rush Intense Moisture Leave-In Conditioner with Hyaluronic Acid can be easily applied. To use this spray, wash your tresses with your regular, hydrating haircare products. Then, towel-dry and spray the leave-in conditioner on your hair while it's still damp. If you experience dry and split ends, spray the product onto the ends of your hair. You can also use the spray on your locks when they're dry to keep frizz and flyaways at bay. 
Limit the use of heat styling tools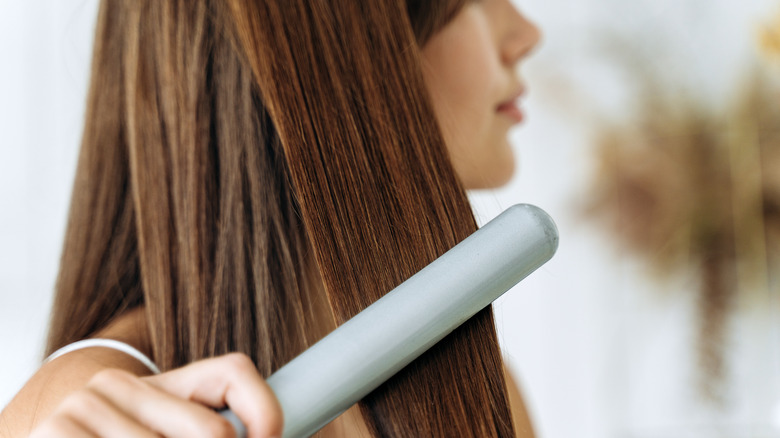 Sklo Studio/Shutterstock
Heat styling tools like a blow-dryer, straightener, and curler can elevate your hairstyle, but they also cause damage to your tresses. "Too much heat on the hair causes breakage — constantly heating and cooling will weaken the hair, leading it to break," FEKKAI brand stylist partner Chad Wood tells Well + Good. Try to limit your use of heat styling tools, as the less you use, the less damage and breakage you'll cause. 
On the occasion that you do use heated tools, you can help mitigate the damage done to your hair by applying a heat protectant spray prior to styling. If you have colored hair, Pureology's Color Fanatic Heat Protectant Leave-In Conditioner keeps your hair's color preserved while also protecting it from heat damage up to 450° F. You can also use this spray if you haven't colored your hair and are rocking your natural hue.