Deconstructed Eyeliner Is The Artfully Distressed Beauty Look You'll Want To Try
When it comes to next-generation beauty trends, we're all for embracing our perfect imperfections. We're predisposed to celebrating flaws as unique rather than obsessing over perfection for the sake of it. From our love of blurry Instagram candids over expertly airbrushed posts, to our preference for makeup that shows off our natural skin textures, we prefer to keep things authentically quirky. 
The deconstructed eyeliner trend is the newest beauty look that promises the uniqueness and individuality you crave. The deconstructed eyeliner look is gracing highbrow runways and catching eyes for being so mystical. Far from the classic cat eyeliner that Taylor Swift crooned about being sharp enough to kill a man, deconstructed eyeliner is more ambiguously esoteric and less, well, homicidal.
If you're looking for edgy eye makeup guaranteed to capture every stolen gaze and soul that heads its way, which is also relatively easy to do, then you'll definitely want to give this technique a go.
How to get the deconstructed look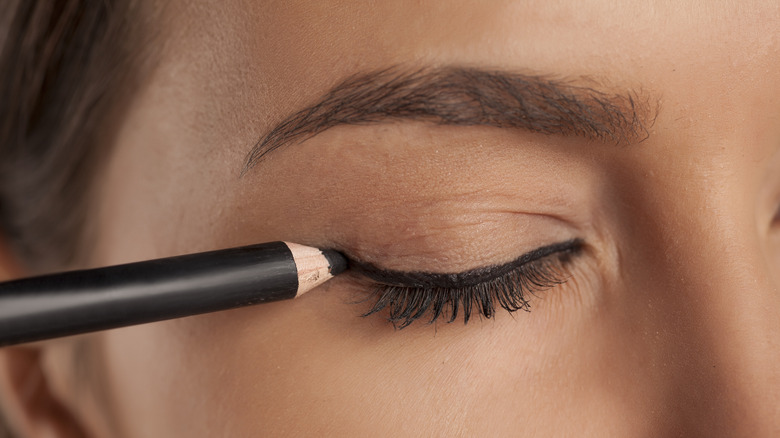 Vladimir Gjorgiev/Shutterstock
The deconstructed eyeliner style is super expressive. It's a spin on the usual look, which involves drawing a straight line along the ridge of your eyelid and usually ending it in a sharp wing. However, the deconstructed look gives you the leeway to create any shape or pattern you desire. New York-based makeup artist Anne Kohlhagen shared with Makeup.com how to do it yourself. 
First, because it strays away from the straight, razor-edged flair of typical eyeliner, she insists that you use a good waterproof pencil eyeliner to create your smokey makeup look and prevent it from becoming blotchy. The next step is to line your eyes starting from the inner corner close to the bridge of your nose and gradually moving outward towards the opposite end of your eye. Kohlhagen recommends not filling in with the liner all the way and "leaving some parts blank ... so you can see the negative space between the colors." You will need a makeup smudge brush to perfect this style. 
Remember, the end goal tends toward a blurry look around the eyes. By now you should be able to see your artwork coming together. The final step is to take your look to the next level by adding some color to it. This step is optional, but if you want your eyes to match your outfit, then choose the appropriate eyeshadow and gloss over your eyes. The resulting look will be a sultry, colorful fantasy.
You can add your own flair to the look
The beauty of the deconstructed eyeliner style is that you can recreate it in any way that suits you depending on the mood you want to portray. You can opt for a neutral-toned, casual blend for a natural glow or go full-on dark sorceress. The deconstructed eyeliner look hit the runway during Dior's Fall/Winter 2023 show and it was giving everything. 
Peter Philips, the makeup artist who came up with the look, told Coveteur, "I didn't fade it out or else it would turn into a smokey eye. We wanted to keep it a little more raw." In fact, he didn't even use mascara. Likewise, instead of the traditional sharply upturned corners, the ends were almost downturned and significantly more bulbous. 
The result was a stunningly sorrowful look that still retained its femme fatale edge. While it may seem like you need to have supermodel confidence to pull off the deconstructed eyeliner look, it's simply organized chaos and easily suits your vixen aesthetic without doing too much.