How To Style The Trendy Digital Lavender Color All Year Long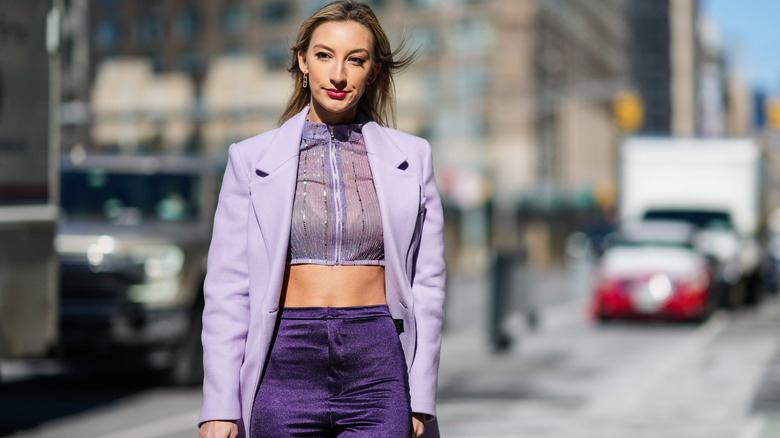 Edward Berthelot/Getty Images
International trend forecaster WGSN has officially named digital lavender the color of 2023, and it's been a long time coming. The soft and complex shade has gained traction over the last few years at events like Simon Porte Jacquemus' Spring/Summer 2020 show in lavender fields and the Autumn/Winter 2021/2022 catwalk shows. Not to mention, up-and-coming pop superstar Olivia Rodrigo adopted the color throughout her debut album cycle and her 2022 Met Gala appearance, and videos under the search "digital lavender" on TikTok have more than 14.4 million views. 
According to WGSN Color Strategist Clare Smith, "It's a shade that poses that much-needed cautious optimism and escapism that people are craving post-pandemic and even in times of budget crunch; it is imaginative and creative but also speaks of serenity and balance." The gender-neutral tone is also fitting for a time when both fashion and people are less strictly defined by gender. Taylor Swift sang it best: "I just wanna stay in this lavender haze." So, how can you stay in the lavender haze all year round? There are plenty of ways to incorporate this look into your wardrobe.
Stun in an oversized lavender coat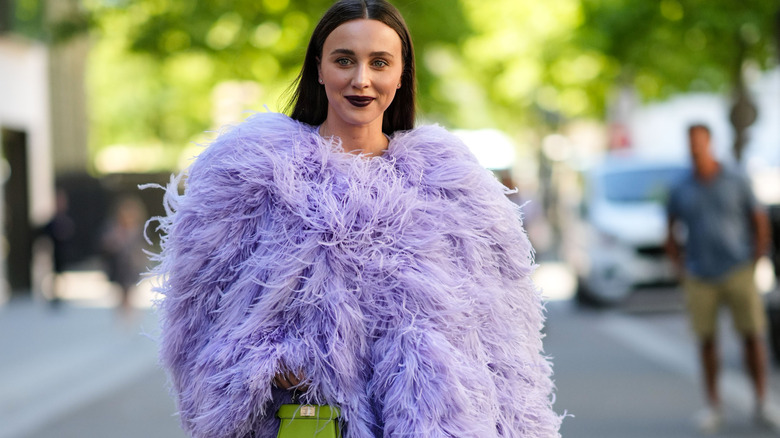 Edward Berthelot/Getty Images
Both oversized coats and lavender are currently en vogue, so this look is about the trendiest it gets right now as it incorporates both. When the summer nights and fall days get chilly, why not have some fun with warmer clothing? The world is your stage, so you might as well play the main character and make jaws drop with your bold fashion choices. A huge digital lavender coat is eye-catching but cool and kind of mysterious at the same time. Pair your coat with a dark lip and a small purse to really be "that girl." 
Turn heads with a dress and trench coat combo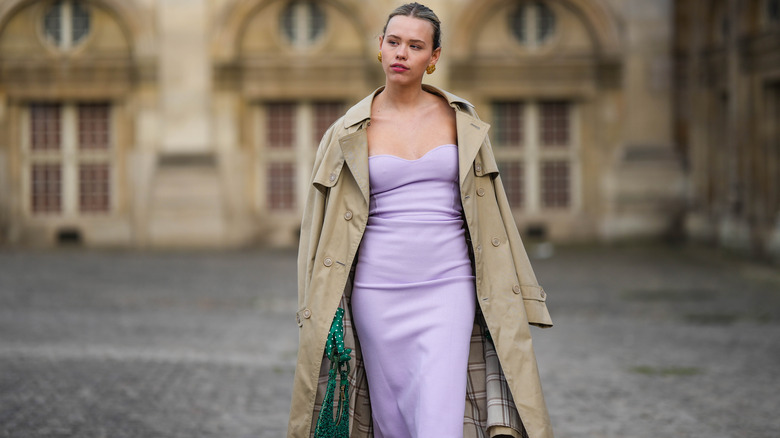 Edward Berthelot/Getty Images
Have you been searching for an ensemble that exudes the perfect balance of sexy, classy, and breezy? A long digital lavender dress paired with a long tan trench coat might just be your answer. The outfit screams "confident badass" but in a fun, lighthearted way, and it's ideal for drinks with friends, a nice brunch or lunch, or an office party. Your dress and coat will look equally fabulous with either complementary sneakers or heels, depending on the occasion. 
Take a trip to the hair salon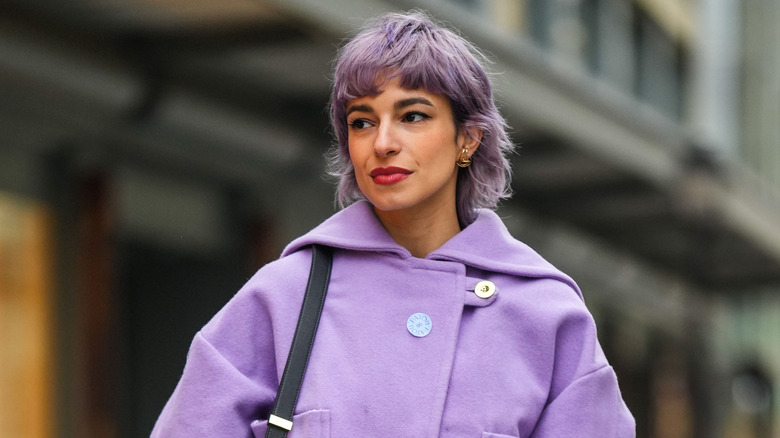 Edward Berthelot/Getty Images
If you really want to show off the color of the year on a 24/7 basis, you always have the daring option of dyeing your hair lavender. This way, your adorable locks will match all of your cute lavender ensembles, and you can experiment with matching makeup looks — soft and shiny lavender eyeshadow and some dark purple lipstick will be stunning with this hair. Fortunately, the popular shade of purple is very versatile, and you can pull it off with a casual t-shirt or style it glossier for a formal event.
Carry the trendy color with you everywhere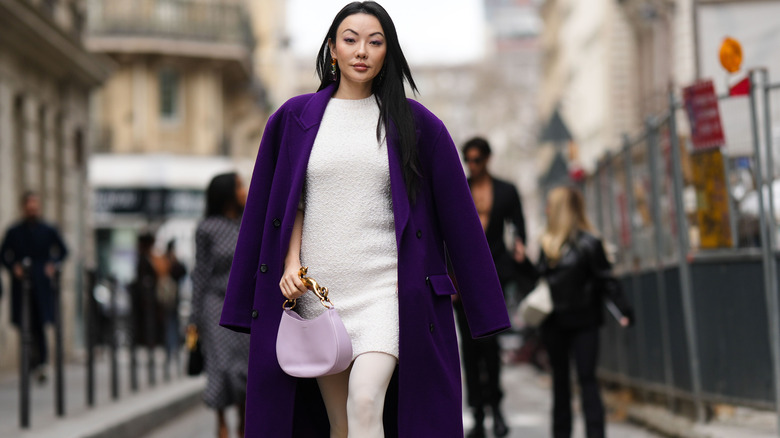 Edward Berthelot/Getty Images
If there's anything that's useful and playful all year round, it's a cute purse or over-the-shoulder bag. A lavender purse is a great accessory for people who do want to rock the 2023 color every day but don't have the means or desire to buy a million outfits each time the WGSN announces a new "It" color. It's feminine with a chic edge, and if you feel like it, you can celebrate the color even more by filling your bag with lavender nail polish, lavender pens, and lavender makeup.
Walk around in lavender pants
This year, it's all about digital lavender trousers. The pants paired with a white or pale yellow blouse and some shimmery makeup are ideal for a summer night or a spring day. If it's colder outside, they'll also look super chic with a puffy white jacket. Not to mention there are endless ways to accessorize them; you can try trousers in this color with a statement belt, hoop earrings, and pretty much any casual or formal shoes that match. 
Keep it cute and professional in a button-down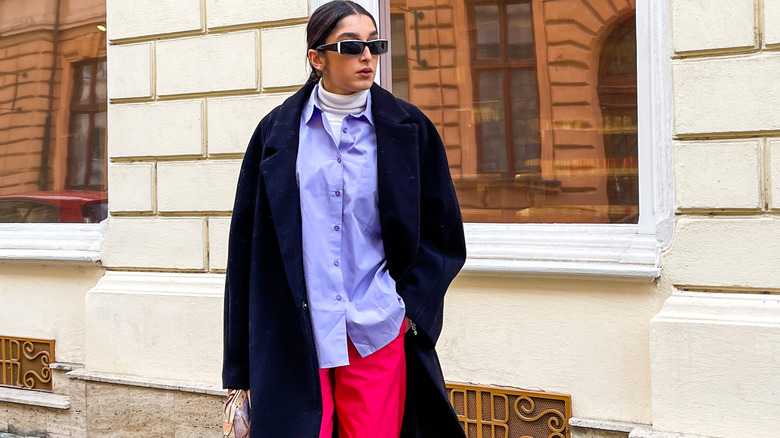 Edward Berthelot/Getty Images
Sometimes, you need an outfit that's straightforward and appropriate for varying levels of formality, but you also want to stand out from the crowd a bit. That's what makes a lavender button-down ideal; it's an everyday look with a twist. Your going-to-work outfit can be extra exciting and fashion-forward if you pair this top with trousers that are a different bright color. Try a lavender button-down with green or red pants if you want to really pop off in the office or on the street. 
Stand out in a digital lavender sweater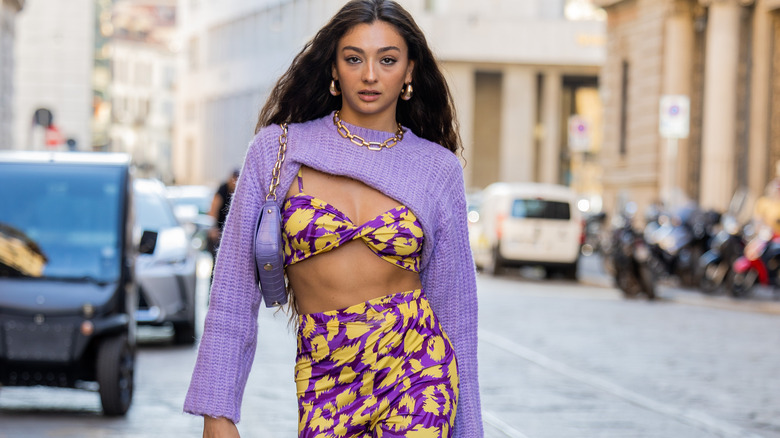 Christian Vierig/Getty Images
These days, there's an en-vogue sweater for literally every kind of weather. Whether you opt for something oversized, fitted, or a sweater that's mostly just sleeves, you'll be totally in style according to the current trends. Lavender sweaters give off sweet and youthful energy and they look great with gold hoop earrings, jeans or casual trousers, and white sneakers or wedges. Simple monochrome pieces are always fun to accessorize, so enjoy playing around with matching hats or belts. 
Channel your inner badass in a power suit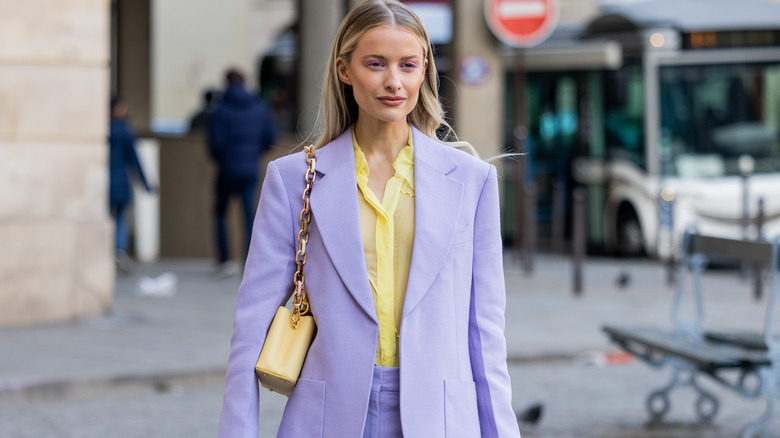 Christian Vierig/Getty Images
Digital lavender power suits might be the most elite out there. This look achieves a gorgeous harmony of masculine and feminine vibes, and as an added bonus, it happens to be very comfortable. You can wow in one of these at an interview, in the office, or at a work event. Depending on where you're planning to go, you can pair the suit with platform Converse, Doc Martins, or heels. A suit in this shade especially shines with a pop of yellow, too — try a yellow bag or blouse. 
Feel elegant in a flowy skirt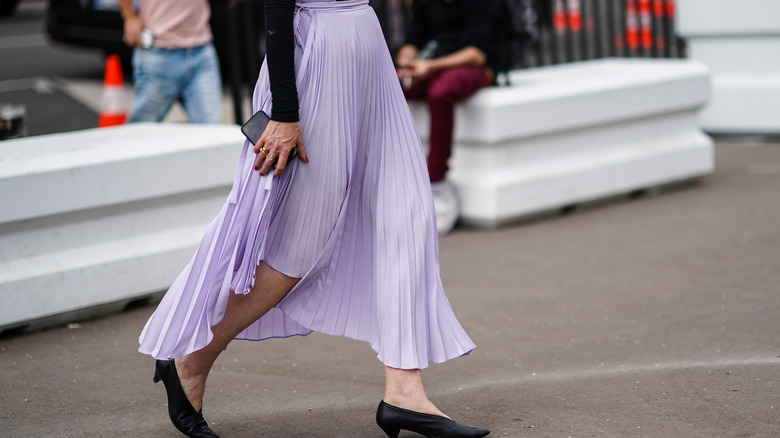 Edward Berthelot/Getty Images
Lavender is inherently soft, pastel-y, and dreamy, and that's why it's just the perfect shade for flowy items. Long, sheer lavender skirts and dresses are gorgeous in the summer, and they'll have you feeling breezy and beautiful. Fortunately, you can also rock an ankle-length lavender skirt in a warmer material with a pair of tights and heeled boots in the winter. Depending on the temperature and how you're feeling, try out a flowy skirt with a crop top or a fitted black leather jacket.
Charm in a matching set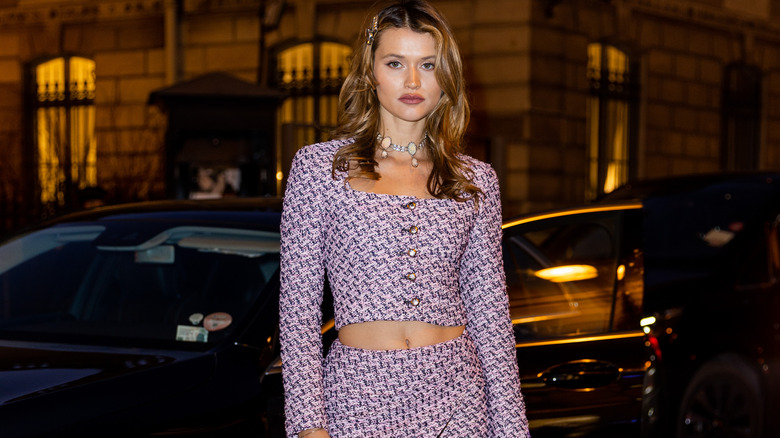 Christian Vierig/Getty Images
Matching sets honestly couldn't be more adorable or more versatile. Somehow, they're professional, playful, and sophisticated at the same time, and they're also appropriate for various seasons. If you wear a lavender matching set confidently, you'll be sure to catch people's attention and embody that enviable "It girl" energy. To go full cutesy, try it with a curly 'do and some lavender hair clips. Or, for a more understated edge, accessorize with a simple silver necklace and black heels or platform shoes.