Wedding Planner Shares Their Best Tips For A Low-Cost Elopement - Exclusive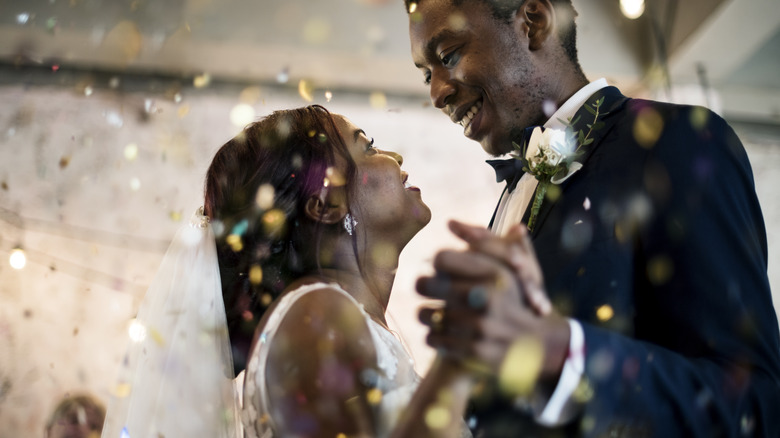 Rawpixel/Getty Images
Some couples budget thousands of dollars and spend several years planning their perfect wedding. Yet, some are ditching the traditional big weddings in favor of something more intimate, romantic, and much cheaper. Eloping can reduce the expense of your wedding day and still give you a romantic occasion with your budget in mind.
There are dozens of reasons you might opt for an elopement over a traditional ceremony. It can be more economical, intimate, and low-key, and it can put the focus back on you and your partner. A low-cost elopement is also a great way to avoid the petty drama that so often colors a traditional wedding. While, you may get to be selective about how and with whom you celebrate your big day, elopement still involves a bit of planning. And even though it can be a more streamlined option, there are still costs involved that need to be managed. Women spoke exclusively to McKenzi Taylor, wedding planner at Cactus Collective Weddings, about how to plan the low-cost elopement of your dreams.
Know your non-negotiables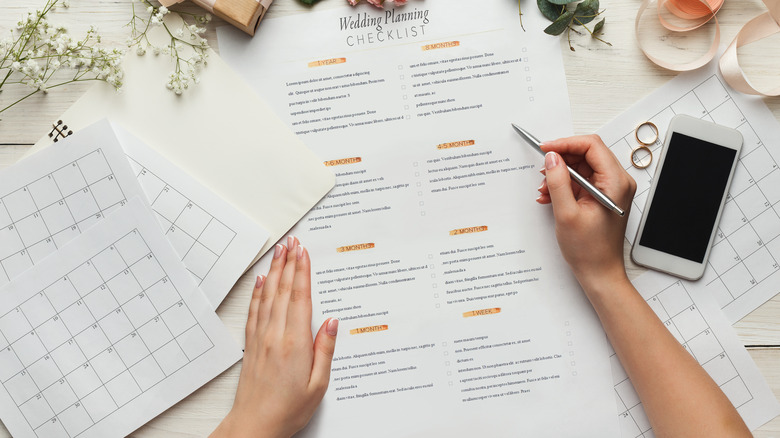 Prostock-studio/Getty Images
Elopement doesn't always mean you rush to Vegas at the last minute and tie the knot; it can also be a small ceremony surrounded by your nearest and dearest. Taylor, an expert on eloping, told Women exclusively that before you can get into the little details, there are a lot of questions you and your partner need to ask yourselves before walking down the aisle. "When and where will you be hosting your elopement? This will have a big impact on your budget," Taylor said. "Will we be having a justice of the peace wed us in a city building, or do we plan to exchange our vows in a scenic location, chapel, or even in a more standard venue?" She adds, "If you are aiming to have something more elaborate, celebratory, or traditional in nature, you will need to consider whether your elopement will be local or if you will be traveling and having a destination elopement."
To keep things within budget, Taylor recommends cutting costs where you can. Go into the planning knowing exactly what type of wedding you want and build your budget from there. For some, this could take the form of a chic courthouse ceremony. Budget-conscious couples increasingly opt for something between an elopement (just the people getting married and a witness) and a traditional wedding. Taylor refers to that happy medium as a "micro-wedding." The larger or more luxurious your micro wedding is, the higher the cost.
Look out for hidden costs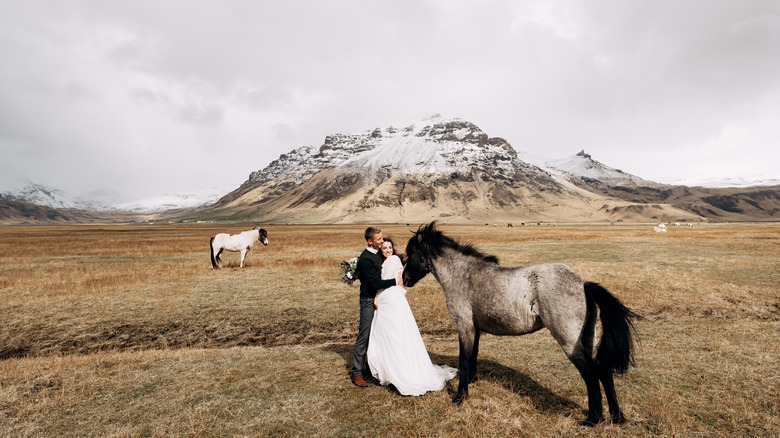 Nadtochiy/Getty Images
As with most big-ticket items in life, there's a good chance that you won't stay within your original elopement budget. Unfortunately, this is something Taylor sees all too often in the wedding planning world, she notes exclusively to Women. Speaking about her clients who opt to travel for an elopement, she said. "[Couples] often forget that in addition to travel expenses, there are lodging expenses, transportation expenses, and food expenses during their stay at the elopement destination."
Similarly, you may go into the elopement planning process thinking you want something as simple as a photographer at a courthouse and quickly realize you want something a little more unique. "It is also a misnomer that all elopements are bare-bones affairs. In our experience with our couples, elopements can range from the simplest of vow exchanges to more elaborate with décor, a theme, and an exclusive location that costs a bit more," Taylor said.
Again, this is where the hidden costs can sneak up on you. "This does not include musical accompaniment, champagne, photography and videography, wardrobe, hair and makeup, and all of the extras," Taylor added. If you're feeling overwhelmed, you can hire a wedding planner like Taylor, who specializes in elopements and can help you iron out the details of your special day. "We try to make it as simple and streamlined as we can for our couples," she said.
The bottom line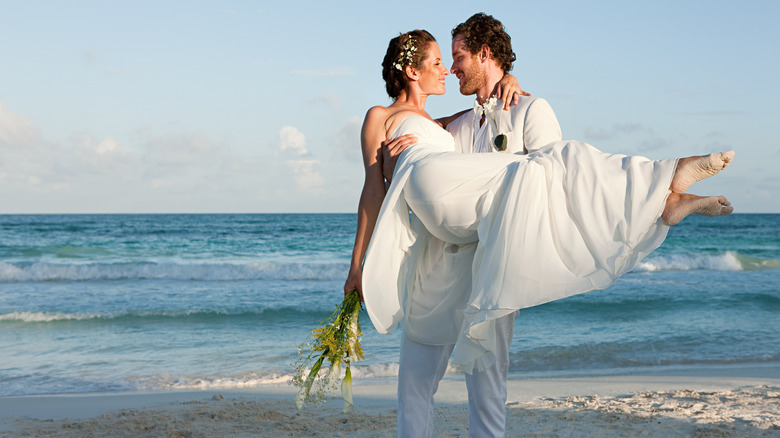 Image Source/Getty Images
When it's all said and done, it's your big day, so don't get too wrapped up in an ultra-strict budget. The key is balance, Taylor explained exclusively to Women. So leave a little wiggle room, but don't go overboard. "The sky's the limit when it comes to setting a budget for your elopement, but I am a firm believer in not going into massive debt for a wedding," she said. "Setting a budget based on what you currently have and/or saving for the elopement is best."
If you want to keep things on a budget, ensure it goes towards guests and food and get creative with other aspects of your wedding. According to Taylor, keeping things eco-friendly is a great way to stay budgeted and environmentally aware. "Exchange vows in an outdoor natural setting; use natural light for your photography," she said. "Opt for a one-man or one-woman acoustic (unplugged) musician for your ceremony."
The cold and hard truth is that while you can cut corners and keep things green, the cost can directly reflect the number of guests you include. You want something inexpensive, low-key, and intimate, so keep your guest list tight to keep costs down. "If it is just the two of you, you will save the money you would have spent on some guests," Taylor said. "The lower the guest count, the lower the cost."