How To Style The Classic Seersucker Print All Summer 2023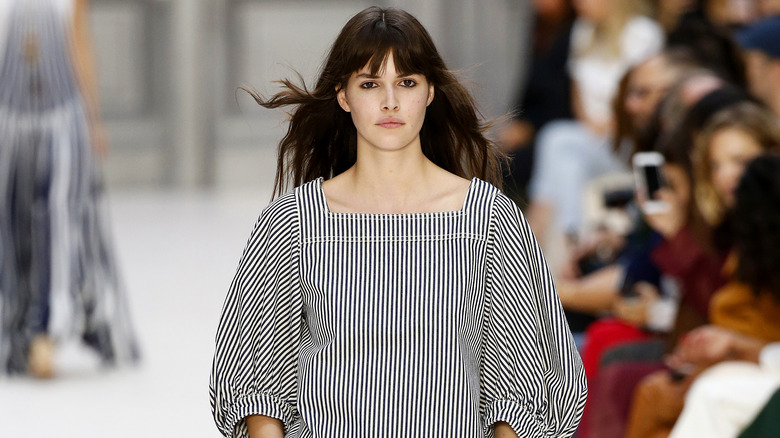 Estrop/Getty Images
Everyone's dealt with this classic summer dilemma: how can you be fashionable while not sweating through your clothes? While you're creating a summer capsule wardrobe you'll love every year, consider adding some seersucker pieces to your closet.
Seersucker is considered a quintessential summer fabric in the fashion world. It's usually made out of 100% cotton or linen, both of which are lightweight fabrics favored in hot climates for their breathability. What differentiates it from regular cotton or linen, however, is its almost wrinkled-looking texture. While cotton and most other fabrics are spun on one loom, seersucker is created with twin beam looms that each operates at different speeds. This results in its trademark bumpy look.
It can be used in any kind of outfit, from suits to dresses, though it's built up a reputation for being used in preppy, vintage-esque outfits. Stripes and gingham are the favored patterns for seersucker clothing, though they're by no means the only ones. This is a timeless style that you'll want to experiment with, if not because it's trendy, then because it'll keep you cool in those scorching summer months. From breezy and casual to preppy and formal, there are countless ways you can style this classic fabric.
Gorgeous in gingham
Take a page out of seersucker's past with this classic gingham look. If you're looking to put a vintage spin on your wardrobe, but have no idea where to start, gingham patterns on seersucker fabric might just be what you need. The length of both the hem and the sleeves is up to you and your comfort levels. A shorter dress may look a bit more modern, but the pattern and fabric ensures that the vintage aesthetic will remain intact.
Modern twist
While seersucker can be great for vintage or preppy styles, there's no reason to box yourself in. If you like your clothing to have a more sleek, modern vibe, and still want to try out seersucker, dresses like these are ideal. You'll make the most out of the light fabric, while not conforming to past iterations of seersucker clothing. Plus, this style works well in professional settings. Not to mention that the skirt has pockets. Need we say more?
Yellow ruffles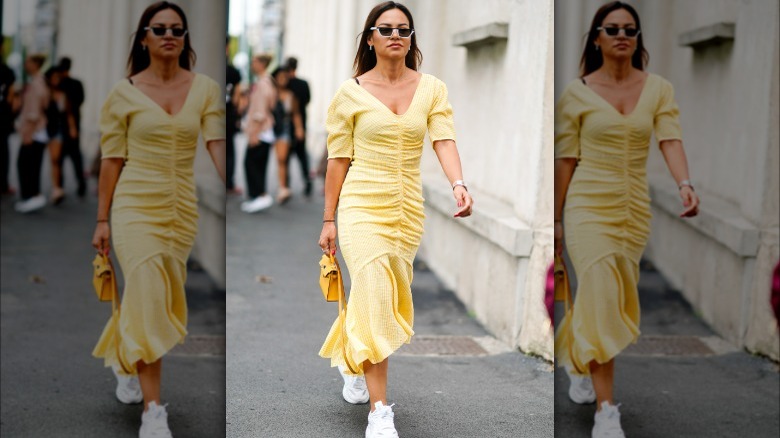 Edward Berthelot/Getty Images
Yellow is a great color to wear in the summertime — after all, it's the same color as the sunshine we love to get in warmer months. The ruffles on the bottom and the short, puffy sleeves of this particular dress have a flouncy, feminine touch that'll get you in the mood for summer. Luckily, seersucker is a light fabric, so long sleeves shouldn't make you too hot, and can work in your favor when there's a breeze. Seersucker has a unique texture and will make your dress stand out, especially in a bright yellow hue.
Wide leg, flowy pants
Those who are uncomfortable in shorts or skirts will find a savior in thin, breathable pants like these. Even if you're a fan of shorts, an outfit like this is ideal for those in-between days when it's still chilly in the mornings. When it comes to color, light blue is your second-best option, after white. The color is light enough to show off that texture, while still providing a little pop of color that some people might find lacking in white outfits.
Classic seersucker suit
There's no reason why you can't rock a seersucker suit! If you go down the striped suit route, pairing it with a solid-colored top (especially one of a different fabric) will make the outfit flow nicely. It can work especially well in more professional settings. Long gone are the days of sweating in your go-to suit, wishing you could change into shorts — seersucker suits will have you covered on both fronts. If you're going out, a broad-brimmed hat like this one can not only give you sun protection but also drive home that classic vintage look.