Boygenius Is The Queer Visibility We Deserve, And Let's Just Savor That For A Second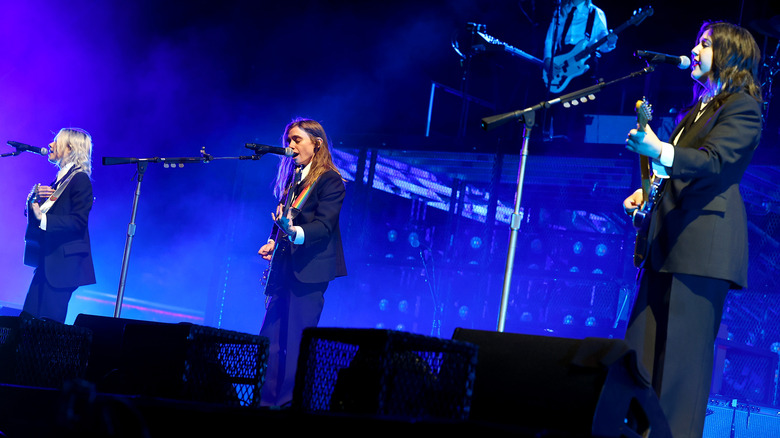 Arturo Holmes/Getty Images
Every once in a blue moon, the stars align perfectly and something beautiful is born. Sometimes it's the birth of a novel that becomes the voice of a generation, other times it's the launch of a political movement that forever changes lives for the better. Then there's the birth of a supergroup, a rare occurrence in which musicians of the highest caliber come together and give the world exactly what it needs. In this case, we are talking about boygenius.
Comprised of singer-songwriters Julien Baker, Phoebe Bridgers, and Lucy Dacus, boygenius came to life-changing fruition (for many) in 2018. Being part of the same music circle and having opened for each other and toured together on different occasions — all three are also solo artists with massive followings — the performers bonded over how the media covers female/AFAB musicians, as all three told GQ in 2018 after the release of their self-titled EP, as well the loneliness that comes with touring solo (via The New York Times). The way to fix those things? Create a supergroup of three queer women.
Although not officially breaking up, but parting ways to pursue their solo careers again — Phoebe's 2020 album "Punisher" would receive three Grammy nominations, and she was nominated for "Best New Artist" despite having released her debut album, "Stranger in the Alps," in 2017 — the trio made their ways back to each other. Five years after breaking hearts with their intimate, all-too-relatable lyrics, boygenius dropped their first full-length album, "The Record" in March of 2023. To say the world is better for its release, just might be an understatement.
Why boygenius is such a big deal for the LGBTQ+ community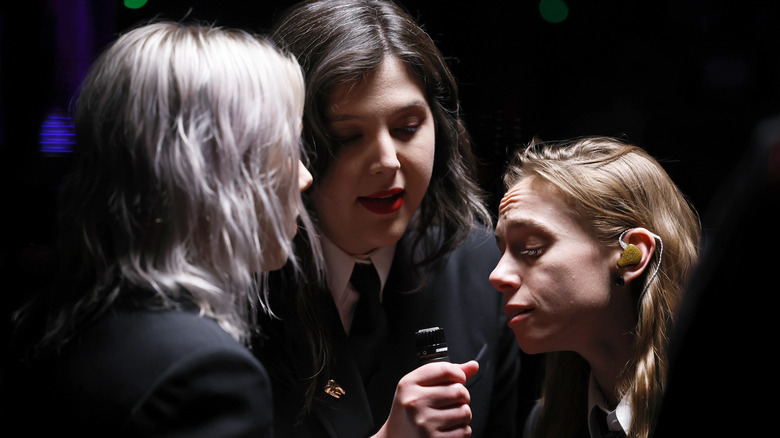 Frazer Harrison/Getty Images
Although all three band members are queer, that's not the only reason behind the importance of boygenius. While they're certainly not the first band to be made up of entirely queer members, they definitely stand out in a way that there's no drama, no competition, and nothing for gossip magazines to pick up on. Instead, it's three talented musicians making amazing, heart-wrenching music together who put their friendship above all else — right up there with their dedication and advocacy for the queer community and reproductive rights. (Bridgers has been outspoken about her 2021 abortion.)
Bridgers, Dacus, and Baker all struggled growing up queer, with the latter two both coming from very strict religious households making that struggle even more difficult. Together, the three are less alone, and their bond not only helps them navigate their own queerness but gives visibility to all queer people.
"I'm telling my friends [about] one of my core wants, and you guys are singing in harmony with me [about it] every night," Bridgers tells them when talking about how she felt throughout high school. For any oppressed group of people, being able to see themselves and their own personal battles played out in front of them via music like that of boygenius is paramount. According to the 2022 National Survey on LGBTQ Youth Mental Health by The Trevor Project, 45% of LGBTQ+ youth seriously thought about attempting suicide in the last 12 months. Statistics like this illustrate how the type of queer visibility boygenius is displaying can actually save lives. 
Why we need them more than ever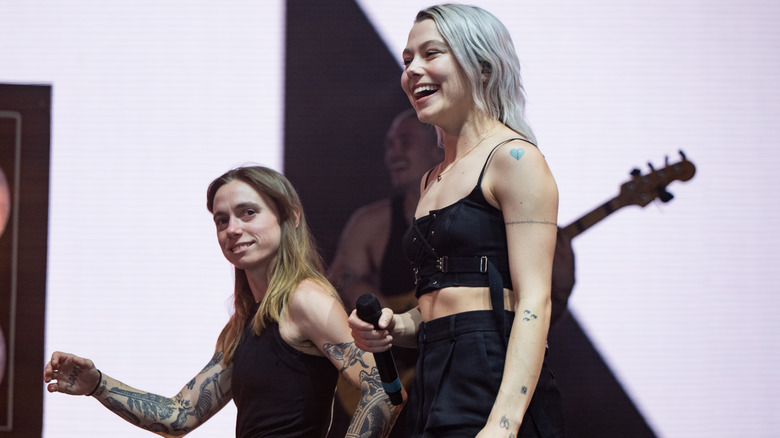 Scott Dudelson/Getty Images
While we could definitely say the world always needed boygenius — even if we weren't aware of it — them coming into the fold with "The Record," is perfect timing.
Tennessee wants to ban drag performances (although a federal judge temporarily blocked the ban), Florida's "Don't Say Gay" law is on the docket to be extended up to 12th grade, and laws have been passed in several states banning gender-affirming care for those under 18, with other states to follow with similar bills. According to the Human Rights Campaign, 29.3% of trans youth live in states where bans have been passed and 21.1% are at risk of losing access to such care. 
"If all of the David Wojnarowiczes and Leslie Feinbergs of the world did all of that suffering for me not to live in a world where I can be so f***ing gay on a big stage and have a whole bunch of other gay people here for me and it'd be joy, then it was in vain," Julien Baker tells them. "The joy is the living amends that you do for your community as a performer." (Wojnarowicz was an artist and AIDS activist who died from the disease in 1992 and Feinberg was a lesbian and trans activist.)
As we watch LGBTQ+ protections in the U.S. continue to be rolled back, boygenius is the ray of sunshine we deeply need. Their advocacy and unwillingness to back down is something we should all applaud — with "Letter to An Old Poet" on repeat. Or "Emily, I'm Sorry." Or "Me & My Dog." Literally, any track will do.