What Purpose Does Ketoconazole Serve In Your Haircare Routine?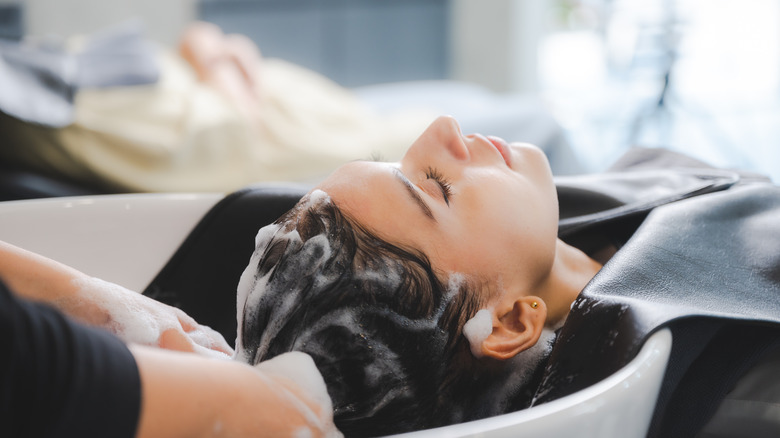 Chokniti-Studio/Shutterstock
Have you ever used Regenepure, Ketozolin, or Nizoral? These are some of the best dandruff shampoos on the market, and what they have in common is an antifungal agent called ketoconazole. Your doctor may also prescribe ketoconazole creams, foams, tablets, or medicated shampoos for ringworm and other skin disorders.
Dandruff isn't always easy to treat, and it can take months or years to see improvements. The culprit is Malassezia, a yeast-like fungus that feeds off the sebum on your scalp. This pathogen can also trigger the onset of seborrheic dermatitis, a skin condition characterized by flaky scales on the face, chest, scalp, and other body areas. Ketoconazole can help with both conditions due to its antifungal properties, notes the U.K.'s National Health Service. The results tend to kick in within two to three weeks.
Not only does this medication combat dandruff, but it can also stop hair loss. The downside is that it carries potential side effects and may not work for everyone. With that in mind, here's what you should know about ketoconazole and its role in hair care. 
Ketoconazole shampoo may reduce dandruff and flaking
Ketoconazole is a topical medication for dandruff, athlete's foot, and other fungal infections. Its concentration in shampoos ranges between 1% and 2%, depending on the condition being treated. According to the Mayo Clinic, ketoconazole 1% shampoo works best against dandruff, whereas higher concentrations are suitable for more severe infections of the skin and scalp. This medication is also available in tablet form, but it may affect the liver and adrenal glands.
Topical ketoconazole works by reducing the number of Malassezia yeasts on the skin. Like with other medications, its effectiveness is dose-dependent. In a 2001 study, patients who used ketoconazole 2% shampoo got better results than those using a formula with 1% ketoconazole. The former product was more effective against severe dandruff and seborrhoeic dermatitis, reports the journal Dermatology. But even so, there's no guarantee that ketoconazole will work for you.
A 2019 study published in Plos One found that Malassezia isn't the only pathogen responsible for dandruff. Cutibacterium, Staphylococcus, and other bacteria may play a role, too. Therefore, ketoconazole may not work for people whose dandruff has bacterial causes. In such cases, doctors may prescribe a shampoo containing both antifungal and antibacterial agents. Additionally, ketoconazole shampoos may cause a burning sensation, itching, scalp irritation, rashes, thinning of the hair, or allergic reactions. 
Should you use ketoconazole to regrow your hair?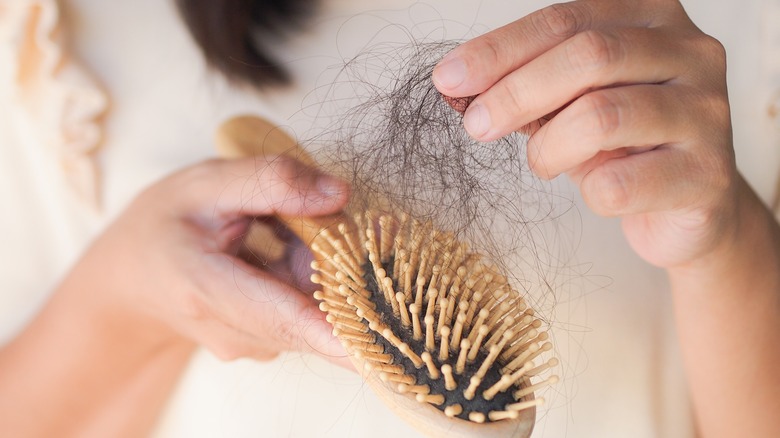 Duangjan J/Shutterstock
Some studies suggest that ketoconazole stimulates hair growth and, therefore, may benefit those with alopecia or female pattern hair loss. Back in 1998, researchers compared 2% ketoconazole shampoo against minoxidil, a drug prescribed for alopecia. The two products had similar results, according to the journal Dermatology. A more recent study, which appeared in Biomedical Dermatology in 2019, found that ketoconazole can be just as effective as minoxidil, but with fewer side effects.
Note that most studies were small, so more research is needed to confirm their findings. There are safer, more effective ways to stop hair loss, depending on its root cause. For example, some people are getting PRP injections in their scalp for hair regrowth, and this treatment has an 80% success rate. Ketoconazole, on the other hand, may actually cause hair loss and thinning in some individuals, according to the Mayo Clinic. Plus, it can dry out your hair and trigger local reactions, such as hives and rashes.
All in all, you should only use ketoconazole for its intended purpose. Meanwhile, look into other ways to get rid of dandruff, which may be safer than ketoconazole shampoo. For instance, tea tree oil is a natural antifungal and antibacterial agent, and therefore, it may be effective against dandruff, acne, and other related conditions. Apple cider vinegar, green tea, and baking soda might do the trick, too.