We've Got The Secret For Effortlessly Detangling Long Hair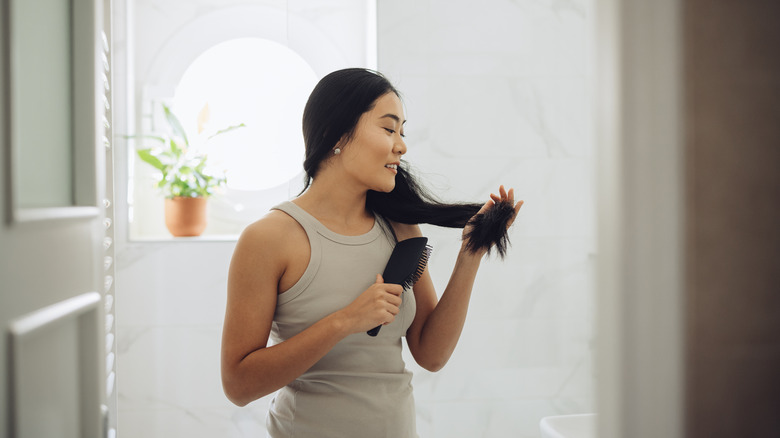 Miniseries/Getty Images
We may receive a commission on purchases made from links.
Combing through your long hair only to realize you have a big knot in your locks is never fun. While long hair is beautiful and a goal for many, it also typically comes with a lot more tangles. Detangling the hair can be tough — depending on how many knots you have, it could be a painful process that requires time and effort. Although it can be tedious and unpleasant, it's a part of your hair care routine you don't want to neglect. Speaking to Shape, Mahisha Dellinger, CEO and founder of the hair brand Curls, said, "When hair is not properly detangled, it could lead to weaknesses along the hair shaft, which ultimately lead to breakage."
If you have trouble detangling your long tresses, you're not alone. It turns out, many people try to detangle their hair the wrong way and use the wrong hair care tools. 
How to detangle your long tresses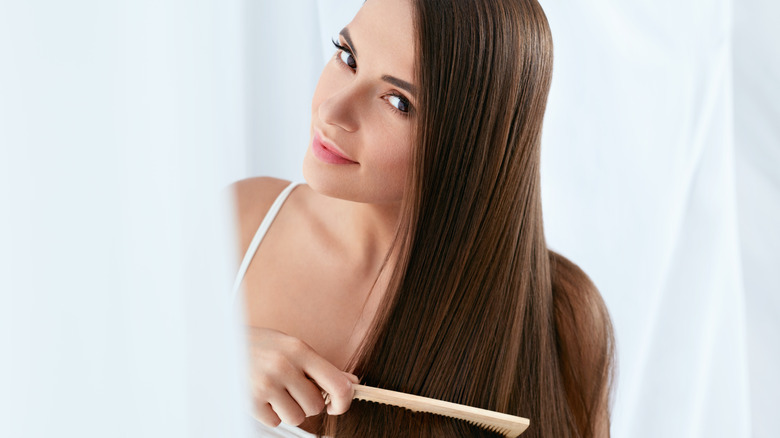 puhhha/Shutterstock
When detangling your locks, make sure you're using the right tools to keep your hair in the best shape possible. Hairstylist Kendall Dorsey tells Byrdie, "The best way to detangle hair is to use a paddle brush or wide-tooth comb, as they are much more gentle on the hair."
It's also vital that you work your way up toward the scalp to avoid damaging your locks. "If you start at the scalp to detangle, you're only creating more work, headache, and tension on your hair and essentially making the hair tangle up more," explains Brian C. Hawkins, a celebrity hairstylist and makeup artist to Byrdie. Rather than starting at the top of your hair, use a detangling comb and gently work through the hair starting at the bottom. Avoid pulling down on the hair, as this can snap your locks.  Make sure your hair is damp so that you can work through it more easily without causing breakage and long-term damage.
Invest in a detangling spray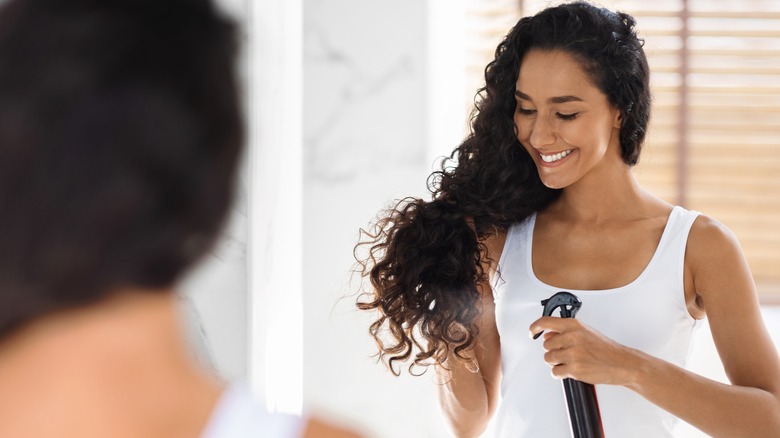 Prostock-studio/Shutterstock
Sometimes, all you need is a bit of help from the right products to successfully detangle your long locks. While products like conditioners and hair oils can help, it may be time to use detangler to ease the process and minimize damage. Mature hair and colored hair are more prone to breakage when detangling, so you should use detangling spray to get rid of hair knots. Try the Amika Wizard Detangling Hair Primer before running your comb through your tresses. Not only does this primer smell amazing, but also it will detangle your hair, reduce frizz, and protect your hair from heat styling tools. After your shower, while your hair is still damp, generously spray the Amika hair primer through your locks. 
You can also opt to try a leave-in conditioner with a thicker texture instead. We recommend using OUAI's Detangling and Frizz Fighting Leave In Conditioner. This conditioner works to keep your hair hydrated while also detangling your strands, reducing flyaways, and protecting your mane against potential damage from heat-styling tools.