Your Guide To Reusing & Recycling Your Beauty Products (Because We Can All Do Better)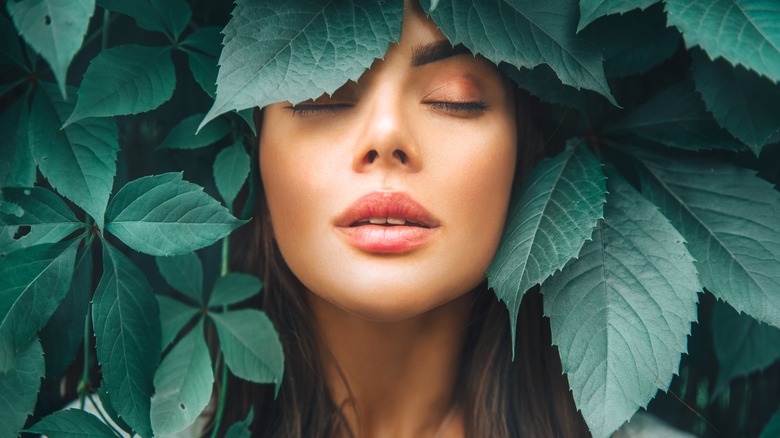 Subbotina Anna/Shutterstock
It's becoming more and more ingrained in us, day by day, to recycle and reuse our products to reduce waste. From cans to cardboard boxes, we know it's best for the environment to send recycle, while we also doing what we can to ditch things like single-use plastics. But what about our beauty products? Sometimes it can be all too easy to forget that, actually, beauty product containers (from lipstick, to shampoo, to moisturizer, and everything in between) can often be recycled or reused too.
According to Zero Waste Week, in 2018, over 120 billion units of cosmetic packaging were produced across the world. Even more shocking than that? British Beauty Council reported in 2020 that around 70% of the beauty industry's waste actually came from its packaging. Clearly, often without even realizing it, we're more a part of the world's plastic problem than we'd probably like to admit. 
"Most common beauty products and packaging contribute to the world's growing plastic waste problem and, without adequate recovery solutions, are tracked for landfills, burned, buried, or simply littered where waste management is insufficient," Stephen Clarke, head of communications at TerraCycle Europe, told Marie Claire. "Many plastic waste items find their way into oceans and waterways, compounding the problem with environmental hazards," he added. But there are ways to try and fix that.
What beauty products can be recycled?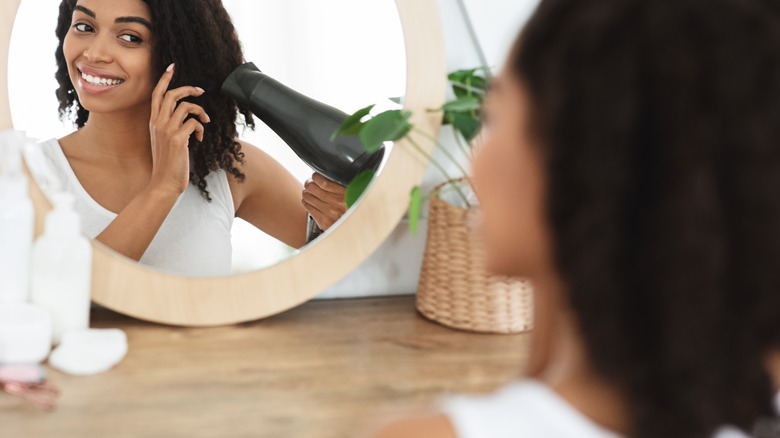 Prostock-studio/Shutterstock
What can and can't be recycled may differ slightly according to where you live, but, essentially, much of the packaging used to house our beauty products are widely recyclable. For example, things made out of glass are usually recyclable, which means you can probably put them straight into your home recycling bin or turn them in at your local recycling point. If the package has a pump inside though, you'll want to take that out before sending it on to its new life. Also, don't forget that if your item has a mirror or a magnetic element, that might restrict how recyclable it is. If you're unsure about what can and can't be recycled, there are plenty of online resources to help, including EARTH911, Recycle Coach, and How2Recycle.
Of course, you can't recycle many beauty products themselves. Things like unused moisturizer (for a range of reasons, including hygiene purposes) can't be sent back and re-used, but some electrical beauty items can. Hair dryers can usually have a second life, as long as you take them to a designated electrical recycling center, and other hair tools are now getting in on the recycling game, too. InStyler, for example, will not only recycle your hair tools from other brands, but you'll get a 35% off coupon for your efforts. When it comes to plastic, though, you'll need to look at the back of the product to know what to do with it once it's empty.
What do those symbols on the back of beauty packaging mean?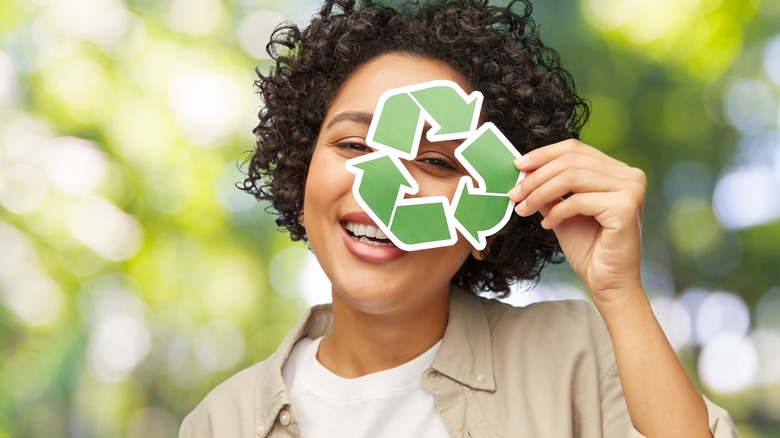 Ground Picture/Shutterstock
We've all seen those confusing symbols plastered across the back of our beauty products, but what the heck do they actually mean? While some refer to things like when the product will expire, others will help you know what to do to recycle it. In general, you'll probably see three folded arrows making a triangle or one arrow forming a circle, which means it can be recycled. If either has a cross through it, it means it can't be recycled. 
For many plastic items,  you'll probably see three folded green arrows creating a triangle on the back. There may be a number in the middle of the symbol, which shows what kind of plastic it's made of and whether or not it can be recycled. The most common kinds of plastic used for beauty products are type two, HDPE plastic (which is recyclable in most places), and type four, LDPE plastic (which is becoming more widely recycled locally).
You may also spot something on the back that tells you that particular product has been recycled, which is great, but don't be fooled into thinking that means it can definitely be recycled again. "The reality is that plastics can usually only be recycled two to three times before losing the qualities that make them usable," Groove Collaborative vice president of sustainability, Danielle Jezienicki, told Real Simple.
What to do with your recyclables
Many companies now offer recycling programs, which means it's not all on you to know how to recycle your beauty products. There are several companies out there who will not only accept your empty packaging, but will also give back to honor your recycling commitment. 
One of the biggest companies in the U.S. dedicated to product recycling is TerraCycle, which has teamed with some massive brands to take back empty products. Among them are Garnier, Aussie, eos, and Burt's Bees. When you send products from these (and more) brands to them, TerraCycle offers you points, which can then be transferred into cash and donated to different charities and schools. Now that's good for doing good!
Many companies are also tackling recycling on their own and offering incentive programs. Lush, for example, has its Bring It Back program whereby customers return empty pots to the store. If you bring back five pots, you'll get a free fresh face mask, or one pot returned will get you $1 off your next purchase. BareMinerals offers customers a recycling kit with their order which allows them to mail back their empties for free, while Mac set up Back to Mac, in which customers send back their empty Mac packaging to be recycled. As more companies realize the importance of these kinds of services, it's worth checking on a regular basis if your favorite beauty brand offers a similar option.
Focus on refills
Part of creating a more sustainable beauty industry isn't just about sending things away to be recycled, though. There's actually a lot you can do by yourself to reuse your empties. In many cases, companies are now offering refillable versions of some of their best-selling products, which means you don't need to do any taking back or sending away when your favorite product is all used up. 
For example, Drunk Elephant's Protini™ Polypeptide Firming Refillable Moisturizer comes with a refillable container, which means next time you purchase one, you can just grab the refill version (which is cheaper, by the way!). That makes things extra easy for you, as you'll be able to reuse your packaging without actually having to do anything but decant your new purchase into your old container.
Drunk Elephant is just one of many companies offering this option. Charlotte Tilbury offers a range of products as refills (which are also cheaper than buying the complete packaging again), including its iconic Magic Cream, compact powders, and Look of Love lipsticks. You can also get plenty of your more everyday hygiene products in refill form from your local supermarket, like L'Occitane's Aromachologie Repairing Shampoo which comes in a sachet that you can decant into your existing container.
Don't forget to clean out your bottles first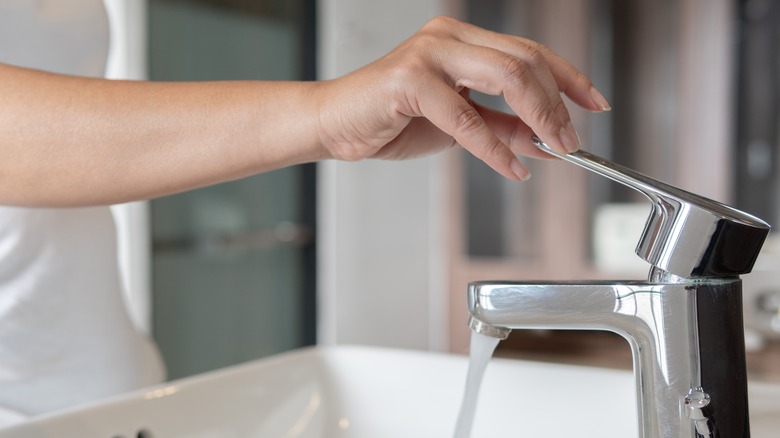 Art Stocker/Shutterstock
No matter how you're planning on reusing your beauty products, whether it's by sending them off to be recycled or reusing them at home, make sure you put hygiene first and give them a good wash. If you can, it may be a good idea to take any labels off, too. Things like glass pots in particular can be prone to bacteria buildup because you're putting your fingers directly in them day after day, so make sure you clean them well before putting new products in there. If you don't and you send it away dirty, that can sometimes mean that the products may attract bugs or could even contaminate other products waiting to be recycled. If that happens, it could result in the item you so carefully kept safe and sent away not being recyclable anymore. 
You'll also want to make sure you've used up all the product before you try to give it a new life — the product itself more than likely can't be recycled. "It's tricky to recycle half-empty beauty products so it's always best to finish using products before moving on to something new," Neal's Yard Remedies brand ambassador, Tipper Lewis, told Marie Claire.
Make yourself a designated recycling spot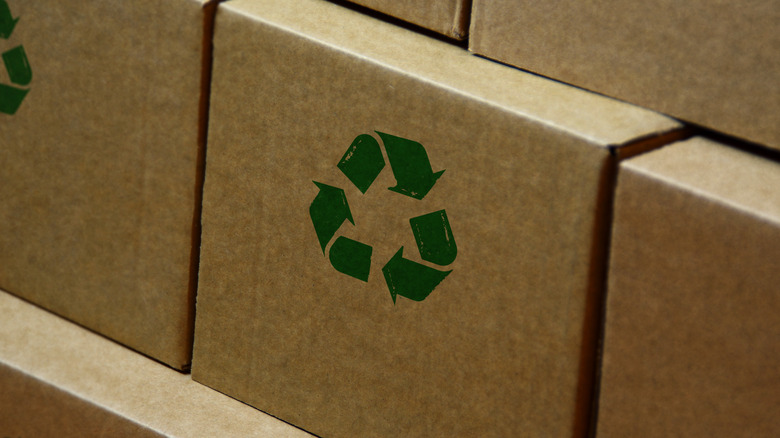 Skorzewiak/Shutterstock
We get it, recycling can seem like a whole lot of effort. But trust us, it's worth it! One of the ways you can make the whole process a little easier on yourself is by setting up a designated area in your home where you can put all your beauty empties, as Nordstrom's executive vice president of accessories and beauty, Gemma Lionello, explained to Vogue. 
This may be somewhere like the bathroom, if you do most of your beauty routine in there, so you can easily discard things like shampoo and shower gel bottles. Another ideal place to keep your recycling bin is in the bedroom, especially if that's where you prefer to do your beauty routine. If your plan is to send your products away or take them all to a local recycling pickup point, having everything in one place where you can easily toss your empties will make it feel like less of a chore. 
Things will also become a whole lot less complicated if you get something like TerraCycle's Zero Waste Box. The program offers you a place to put all of your recyclables before simply and easily shipping them back together when you've collected enough.
If you're unsure, the trash is probably better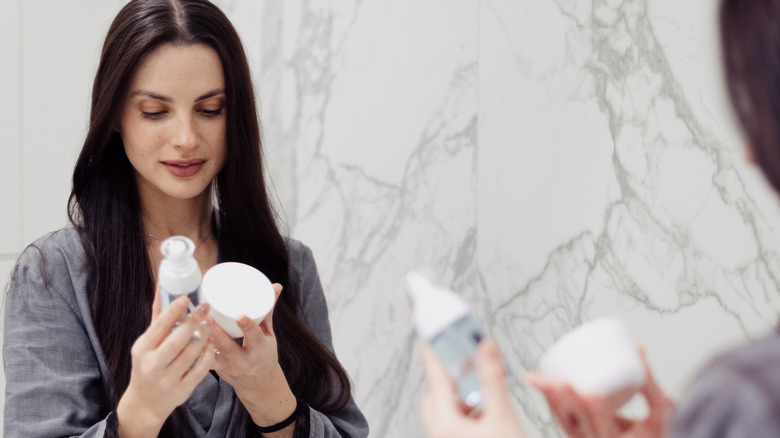 brizmaker/Shutterstock
Though giving something the benefit of the doubt is usually some solid advice, in this case, it's usually best to err on the side of caution if you're not sure if a product can be recycled. The reason? If a product needs to be removed from the recycling system because it can't be processed by the recycling plant, it can take a lot longer than you think to reset everything. 
That can cause a big delay in the process of getting things ready to be made into something new, while also risking cross-contamination with other products — potentially making them non-recyclable too. "You've gone through the trouble of putting it in the recycling bin, but it ends up in the waste stream anyway. So, it's best not to put it in there," Betsy Dorn, the director of recycling and waste consulting company RSE USA told Self.
Stephen Clarke echoed that sentiment to Marie Claire. "Beauty products and packaging that cannot be recycled through the public system will not only be diverted towards landfill or incineration anyway, they slow down the system and have the potential to contaminate bales of secondary material," he explained. That could mean that a whole batch of recyclable material ends up in landfill because of one rogue product.
Think outside the box about how you can recycle and reuse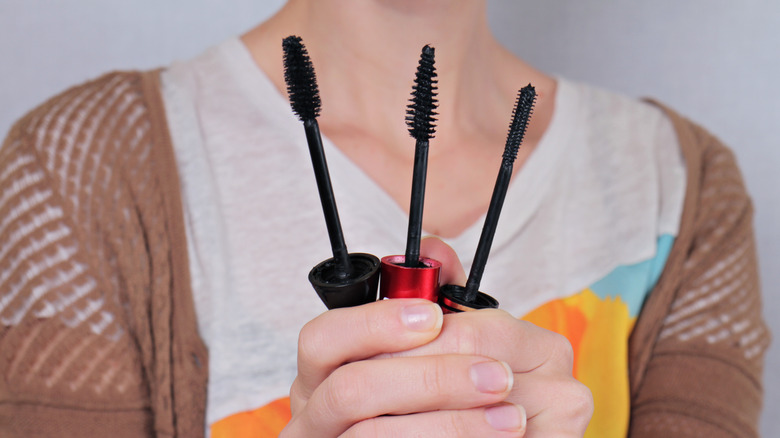 Albina Gavrilovic/Shutterstock
Remember that if you're struggling to find somewhere that can recycle your beauty product, or you can't get your hands on a refill, that doesn't mean it has to go straight in the trash. There are many uses for everything from old shampoo bottles to empty bath salt pots that go beyond the beauty world.
One of the best examples of thinking outside the box is donating your old mascara wands to animal sanctuaries. Yes, you read that right. Animal sanctuaries. Though the two may not sound like they go together, charities like Wands for Wildlife are actually always looking for old mascara wands in order to repurpose them as brushes to smooth the fur, feathers, and everything in between of adorable animals. How cute!
Other ways you can give your products a new life without having to do too much at all? Get crafty with them! There are endless ways you can find new uses for shampoo, conditioner, or soap bottles around the home, from making pencil holders to vases. One Crazy House even shows you how to make everything from glasses cases to holders for cell phone chargers out of your used plastic bottles.
Think about what you're buying before you buy it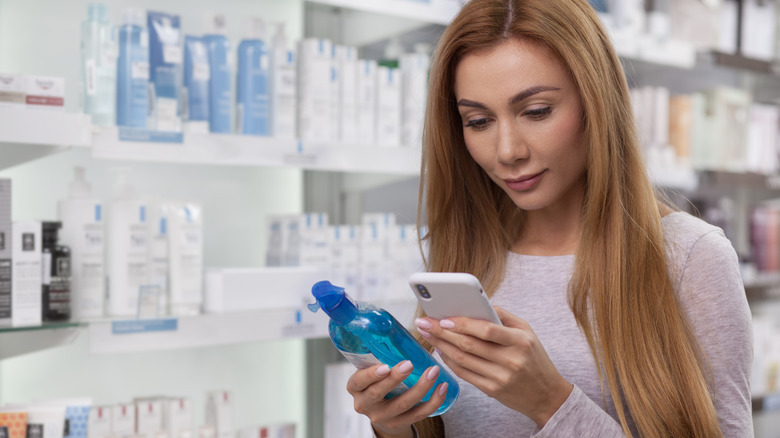 Oleksandra Polishchuk/Getty Images
One of the best ways to help save the planet through reusing and recycling is to think about what you're buying before you buy it. We're all guilty of putting our favorite beauty product in our baskets without thinking about its impact on the planet, but next time you're shopping online or in-store, add an extra step to your routine and consider if there's a better option.
Do you need to buy the full product again or could you just get the refill? Could you swap your body wash from a non-recyclable plastic bottle to one that's widely recycled? Making these decisions before you spend will mean you're not hampered by anything you don't know what to do with once it's empty.
It's not just about the packaging, though. Sometimes we can do more by talking with our money if we don't think the company we're buying from is doing enough to combat waste. For example, if you can, think about making the move from non-biodegradable makeup wipes to ones that you know will break down. The more of these a company sells, the more likely they are to focus on the eco-friendly version going forward. Fortunately, many companies have now started to offer both options, including Simple, which manufactures a compostable version of its traditional makeup wipes which may actually cost less from some retailers. After all, recycling and reusing is all about making small changes.