Shiv's Fall On Succession Is A Painful Snapshot Of How Powerful Women Don't Get To Be Vulnerable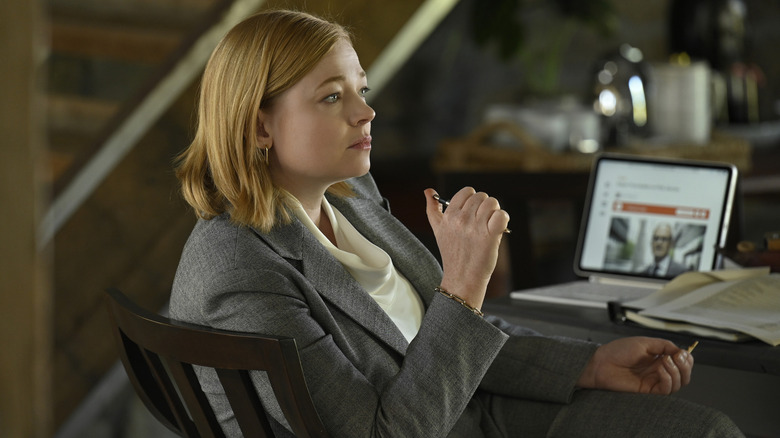 David Russell/HBO
Season 4 of HBO's "Succession" has been chock-full of bombshell moments, and we're only four episodes in. Spoiler alert: Logan Roy is dead, Kendall Roy and Roman Roy have been named the new CEOs of Waystar Royco, and Siobhan "Shiv" Roy (portrayed by actor Sarah Snook) is pregnant. Alas, in the final moments of episode four, something else happens. Shiv takes a tumble down a couple of stairs, falls flat on her face, and then refuses help from anyone — including her soon-to-be ex-husband and possible father of her unborn child, Tom Wambsgans. Instead, the no-nonsense political consultant gets right back up and insists she's fine while rattling off a few expletives and forbidding anyone in the room from smiling. Spoiler alert: She was not fine. 
For many fans, the scene was hard to watch, especially after witnessing how much the character has struggled through this season. "Sorry this is so real. I was gagged like every person that isn't a man has had this embarrassing ankle twist fall moment right when they're having the worst day ever. Shiv Roy you will always be real," one Twitter user penned about the cringeworthy incident.
But why exactly do women, especially women in notable positions of power and authority, feel like they can't be vulnerable, admit when they're hurt, and receive help? Quite frankly, the tale is as old as time...
Strong women are expected to have it all together all the time
Big girls don't cry... or at least that's what has been ingrained in women's minds since practically birth. And it only gets worse when they trade their collegiate caps and gowns for powerful professions. Then the motto becomes: Never let them see you sweat. Shiv Roy embodies this throughout most of the "Succession" series. Even after being belittled and betrayed by her father, brothers, and her husband, she keeps her cool in front of everyone, only ever crying quietly to herself. And yet, even as everyone around her expects her to hold everything down for herself, she's still tasked with being an emotional support system for others. Let's not forget when she was there for her brother, Kendall, during one of his lowest moments.
So after all that, when she does have this humiliating moment where everything comes crashing down, it's a reminder that a person can only take so much. As fans have pointed out, you don't have to be an executive to understand this experience. "I have no idea how to explain it but every woman in the world has at one time or the other- lived through that Shiv fall. All those feelings, absolutely relatable," tweeted one user. 
There's a serious double standard at play
"Women are judged for being emotional," workplace consultant Denise Dudley told MarketWatch. "We're considered to be difficult when we get angry, whereas men are perceived as being tough and powerful. I'm going to be labeled as a ball-buster and men are going to be labeled as take-charge," she explained. Research backs this up, as studies have shown that working women are viewed as less credible or irrational by their peers if they show emotion. Who could forget the time Vice President Kamala Harris was deemed "hysterical" by former Trump campaign adviser Jason Miller after interrogating Attorney General Jeff Sessions during a Senate intelligence committee hearing in 2017? You know, just from doing her job.
And so, professional women have to prove themselves over and over to men just to be taken seriously. This means not asking for help when they need it or refusing to show any signs of weakness or emotions to be seen as calm and capable. But time and time again, as seen with Shiv's fall, this rarely works in favor for women in the end. She not only sacrificed her personal life and former career, she compromised on her morals (Recall when she discouraged an assault victim from speaking out to protect her family's company), compartmentalized her feelings, and still in the end, was screwed out of finally getting the recognition she deserved.
One fan summed up the sentiment well on Twitter, writing, "Ohhh poor Shiv. The way the Succession writers take every possible opportunity to remind her that she's a woman. Pregnant. Edged out by her brothers. That fall! The tragedy of Siobhan Roy."