Megan Rapinoe And Sue Bird's Takedown Of Anti-Transgender Sports Bill Is True Allyship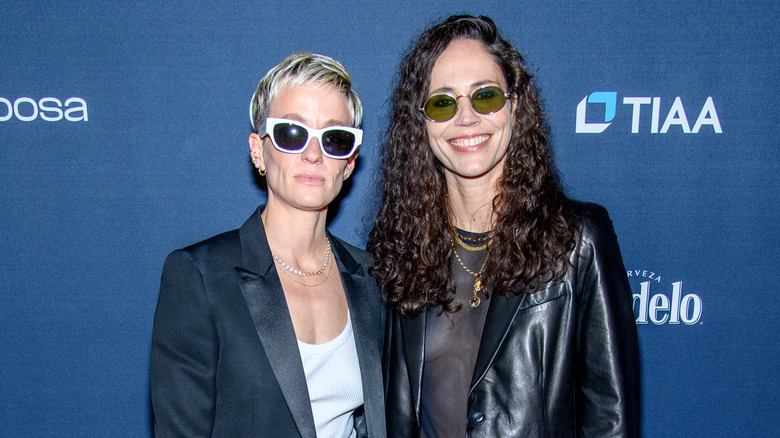 Roy Rochlin/Getty Images
There has been a push to exclude transgender athletes from sporting events, beginning with the GOP's Protection of Women and Girls in Sports Act of 2023, aka H.R. 734. The act would make it a Title IX violation for trans women to participate in women's athletic teams at universities. Per the U.S. Department of Education, "Title IX protects people from discrimination based on sex in education programs or activities that receive federal financial assistance." H.R. 734 opposes President Biden's proposed Title IX changes which would add protection for trans athletes to the law. 
H.R. 734, which has yet to pass, is far from the only obstacle trans athletes face. The World Athletics Council has also made it impossible for trans athletes to participate in events. "In regards to transgender athletes, the Council has agreed to exclude male-to-female transgender athletes who have been through male puberty from female World Rankings competition from 31 March 2023," a press release read. The organization claimed that its controversial decision was based on more than a decade of research and in-depth conversations with stakeholders who were adamant about crafting regulations for trans women. In response to this onslaught of prejudicial regulations, athletes such as soccer player Megan Rapinoe and basketball player Sue Bird have stepped up to support the LGBTQIA+ community in a true show of allyship by writing an open letter to oppose the bill.
Athletes call out the bill for not protecting women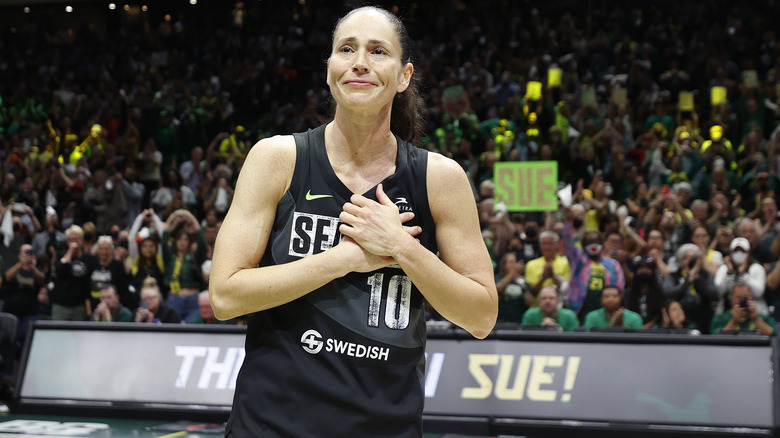 Steph Chambers/Getty Images
In their letter, the athletes slammed HR 734 for using women as a scapegoat for transphobia, pointing out how it will ultimately discourage sports participation rather than actually help anyone. "The policing of who can and cannot play school sports will very likely lead to the policing of the bodies of all girls, including cisgender girls," reads one section. This is not an exaggeration. In 2021, The National Woman's Law Center issued a statement against the proposed bill, highlighting how asking young athlete to prove their gender could force them to undergo unnecessarily invasive or perhaps even humiliating procedures, like gynecological exams.
The athletes further debunked the claim that the bill was going to protect cis-women, pointing out how legitimately pressing issues affecting female athletes have gone neglected. "We urge policymakers to turn their attention and effort to the causes women athletes have been fighting for decades, including equal pay, an end to abuse and mistreatment, uneven implementation of Title IX, and a lack of access and equity for girls of color and girls with disabilities, to name only a few," the letter read, per Sports Illustrated.
Megan Rapinoe stands firm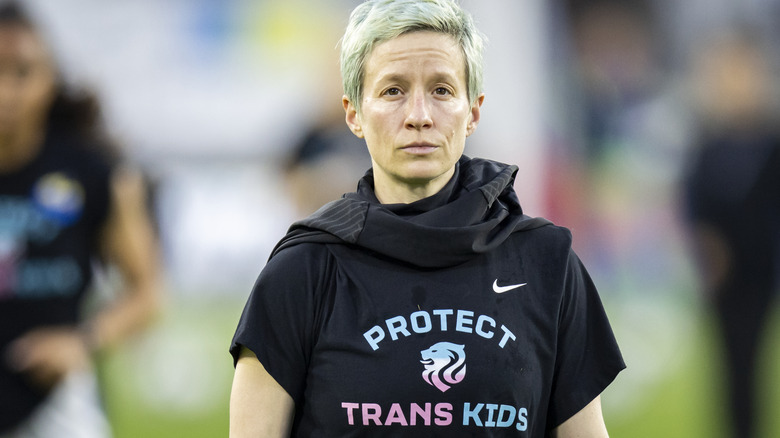 Ira L. Black - Corbis/Getty Images
It is at risk to their livelihoods that Rapinoe and Bird have stood up as trans allies. Taking a stand against an issue that many find controversial puts any future sponsorship deals at risk. Since they signed the letter, other athletes have come out against them. Swimmer Riley Gaines wrote in a since-deleted tweet that as a former professional athlete, Rapinoe had little to lose, calling her support for the community "virtue signaling." 
But as fans of Rapinoe know, the soccer player, who openly identifies as a lesbian, has long been an LGBTQIA+ supporter in sports and spoken at length about athletic inclusivity. "The environment includes the language you use, the training courses you offer, your hiring practices, who you do business with, what your executive suite looks like," she said in a 2020 interview with Harvard Business Review. "All those things signal to people whether they're safe or not. The proactivity of people in the majority is really important."
Rapinoe and Bird are not simply seeking justice for trans athletes but better playing conditions for everyone. "When you're a male athlete you're allowed to just play your sport," Bird said in an interview with NPR. "But everything about us, regardless of our play on the court, we're judged on. We're judged on what we look like, we're judged on who we love. And it's been that way for many, many years," she said.