Can You Be Logged Into Instagram On Two Phones?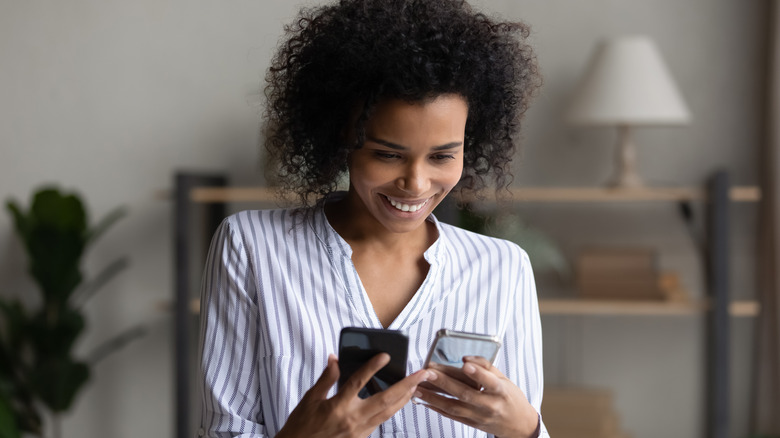 Fizkes/Getty Images
For many Instagram users, the photo-driven platform is a space utilized for much more than just a personal account. Whether you're managing a thriving business profile or a busy page for a verified public figure, some accounts on the 'gram call for more than one phone being logged in to keep content flowing. Even if your IG use isn't related to your profession, some DMs, posts and double-taps are urgent, and may call for you to log into Instagram on a secondary phone. Signing into your account on a new device is even recommended as a troubleshooting move by Business Insider if Instagram's homepage isn't working properly for you.
Whatever yours may be, there are plenty of reasons why one account may need to be logged into Instagram on more than one device. Luckily, being logged into two phones at once is possible, and better yet, the process isn't complicated.
Enjoy Instagram on more than one device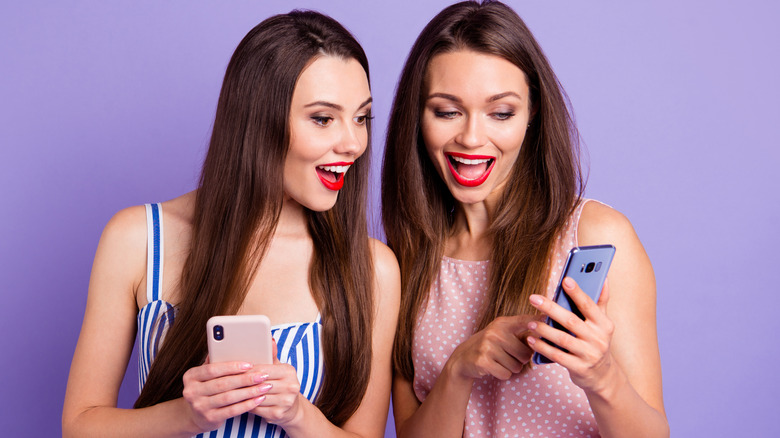 Roman Samborskyi/Shutterstock
Instagram users can absolutely be logged into their account on two phones at the same time. According to the Instagram Help Center, you can be logged into up to five devices simultaneously. This can be achieved by setting up two-factor authentication, which allows for secure logins by taking an extra step to ensure it's you who is signing on.
If you've lost track of what devices you're logged into, never fear. Even though there isn't a single action that can log you out of all devices, you can check in on where your account has been accessed under Login Activity in Instagram Security Settings. The list will show all locations where you've logged in and the city and state where your Instagram account is currently active. If an unfamiliar location is listed, you can head back to Settings to change your password. The use of two-factor authentication, of course, greatly lessens the possibility of account hacks or unwanted logins.
Keep logins secure and easy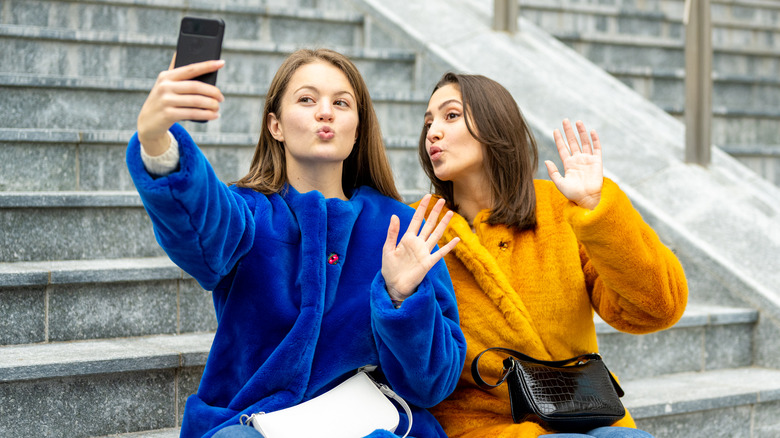 Andrea Migliarini/Getty Images
As with other social media apps, it's always recommended to take steps to protect your Instagram account. The Instagram Help Center suggests Duo Mobile, Apple Passwords, or Google Authenticator as third-party authentication apps to use to make signing into Instagram as secure as possible. By adding these authentication apps to your Security Settings, you'll receive a key code to plug into the 2FA setting on Instagram, thereby creating an extra safety step for logins that occur on other devices.
While the average Instagram user is no tech security wiz, the platform offers user-friendly ways to log in and out of accounts. For those who juggle more than one Instagram page, you can easily add another account to your app in Settings. The platform offers a Multi-Account Login option, which allows you to sign into more than one account with a single login. Whether you're balancing a personal profile and a work page, or maintaining a public feed and a private finsta for your closest friends, Instagram is well-equipped to handle your content plans on more than one phone.