Mother-In-Law Suites: Ideas, Types, Prices, And Questions To Ask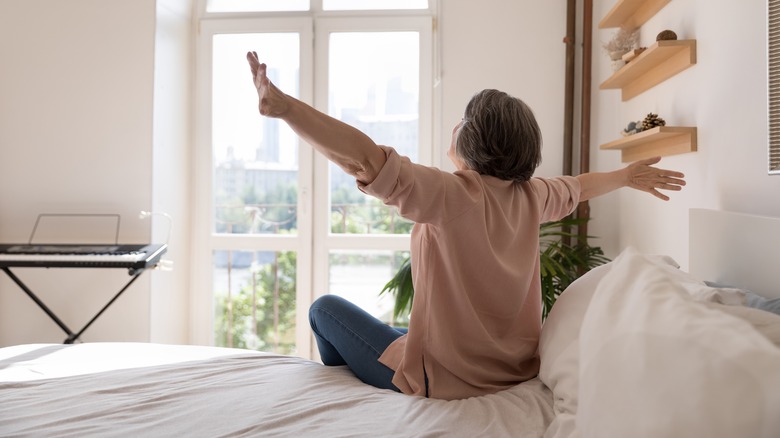 fizkes/Shutterstock
Mother-in-law suites are on the rise, In 2016, a record 64 million people, or 20% of the U.S. population, lived with multiple generations under one roof, according to a new Pew Research Center analysis of census data. The most common type of multigenerational household – home to 32.3 million Americans in 2016 – consists of two adult generations, such as parents and their adult children. Households with three or more generations – for example, a grandparent, an adult child and a grandchild of any age – housed 28.4 million people in 2016.
These in-law suites, also called granny pods, granny flats, and in-law suites, can increase the value of your home (it is added square footage after all), creates family togetherness and multigenerational living much easier and much more enjoyable, and is sometimes the same cost as in-home care or retirement homes!
Legally, an in-law apartment (or any in-home apartment) must have its own entrance, kitchen, bathroom and living space (but make sure you check with your city and state certificate of occupancy rules).
Finding space for Mother-in-Law Suites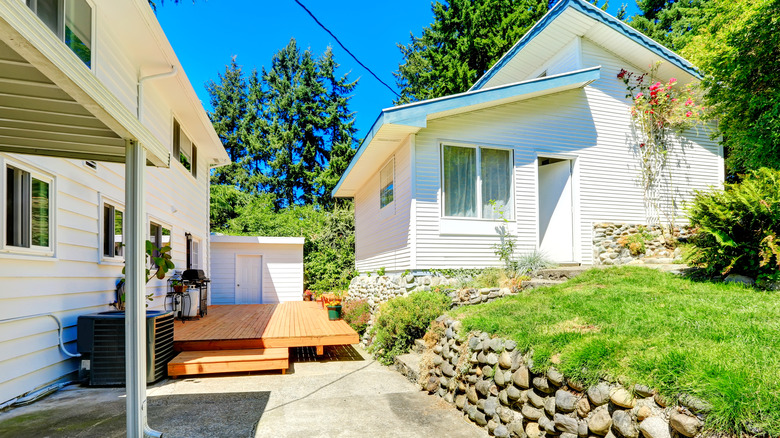 Artazum/Shutterstock
When trying to find space for your in-law suite or backyard modular granny pod, assess your yard and your home to determine the best possible space. The garage or a porch area that can be enclosed and transformed into living space are two possibilities. Basements can also be used with if they have adequate outside access (a requirement of any apartment within a home). Combining two bedrooms to create a suite with kitchenette is another possibility.
Mother-in-Law Suites - 500 Square Foot Floor Plans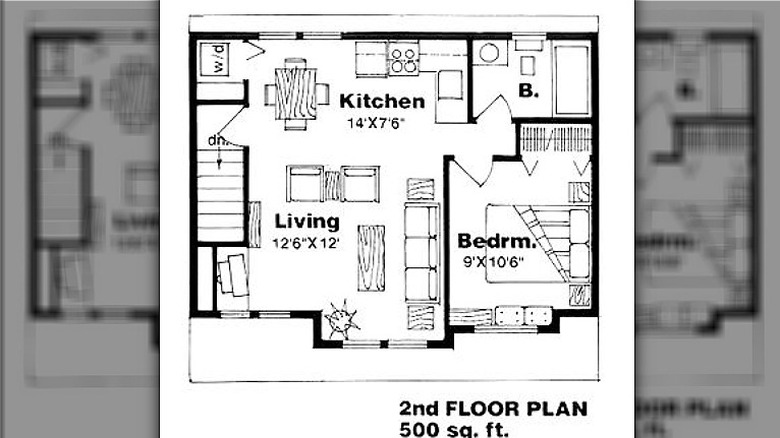 If you happen to have up to 500 square feet (above your garage, or in the basement), this floor plan includes everything that a Mother-in-Law suite requires and then a little bit extra. Remember that when creating an in-home apartment, every square inch is an opportunity for storage, a hideaway bed, small pantry, or even bookshelves. Scrutinize every nook and cranny to ensure that you are making the most of the in law suite.
Mother-in-Law Suites - 600+ Square Foot Floor Plans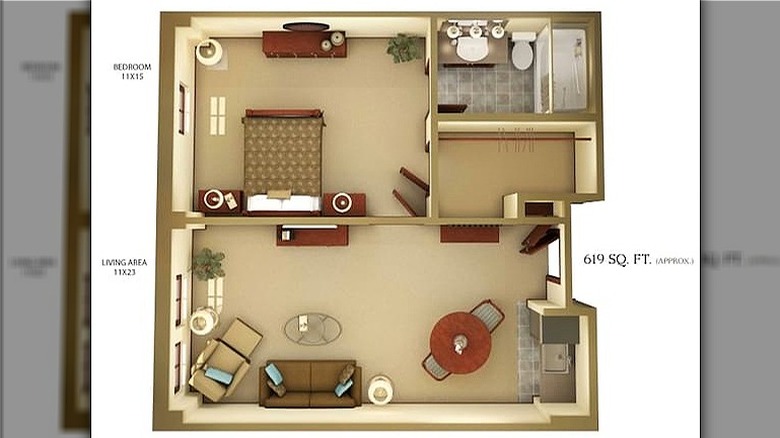 Another option is to build a larger (600+ square feet) addition to accommodate a new master suite. Typically, homeowners will renovate their existing master suite and give it to the in-laws and then create the new addition for themselves. Another possibility is to convert a third bay of a garage into a separate apartment-type living space with its own access. This encourages privacy and autonomy and can be rented to someone else in the event of vacancy.
Mother-in-Law Suites with Wheelchair Access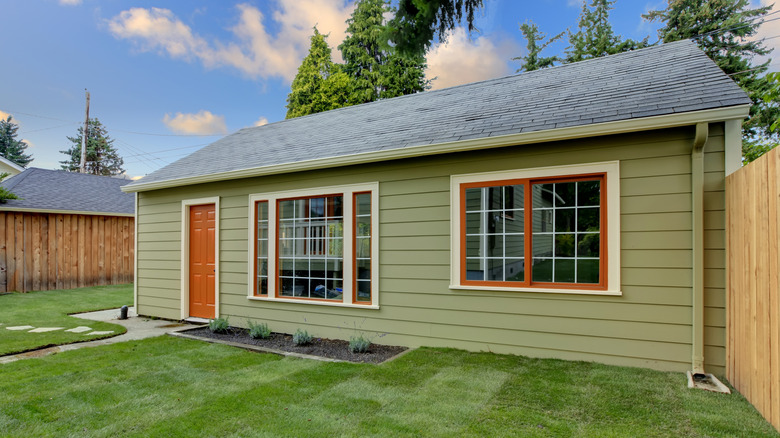 Artazum/Shutterstock
When building your mother-in-law suite, planning for the future is critical. Here are some questions to ask yourselves and your in-laws before you break ground on any new addition:
Would your in-laws rather be alone most of the time, or do they want easily available access to companions and social activities?
How close is your home to outside senior organizations, volunteerism or other socializing activities? Isolation is a serious health risk for seniors.
What aging-friendly accommodations will they need? Bathroom renovations, zero-step entries, improved lighting and widened doorways.
What will you do about transportation and parking?
Will the location support around-the-clock home care if it becomes necessary? While most older adults believe they'll never need long-term care, research proves about 70% of us will need care at some point in our lives. And with the average hourly cost for caregivers at about $19 to $20 per hour, serious consideration of the prospect now is sensible
Mother-in-Law Suites - Prefab Home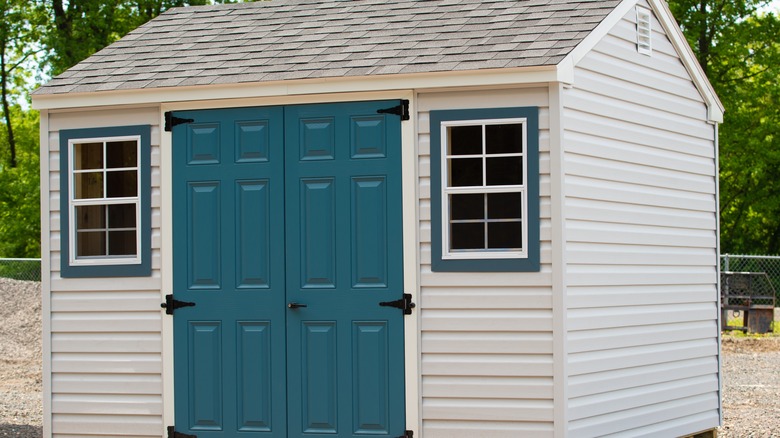 Victor Yarmolyuk/Shutterstock
There are scores of modular and pre-fabricated home companies popping up all over the world. Styles range from modern, log cabin, traditional, and everything in between but so do their prices. You can spend anywhere from $15,000 on a supped-up live-able shipping container, to $35,000 on a prefab log cabin.One company that has caught our attention is Kasita. They are reinventing the idea of what a home is "supposed" to look like and these modern-micro homes started in Texas and have become very popular with the "tiny house" movement because of their beautiful design and reasonable price tag. If your aesthetic is modern or your home doesn't allow for additions, these prefab backyard units can work perfectly for your in-laws.
Dimensions: Width: 11' 9" Length: 31'9" Height: 12'5" Space: 374 sq. ft. Max ceiling height: 10'2" Price: $89,000 – $129,000
Tips On Making In-Law Suites Work For Everyone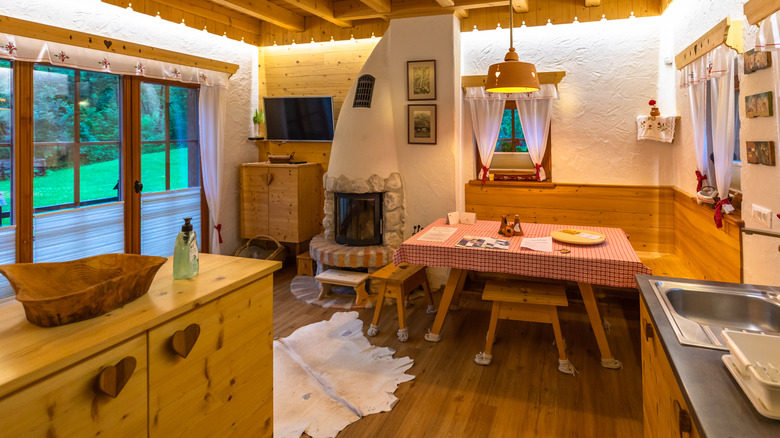 Gunter Nuyts/Shutterstock
Here are the little details that make living in tiny spaces more comfortable: * Soundproofing is key * A Motorized version of a Murphy bed * A dishwasher that does a half load only; and a space-saving tankless hot water heater. * Stone-faced gas fireplace * Built-in shelves to hold her china and crystal, * A glass block wall in the bathroom that glows at night.
Here are more tips on how to set-up a multigenerational household