Our Expert Derm Shares Their Tips For Transitioning Your Skincare Routine From Fall To Winter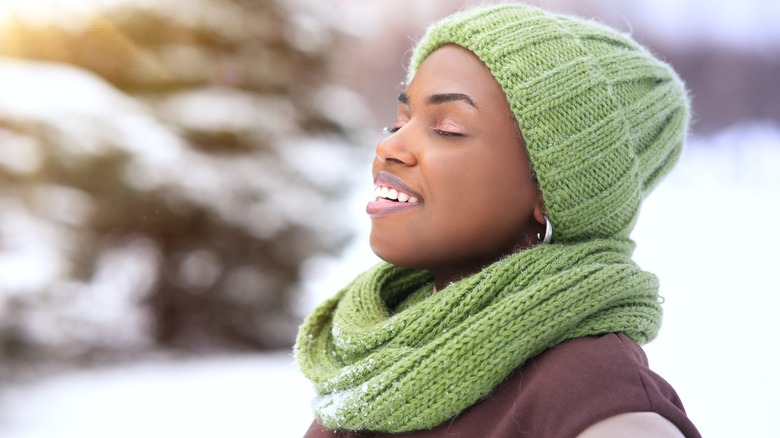 EugeneEdge/Shutterstock
As we make the transition from fall to winter, a few things need to change. There are those obvious things to update, like our clothing, our makeup choices, and even our nails. But did you know you may also need to change up your skincare routine for the new season? It's true. As Annie Christenson, a medical aesthetician at Houston Methodist, explained, "Anyone can develop dry skin during the colder, drier months of winter." In fact, a 2019 survey of 2,000 Americans, conducted by OnePoll on behalf of CeraVe, found that as many as three out of every four people in the U.S. experience dry skin in the winter. That's because cold hair naturally holds less moisture, while cranking up the heat inside can also be a major factor in why our skin has different needs over the winter.
It turns out there are actually a few things to keep in mind when it comes to keeping your skin in tip-top condition as the mercury plummets, and we're sharing some of the very best expert tips with you. Women.com spoke exclusively with dermatologist Aanand N. Geria, MD FAAD at Geria Dermatology, who shared his very best advice with us.
Get more moisture into your skincare routine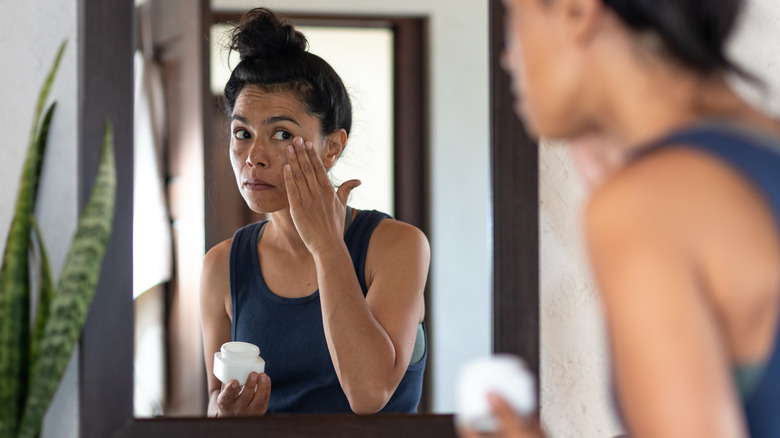 Marsbars/Getty Images
Of course, everyone's skin is unique, meaning it has its own needs. But many people in areas that get cold in the winter tend to experience drier skin as the weather gets colder. One of the very best ways to keep your skin properly moisturized is to switch out the moisturizer you've been using for most of the year for something richer. Dr. Aanand N. Geria suggested getting moisture back into the skin by using a product with a heavier texture, like a cream instead of a lotion. "[Creams] can help lock in moisture throughout the colder months," he told us, noting that the best way to really lock moisture into the skin is immediately after washing your face or body. And there are a few moisturizer ingredients you can also turn to in order to keep that winter dryness at bay. "For improved hydration, look for products that contain components like hyaluronic acid, glycerin, and ceramides," he shared.
There are other ways to get more moisture into your routine too. "Use a moisturizing mask or face oil. Lip balms with enhanced moisture can also help to avoid chapped lips," Dr. Geria suggested. And, speaking of lips, he also suggested reapplying your lip products throughout the day. If you really suffer with dry skin on the lips though, don't go peeling that dead skin away. "Instead use a nail clipper or fine scissors," he said.
Use a gentler exfoliator with milder soaps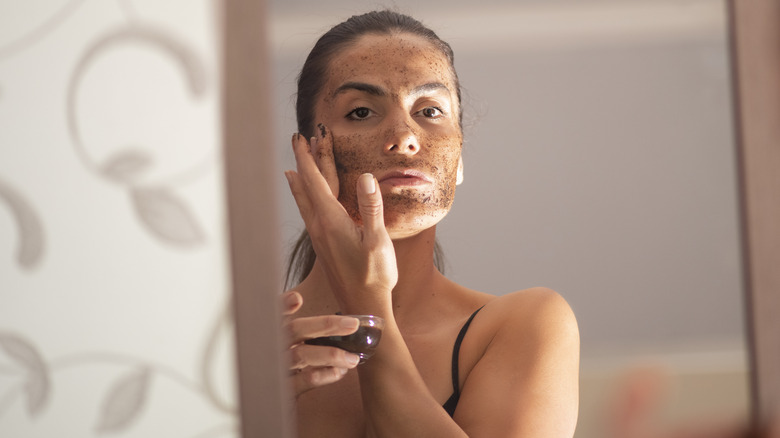 Aegeanblue/Getty Images
Another way to keep your skin as healthy as possible over the winter is to get your hands on an exfoliating product that's not as harsh as the one you may have been using throughout the year. "Exfoliants should be used less frequently in the winter because they can aggravate dry skin. If you use harsh exfoliants, such as acids, you should consider switching to a gentler variety," Dr. Aanand N. Geria told us. He also suggested reaching for a milder soap "with less foaming capability" that won't strip the skin when you use it.
But that certainly doesn't mean you should skip exfoliating entirely in the winter; your skin still needs it. "When skin is dry, the outermost skin cells do not shed off appropriately and contribute to dullness and flakiness," Dr. Blair Murphy-Rose, a board-certified dermatologist, told Skincare.com. "It's important to exfoliate thirsty skin regularly and always moisturize after. In fact, moisturizing products can penetrate better and work more effectively after exfoliation," she added. That means your moisturizer can actually be more effective after an exfoliation session.
So how often is often enough when it comes to exfoliating in the winter months? You can still do it daily, but only if you have a gentler product. "I recommend gentle daily exfoliation rather than a stronger monthly or weekly peel option," Dr. Murphy-Rose said. "Consistent use of a gentle exfoliation product can yield great results without making winter skin even more sensitive."
But you don't need to swap out your whole skincare routine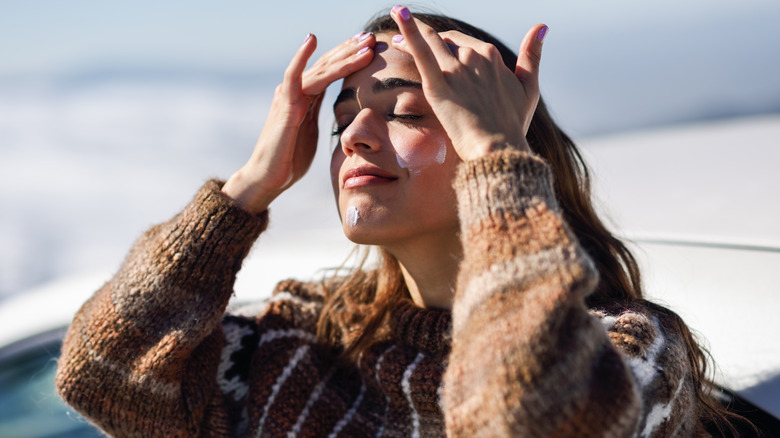 javi_indy/Shutterstock
We totally get it. You spend ages finding the right skincare products for you, working out which skincare ingredients can be layered with other products, and which ones consistently keep your skin looking its best. Having to change things up for the winter can be a somewhat annoying process, but never fear! Moving into winter doesn't mean you need to change out your entire skincare routine. In fact, there's one thing you most definitely don't want to swap out. SPF.
Though you'd be forgiven for thinking a skincare product with SPF in it is only really for those sunny summer days. That really isn't true. As Dr. Aanand N. Geria told us, "Remember to use sunscreen even in the winter, as UV rays are still present." It's incredibly important even in the winter to keep your skin protected from UV rays, which means keeping an SPF product in your arsenal at all times. Even on snow days, you're going to want that SPF. According to SunSmart, the snow can reflect up to 90% of UV rays, which will be going straight onto your face. 
The only change you may want to make in the SPF department? Getting something that's a little more moisturizing. "If you experience increased dryness as the weather gets cooler, you may want to switch to a more hydrating formula until spring," skincare specialist Dr. DiAnne Davis told Skin Ceuticals.