Solar Nails Vs. Regular Acrylics: The Differences, Explained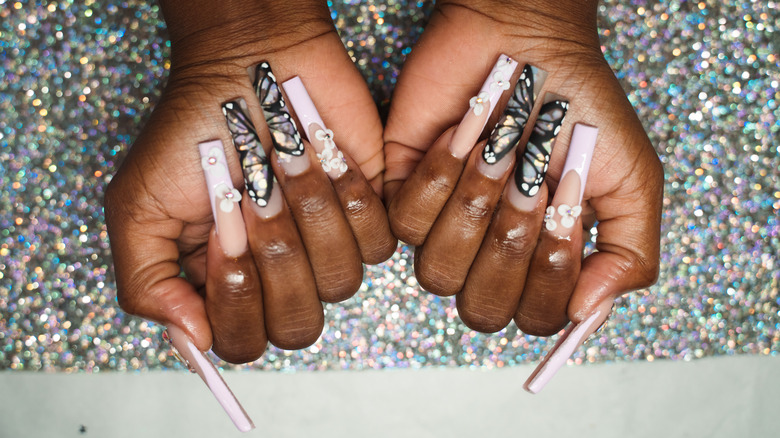 Rogina Montgomery/Getty Images
There's no one right way to do your nails. While some like to keep it simple with just a coat or two of polish, others will go for longer-lasting gel extensions and acrylic tips. Acrylics are a favorite among those who want to add some strength and length to their nails, along with gorgeous designs. When at a salon, you might've been offered "solar" nails in place of acrylic nails and wondered if there was a real difference.
For one, solar nails tend to be a bit pricier than regular acrylics. If you do find that solar acrylic nails give you better results, they might feel worth it to you. But if you don't see much of a difference between solar and regular acrylics, it's probably best to save your money and stick to a regular set. When it comes to artificial nails, it's best to consult a nail technician to discuss your options and determine which type is best suited for you.
Regular acrylic nails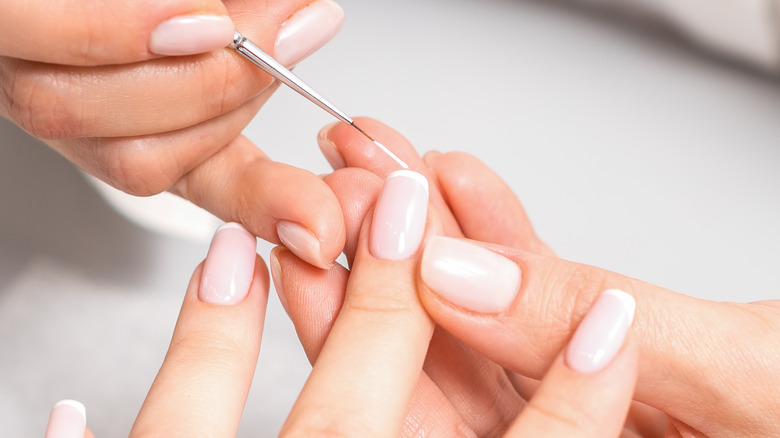 Michelle Aleksa/Shutterstock
An acrylic manicure is formed from a combination of a liquid monomer and powder polymer. The two are mixed together into a paste that adheres to the nail and can be shaped to your liking. The acrylic hardens on the nail and can then be polished however you want. After shaping it to your desire, the acrylic hardens on the nail for you to polish. Acrylic nails are great for anyone who wants some added durability, especially for longer nails.
An acrylic set can last between two weeks to just over a month, with some claiming that it can last up to eight weeks. This manicure method makes the nails look strong and healthy, allowing you to control the shape of each nail, whether you want a round, square, pointed, or almondetto nail shape. When they're ready to come off, you can go back to the salon to have them safely removed with acetone and filing tools.
Solar nails is a brand name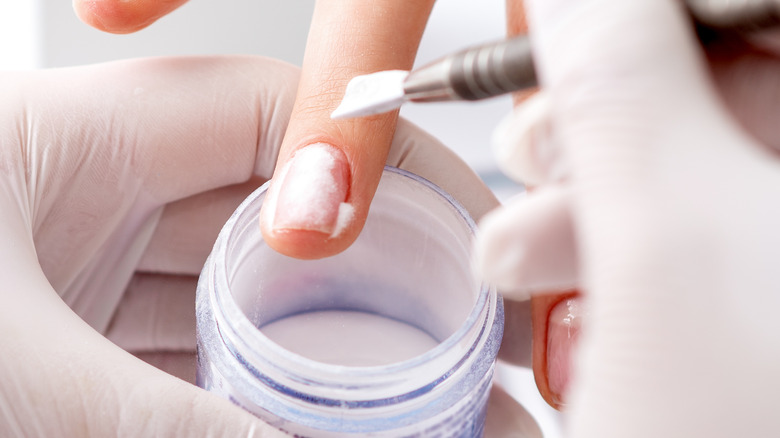 MorphoBio/Shutterstock
Solar nails are marketed as a type of acrylic nail powder and liquid. According to nail experts at Long Nails QnA, "solar" is the name of a company that carries premium acrylic nail products from the brand Creative Nail Design (CND). Some claim solar nails to be longer lasting and more natural looking, while others don't see much of a difference. 
Because CND is an expensive brand, salons may offer solar nail service at a higher price, claiming that it's the better acrylic option. Nail experts on TikTok have posted videos explaining that solar nails are the same as acrylic nails. In one video, a nail technician named @.red.valkyrie advised against a solar nail service because you'll likely be paying more for an acrylic manicure. 
In an interview with Tahlequah Daily Press, nail technician Taylor Morgan points out that "solar" products may be used with heavily pigmented acrylics. "Solar nails are still a monomer liquid. There are just two different kinds. One that dries really fast and one that doesn't — that's a solar. Solar is used for acrylic that has a lot of pigment in it, so if you want black solar nails your whole acrylic will be laid in black solar acrylic," said Morgan.