What To Wear (And What Not To Wear) To A Fall Wedding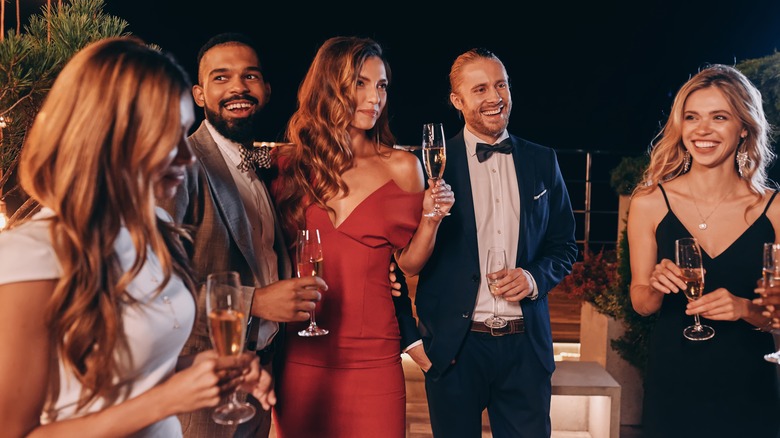 G-Stock Studio/Shutterstock
'Tis the season — for weddings! If you are beginning to count down the weeks, or even days, to the fall wedding you're going to be attending, you're likely also planning your outfit for the occasion. While spring and summer weddings lend themselves to great outfit options for wedding guests (as there is usually no shortage of sun dresses and the like available to purchase), dressing for fall weddings can sometimes feel a bit tricky, especially when you need to style formal wear for cold weather. 
Fortunately, finding wedding guest-appropriate looks suited for autumn temperatures is not an impossible feat. With some smart styling, you may even be able to repurpose your spring and summer attire for a fall wedding. If you're looking for something new to wear, you may want to consider outfit elements like fabric type and seasonal colors. 
Try a suit for a fun twist
When thinking about what to wear as a wedding guest, especially if the dress code is more formal, it's not uncommon to think of dresses first as they are typically the more accessible choice. However, choosing a suit can also be appropriate, while adding an unexpected flair to your outfit. 
From a budget and wardrobe perspective, a suit is also a great choice, as you can wear the separate pieces with other future ensembles once the festivities are over. Even if the wedding is on the casual side, a more relaxed suit may be a great option, as it can be repurposed for day-to-day workwear. However you decide to wear it, make sure you have it tailored if you're unsure of the fit. A well-tailored suit is sure to elevate your wedding guest look. 
Jewel tones are a fall fave
While spring and summer fashions are typically full of lighter colors and pastel shades, fall is usually all about bold, bright hues. Think ruby reds; warm, caramel colors like citrine; deep, sapphire blues; and vibrant emerald green. If you are not someone who wears a lot of color, a jewel tone might feel like it's way out of your comfort zone. Consider letting your skin tone guide your color choice, to help take the guesswork out of figuring out a flattering match. 
Another way to balance a jewel tone is to choose a garment with a more simple or subtle silhouette, like a satin slip dress, or a sleek, strapless number that is bold and sophisticated, without being too loud. A classic silhouette also leaves a lot of wiggle room for accessories, so you won't be limited in your options just because you've chosen a bolder color to wear. 
Opt for a closed-toe shoe during cooler months
Weather permitting, your shoe choice for a fall wedding can be fairly varied. However, as temperatures can prove to be a bit unpredictable, especially if the wedding you're attending is in a colder climate, your safest choice may be a closed-toe shoe. Let's be clear: a safe choice doesn't have to be a boring choice when it comes to shoes. There are many stunning options for closed-toe shoes that will pair well with whatever you're wearing. 
For shoes, consider the wedding venue, as that should help narrow down what would be the most practical shoe to wear. Is it indoor or outdoor? If it's outdoors, will there be a lot of grass to walk on? That could be the deciding factor if you're choosing between a slim stiletto or more of a block heel, for example. Whatever shoe you do decide to wear, one of the biggest considerations of all might be your ability to dance the night away while wearing them, so choose wisely!
The little black dress is always a safe bet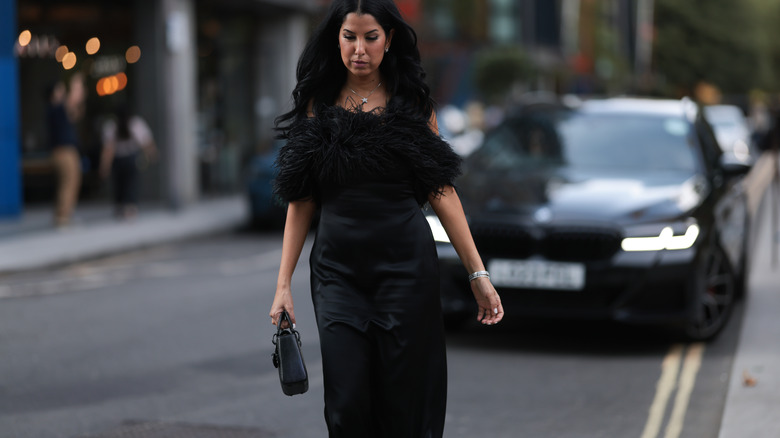 Jeremy Moeller/Getty Images
The great thing about the little black dress is that chances are, you already have one (or several) hanging in your wardrobe. This versatile and always stylish option is a great, budget-friendly choice, as black dresses are readily available at any price point. And of course, if you already own one, you likely don't need to spend much, or at all, to achieve your look. 
The little black dress is also great if you are, like many other folks, an outfit recycler. It's flexible enough that you have a lot of options when it comes to accessorizing, making it weather-appropriate, or just making it feel brand new. While the little black dress works in a multitude of wedding themes, do consider the dress code for the wedding when choosing the one you'd like to wear, as a shorter hem may not be appropriate for a black-tie affair. 
A subtle sparkle brings a festive vibe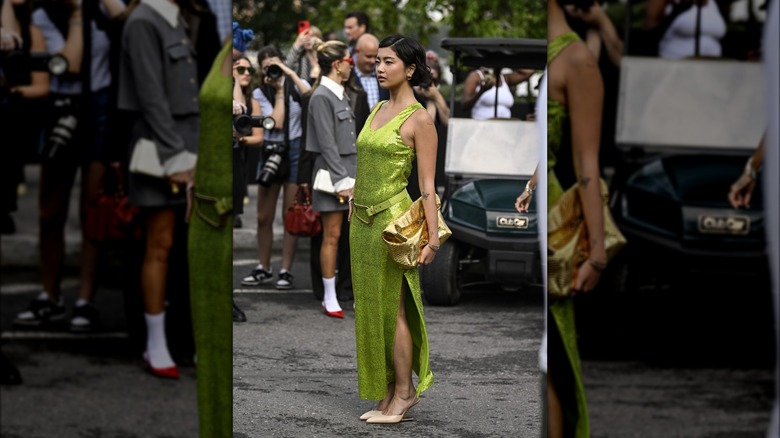 Daniel Zuchnik/Getty Images
There's something about weddings, even if you are merely a guest, that makes some people want to turn up the glam — and rightfully so, as it is one of the biggest celebrations of someone's adult life. Dressing up for an event like someone's wedding can signal that you are showing your excitement and support by presenting yourself in a way that truly honors the occasion. 
With that in mind, there are few garments that embody the idea of glamour and celebration more than a sequinned dress or gown. As a guest, you also may not want to turn up the glamour so much that it outshines the bride. To avoid this, consider sequinned garments in more neutral tones, or choose garments with a classic silhouette to offset the sparkle created by the sequins that you are wearing. 
Consider autumn-friendly fabrics like velvet
Getting dressed for a formal event like a wedding can be a bit of a pain if you're someone who opts for comfort over style or fashion. However, there are ways to dress for a fall wedding that prioritize comfort, without sacrificing fashion or style. One way to do this is by opting for fabrics and materials that lend themselves to the fall season and cooler temperatures. 
For example, finding an outfit in a velvet material will help to keep you warm while still keeping you looking cool. Velvet is such a luxe fabric as well, which also turns up the glam factor. If you do choose to wear a heavier fabric, think about opting for something with a longer hemline, as you may be able to wear a thin layer underneath for added warmth — something that may be necessary if you think that you will be spending a significant portion of the wedding celebrations outdoors. 
Spring patterns can get an autumn update
If you think about it, there are no explicit rules that prevent you from wearing a color or pattern that would be typically associated with the spring or summer season. If you want to get more use out of your spring and summer wardrobe but also want to wear an outfit that is considered seasonally appropriate for a fall wedding, there are some ways to make it happen. 
If you are simply wearing a spring dress you already own, consider creating some contrast by pairing a lighter-colored dress with a longer, formal jacket or coat that is more associated with autumn. You may also want to choose an autumn-friendly dress — like one with a long hem and sleeves, for example — in a brighter, spring or summer color or floral pattern. The pattern of the dress may suggest spring or summer, but the cut would be very appropriate for a chillier time of year.
Amp up a simple look with a fun accessory
If you're someone who likes to get the most mileage out of every piece in your wardrobe, especially clothes that do not always get a ton of wear, like formal outfits, you may be inclined to repeat your looks for a number of different occasions. While this is an economical and practical way to ensure that you are being mindful as a consumer, there may be times that wearing an outfit over and over again can lose a bit of its luster. 
Should this be the case for you, you may want to consider breathing some new life into your look by changing up the accessories you choose to wear with your clothing. For example, a fun and sparkly bag may just add the right pop of glamour to make your outfit feel and look fresh again. Accessories are also what you make of them, so if you are someone who loves to play around with makeup, switching up your beauty look can also change the vibe of your attire.
When going monochrome, choose fall colors
When most people think of a monochromatic look, they think of neutral colors like black or white. Of course, this is not the definition of monochromatic. A monochromatic look can make a bold statement or channel subtle glamour depending on the color you choose. If you choose to wear a vibrant colour in a head-to-toe look, you may be increasing your chances of turning heads at the event. However, if you are looking for more of a chic and understated wedding guest outfit, you may want to opt for a top-to-bottom look in warm neutrals, which are the perfect shades to wear for fall. This ensures that you are channeling the cool and effortless vibe of a monochromatic look, without drawing too much attention, as the focus should always be the folks who are getting married, after all. 
If a wedding has a dress code or a theme, stick to it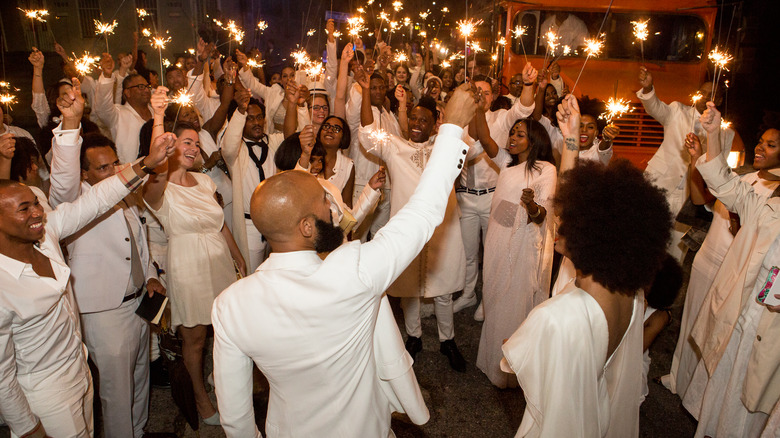 Josh Brasted/Getty Images
Solange Knowles' 2014 wedding to Allan Ferguson is proof that as a guest, sticking to a wedding theme — especially when it pertains to dress code — impacts the overall effect the newlywed couple is trying to achieve. While wearing white to a wedding is usually a resounding no-no, the iconic Knowles-Ferguson wedding shows that exceptions can be made when it comes to rocking the traditional bridal hue. 
It should go without saying that wearing white to a wedding when white is not a specifically chosen color scheme is a big faux pas. But remember, when the bride makes a clothing request for a themed wedding, consider it seriously. While wedding requests are sometimes over-the-top (or even wildly unrealistic), those are usually few and far between. Most wedding themes are generally tasteful and attainable at most price points, so you shouldn't have to worry about not looking the part at your next themed nuptials!