How To Watch Porn With Your Partner Without Making It Weird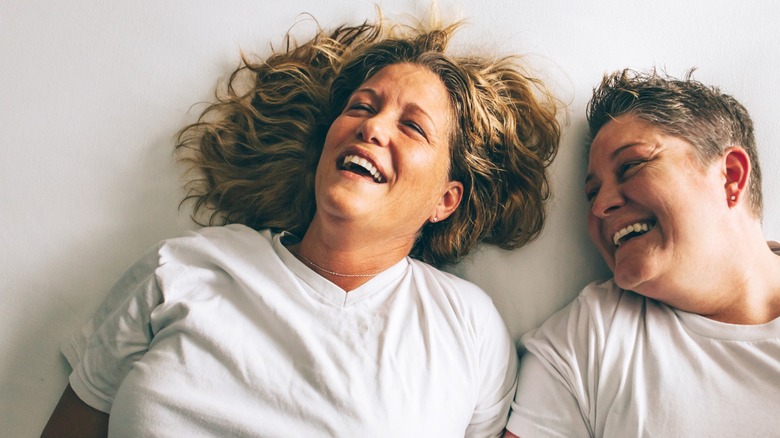 Getty Images
Using tools for sexual pleasure like toys and porn is becoming more common between partners during foreplay. Porn is fantasy — an often extremely personal endeavor. However, what might have once come between partners is now being studied as a way for couples to become more intimately connected. Adjunct research professor and lecturer Taylor Kohot told PsyPost, "Use of pornography with a romantic partner is reliably associated with better rather than worse sexual and relationship satisfaction." 
The countless methods humans have come up with to reach orgasm are relative to society, mental health, physical capabilities, and drive toward satisfying any desire. Sexuality is core to what shapes how we live, the big we — humanity. It's tied to subconscious instincts that drive our species to survive as well as serving as a foundation for many of our modern emotional, societal, and economic needs. Being open about sexual desire, fantasies, and the de-stigmatization of erotica is bringing sexual health out of collective conscious theories and into the bedroom. Are you ready to explore?
If you're unsure how to start the conversation (or perhaps you've tried and had too many failed attempts) try some of these suggestions to incorporate the porn talk into your relationship. If you haven't discussed it already, it could be a great way to share more of yourself, practice boundaries, and learn about your bodies. 
Levity and brevity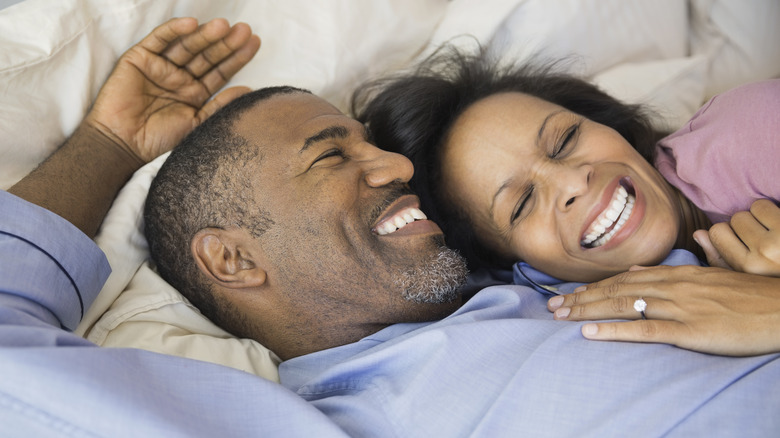 Getty Images
Whether or not you use porn regularly, bringing something new into your sexual experience can be just as exciting as it is daunting. We're used to pushing ourselves outside of our comfort zones in order to grow, and this doesn't have to be any different in our relationships and sex lives. Attitude matters.
Asking for what we want with honesty, boundaries, and confidence isn't always easy, but when it involves sex, desires are especially rooted in ways psychologists and philosophers have been trying to unlock for centuries. Pleasure, and being honest about what truly pleases us, are things that can be difficult to harness without incorporating patterns of guilt and shame from past experiences and conditioning. 
So give yourself a break! Try embracing the awkwardness and brave the anxiety you might be feeling when inviting your partner to use porn with you. Remember, levity matters. Keep it joyful and short. Say something simple like, "I've been thinking it would be fun to experiment with watching porn with you. Do you want to talk about it?" And then listen. Even if things DO get weird when you broach the topic of porn, it might be an opportunity to have a conversation about other issues that need to surface. 
They said yes, what now?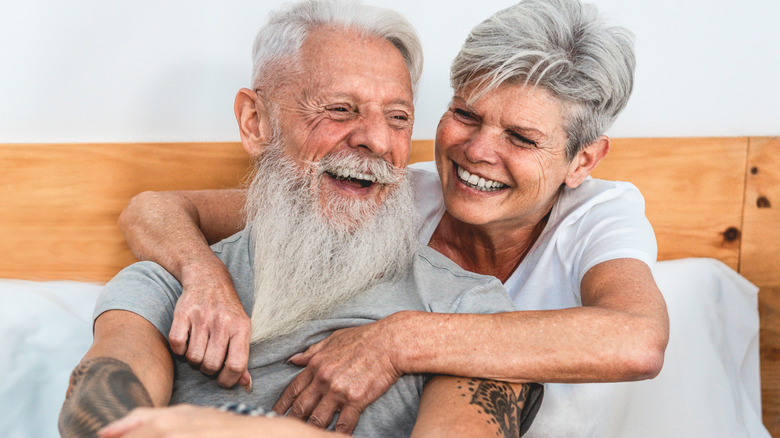 Getty Images
So you've got the "who" down on your porn-sharing adventure, but what about the "what, when, where, how" part? If you have a favorite porn that you visit frequently, start there. Ask your partner if they have one as well and if you'd both like to share "what" fantasy turns you on. There are different types of erotica and there's a variety of ways people use them in different sexual encounters. This can be overwhelming, so be sure to stick to your personal tastes.
Spontaneity helps the spice factor in relationships, but planning ahead for this particular journey might be best. Pick a time and place for "when" and "where" to share porn. Treat it like movie night or any other prepared event with a start and end time. Life's hiccups are definitely opportunities for getting closer to your partner, but this situation — even if you both are equally excited — is already fervently charged. Be responsible for your emotional well-being and give yourselves the freedom to focus and explore how you are both feeling about sex.
Give yourselves a bit of homework and decide together "how" you'd like to use porn. Would you like to watch, listen, or read it before you engage with each other or touch one another? Would you like to use porn during foreplay? Would you like to use it alone and talk about it before you engage with it together? If you're sharing a device, make sure you both are able to interact with whatever porn you choose effectively. Make sure you both can see the screen or hear the sounds or words. A cordless laptop is a simple way to go as you can position it, and your bodies, in ways that work for optimal comfort and pleasure. Take the time to discuss situations, positions, equipment, and the timing of how you'd like to explore porn. And don't forget to include what's off-limits. Plan to play, give yourselves an experience to remember, and don't forget to laugh!