The Zombie Facial Is A Wild Treatment That Will Revive Your Skin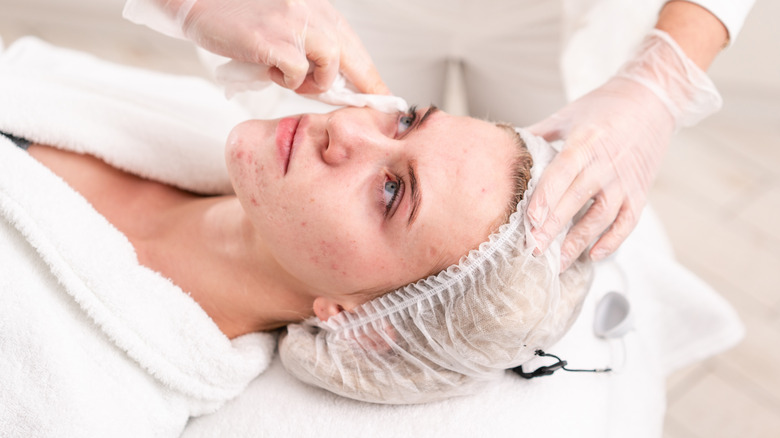 Malkovstock/Getty Images
These days, there are probably about as many skincare treatments out there as there are states in the U.S. From over-the-counter peel pads to professional microdermabrasion and more, advances in dermatology have allowed us some respite from our peskiest skincare woes. But with that has come some inventive and even unusual treatments.
DMK Enzyme Therapy, popularly known as the zombie facial, is the latest unique approach to skincare. You may have heard about it through the likes of Kim Kardashian, who shared an infamous photo post about her experience with the facial in 2018. Well, it seems in 2023, people are still lining up for the vampire facial experience. Proponents argue the scarily-named treatment can result in softer, brighter, and smoother skin, as well as rid of fine lines. Others claim it also has the potential to help reduce the appearance of wrinkles and reverse sun-damaged skin, while offering visible improvement for those with psoriasis, eczema, and rosacea.
So, clearly the zombie facial has some great benefits for those who undergo its treatment, but what exactly is it?
How DMK Enzyme Therapy works
DMK Enzyme Therapy is a type of treatment that targets the skin's blood vessels, the lymphatic system, and the muscles in your face. It varies from other treatments due to its reliance on reverse osmosis, which "is a 'back-flushing' action that forces fluids through the membrane around the cells, cleaning out all impurities," according to DMK Skincare. This process enables it to tighten, cleanse, and purify the skin by removing dead skin cells.
During the treatment, your blood vessels will dilate, meaning circulation increases. This is great for your body, but it might not look like it since this dilation results in red lines appearing on your skin (striations). The striations are actually the blood vessels and lymphs underneath your skin. Your appearance at this point in the treatment is a result of the Plasmatic Effect, which simply means "homeostasis has been established in the skin cells," according to DMK Skincare, and this visible change is the reason this method is called the "zombie" facial. Don't worry though, the red lines are only temporary. "The more striations, the better the skin's circulation," dermatology nurse and celebrity facialist Natalie Aguilar told PopSugar. "The treatment is significant because it allows us to work underneath the skin to build and repair our skin's structure and to see how our facial lymphatic and circulatory systems are performing."
The zombie facial process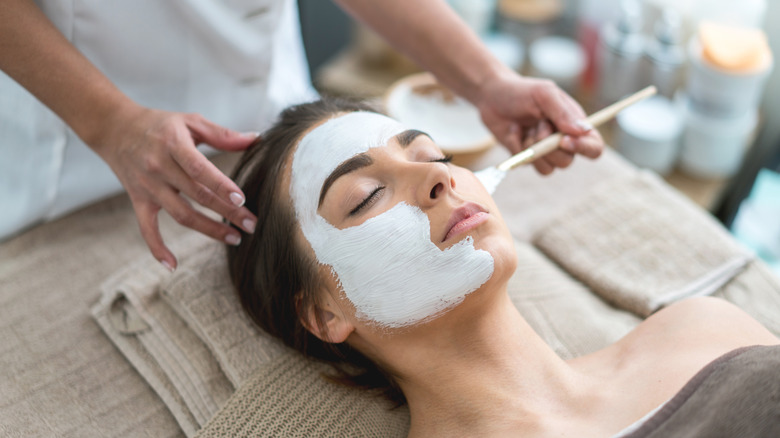 The lymphatic system, sometimes called the lymph system, removes waste and toxins in your body. Lymph vessels are just like blood vessels in the way they extend throughout your body. Some people have built-up lymph fluid, which results in acne, discoloration, clogged pores, and dry skin. The zombie facial can help with all of this. "The fact that this treatment helps with internal circulation and flushing out toxins makes it appropriate for everyone," facialist and aesthetician Sarah Ford told PopSugar.
The process of the zombie facial isn't anything overly complex, however, you do need a professional to perform it. You'll begin by having your face cleansed, followed by exfoliation. Next, they'll apply customized, pre-mask ingredients to your skin, followed by the mask itself, which is a jelly-like substance that contains enzymes. It goes on your décolletage, neck, and face. You then wait for about 45 minutes before moving to the next step, which is removal. Your skin therapist will use hot towels to massage off the mask. Once off, they'll apply moisturizer to your face to boost hydration.
While you may see improvements immediately, the best results occur after multiple treatments, usually between three and eight. "My dermatitis has completely healed, and my inflammatory breakouts have stopped," Jessica Ourisman wrote about her experience with the zombie facial for PopSugar. "There is still a slightly dry patch under the tip of my nose, but I'm so relieved that the redness and dermatitis are gone and my confidence has been restored."