Jennifer Aniston At 50 Didn't Want To Go Gray — Now She's Rocking It, And We Love The Growth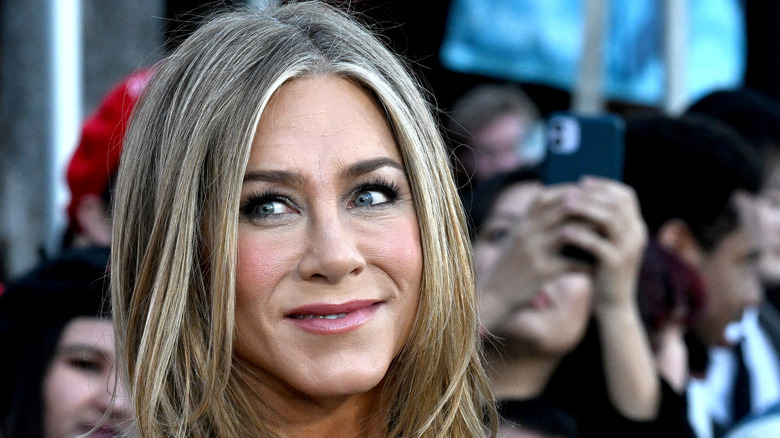 Albert L. Ortega/Getty Images
A-list actor Jennifer Aniston is perhaps best known for her on-screen talents, but one could argue that her signature sun-kissed honey-blonde locks are just as integral to her celebrity image as her impeccable acting chops. Never forget that iconic "Rachel" cut. Alas, even Aniston has — or should we say had — some misgivings when it comes to her noteworthy mane. "I'm not gonna lie — I don't want gray hair," she famously confessed to In Style in 2019. 
Fast forward to the present day, however, and it appears that Aniston has had a change of heart when it comes to going gray. During a recent promotional video for the launch of a brand new intensive repair treatment product under her haircare line, LolaVie, Aniston sported a casual half-up half-down hairdo with a few rooty strands of silver front and center. And that, friends, is what we call growth — and we're not talking about the growth of her salt and pepper roots. It's clear Aniston has developed a new attitude and lease on life regarding the whole aging process and WE. ARE. HERE. FOR. IT.
Jennifer Aniston is sending a message about aging
Going gray is okay, and growing older is even better! But don't just take our word for it. Jennifer Aniston says so too! While it's certainly pleasing to watch someone as influential as Aniston embrace her natural hair — the message she's sending about making peace with aging naturally is even more inspiring. "Beauty at any age is beautiful," she declared during a Q&A with Glamour in 2019. 
Sadly, practically everywhere we turn, women are bombarded with the idea that we should avoid growing older at any cost, or at least the appearance of growing older anyways. But just by letting her fans in on a rare moment wherein her locks weren't highlighted to perfection via her hair colorist of more than 30 years, Michael Canalé, Aniston showed other women that going gray is not only common and natural but also nothing to be embarrassed about. And while we still don't know whether or not Aniston intends to make those silvery strands part of her everyday look or was just simply in between coloring sessions, what we do know is that not even Aniston herself is exempt from the aging process. All hail Queen Aniston!