We Don't Always Love A Busy Print, But We Love Chic Snakeskin's Trending Takeover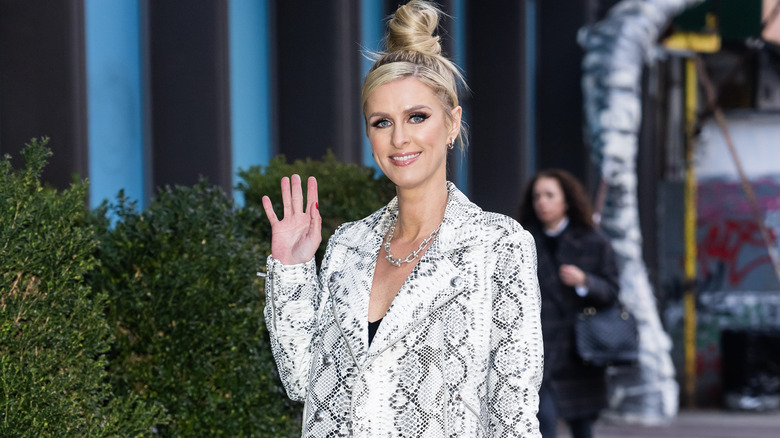 Gotham/Getty Images
With quiet luxury uniform dressing having a moment, busy prints look set to take a backseat for the next while. However, for those still looking to inject something extra into an otherwise neutral look, snakeskin is about to become your new bestie. 
While interest in snakeskin print has increased over the past few years — culminating in several brands using it as their hero pattern in 2023 — its history in fashion is a long one. As noted in one article for the "Apparence(s)" journal, the first time a snakeskin shoe was shown to the public was in 1873, in Vienna. Just under a decade later, stateside fashion lovers jumped on the trend, too. Per an Alabama publication reporting on its use in the 1880s, snakeskin had become a mainstay in, "the most elegant styles of pocket-books, portmonnaies, gentlemen's match-safes, card-cases, side bags with girdles, and fashionable trifles of all kinds." 
More than a century later, snakeskin remains in use across countless trend cycles, and there are even snake-free options available (thanksss). However, where its mammal cousin, leopard print, is used so frequently that it's often considered a neutral, snake tends to be a little less common — despite its association with luxury fashion. It's not exactly surprising, then, that in the age of luxe minimalism, snakeskin is rearing its head for a comeback ... and we're here for it. 
Keep it low-key with snakeskin accessories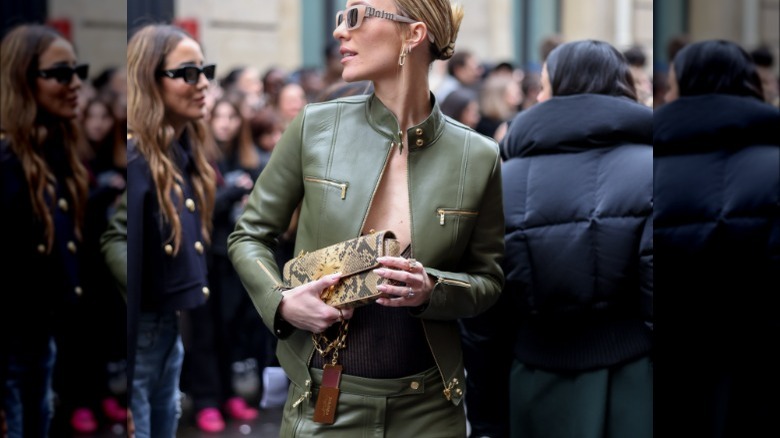 Arnold Jerocki/Getty Images
Look, not everyone is looking to live dangerously with a head-to-toe python print, and that's okay. However, the beauty of snakeskin (read: neutral snakeskin, not the neon variety) is that it can be incorporated into just about anything fairly seamlessly. 
As noted by UK handbag brand, Radley London, shoes are a great place to play with the print while keeping things low-key. Arguably one of the most demure shoe choices out there, ballerina flats get an added edge and air of sophistication when made with snakeskin print. Work-appropriate, brunch-appropriate, errands-appropriate; essentially, if you're looking for a great versatile way to wear the trend, a classic shoe style in the print is the way to go.
As for other ways to incorporate the trend without feeling like you're planning a girls' trip to the "Temple of Doom," Radley London also suggests looking into the kinds of accessories that would normally be done in leather. Needing to cinch in those baggier jeans? Forego the classic black belt in favor of a reptilian-eque revival! There's also an even simpler way to incorporate the trend, though: a handbag. Given that snakeskin has been used for bags since the 1880s, it's a tried and tested option. And, as a bonus, it's 2023 — meaning cruelty-free options abound.
... or go all out in a neutral snakeskin ensemble
Snakeskin print can certainly be subtle — but it doesn't have to be. Au contraire, for those hoping to embrace an all-serpent-everything vibe, you're in luck, because everyone from high-fashion houses to high street retailers seem to be offering the print in just about every item there is. Enough, one might even say, to try the trend from head to toe (or tail).
Headed out for an evening soiree? Try one of the other major trends of the season — a maxi dress — in the print. Otherwise, go for a full-on suit ensemble. Uniform dressing, but make it wild. Well ... if you're hoping to rock snakeskin to the office, perhaps pick either a suit jacket or the accompanying bottoms — but be sure to keep the coordinated piece close at hand for an easy transition from the office.
However you opt to try the snakeskin trend this season, try to keep things neutral. We've said it before, and we'll say it again: now's not the time to go neon. Think more polished python, less vividly violet viper. Stick to more subdued hues, for an undeniably bold, yet super sleek look — one that'll get you compliments, all summer long.