Every Woman Should Take Note Of Issa Rae's Career Advice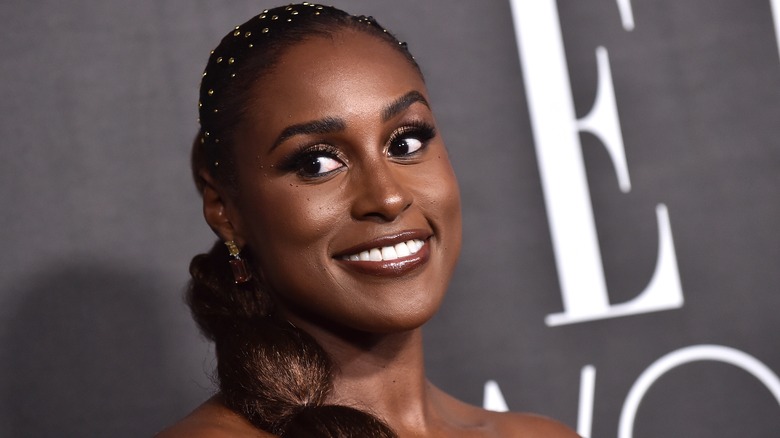 DFree/Shutterstock
In a world where women are constantly berated for being themselves, navigating your career can feel debilitating. In a recent study by the Pew Research Center, 42% of women reported that they have faced some sort of gender-based discrimination at their workplace. From TikTok's 'Kate Spade Wife' trend to the repackaged patriarchy of divine femininity, the discrimination and harassment that women face is endless. Enter Issa Rae: An unwavering advocate for women's rights.
According to Rae, community building could be a solution for women facing discrimination at work. "I tell young people [just starting out in their careers] to search for other young people who are just as hungry as they are and collaborate with one another," she explained to InStyle. "I think there's such a power in working with the people next to you and building together." In addition to her advocacy for young people going to college, Rae recently mentored four students from Howard University to create a national advertising campaign.
Issa Rae's career advice emphasizes to young people — specifically young women with underrepresented voices — that achieving success is not an easy journey, but something everyone is capable of. Rae knows first-hand what it means to be a woman in the workplace and the innate challenges that come with being in an industry dominated by men. She chooses to remind us that regardless of the challenges, women are capable of reaching their goals.
Don't be afraid to 'be a b**tch'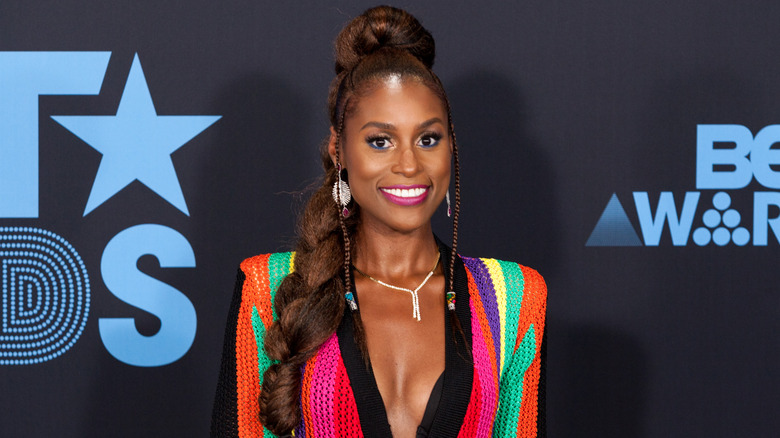 Jamie Lamor Thompson/Shutterstock
As women, being perceived as mean can feel like a nightmare. Cisgender men are often quick to use harsh language when they feel threatened by a woman, a feeling which Issa Rae tells us to push through. Rae explained to InStyle that "One piece of advice I've never forgotten from another woman is to not be afraid to be a b**ch," expanding that being mean and sharing your truth are entirely different. "Obviously, you don't have to be mean about certain things, but that fear of speaking your truth shouldn't prevent you from doing it."
Rae suggests young women not 'play by the rules,' and instead push the envelope further, little by little. For example, don't wait for someone to ask for your opinion, wear what you want to wear, and approach people before they approach you. While these can feel daunting as the youngest person in any workplace, it will ultimately make you stronger and more successful.
Finding your voice as a woman of color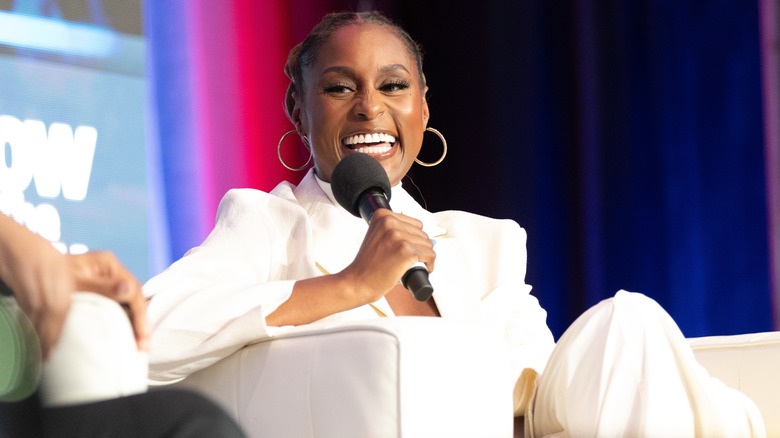 Larry Cooper Shutterstock/Shutterstock
Advocating for yourself can be scary for most young women, but especially for women of color, who only make up only 18% of entry-level positions. Rae emphasized a similar sentiment, explaining that as a Black woman, being perceived as anything other than kind is often rooted in racism. Over time, Rae has focused less on being perceived negatively and more on doing the work she loves. "I take away the fear of being labeled as [difficult]," she told CNBC. "I shouldn't have to fear that if I just want something to be great."
Learning how to be assertive at work is a learned skill that leads to effective communication, but finding your voice is half the battle. Rae is highly aware of the 'angry Black girl' stereotype, which is often paired with other racial and gender stereotypes. For young women of color, the journey through early-career opportunities isn't easy, but the fight is entirely worth it. Rae said it best: "I have so much more to say and so much more to do."