Jane Fonda's Frank Comments On Sex Are Breaking The Stigma Around Intimacy As You Age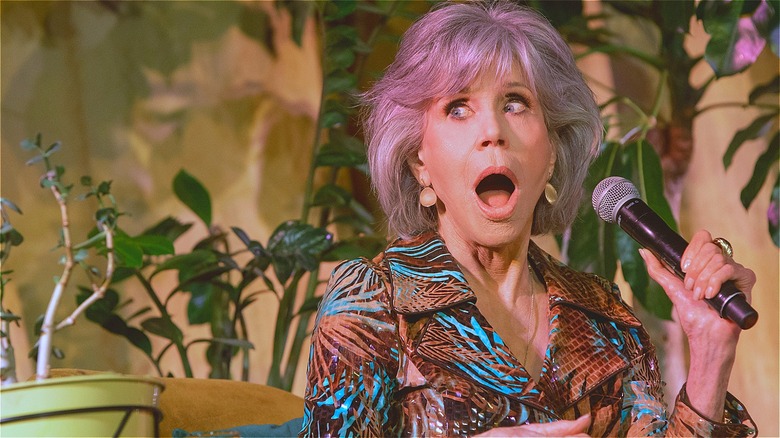 Getty Images
Jane Fonda's trailblazing opinions on feminism and fearless, oppositional commentary regarding politics are no secret. Even if her heyday was during Hollywood's peak toxic era of shallow civil rights and the objectification of women, Fonda's intrepid energy pierced the zeitgeist on screen and off. She's nothing short of legendary; an exemplary activist unafraid to "go there."
So it's no surprise that Fonda has been frank about continuing to thrive in her sacral chakra all the way into her 86th year. When asked on a "Radio Andy" SirusXM interview if her sex life had gotten better with time, she told Andy Cohen  that, "Women I think tend to get better because they lose their fear of saying what they need."
While Fonda has explained that her desire for sexual intimacy is now "solo," her ability to openly discuss her intimate life is a perfect example of the power of ending toxic shame by sharing personal experiences. In 2017, she told The Washington Post, "Life isn't over... [Masturbation] is especially useful for older women, because men die sooner than we do. And so: Use it or lose it."
Saying it like it is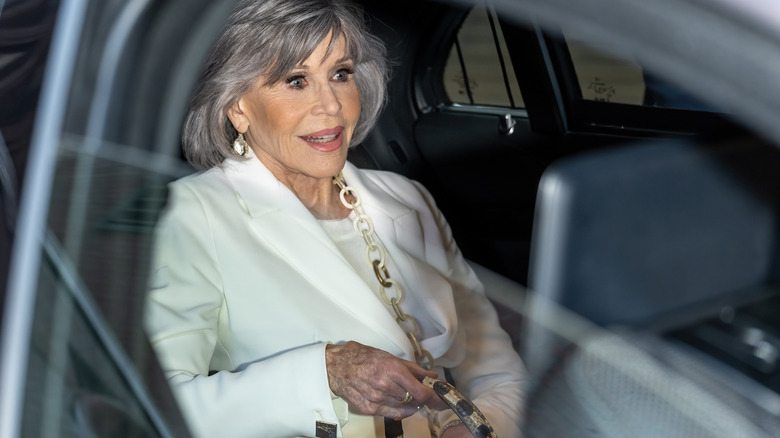 Getty Images
Even though research has shown many people remain sexually active well into their late 70s and 80s, the lack of onscreen aging couples has unfortunately fed into stereotypes that older people are physically incapable of it. That couldn't be further from the truth. Sexual desire doesn't end when Hollywood's cruel gauge for sellable "hotness" kicks in, and Fonda is well-versed in the battle against the cultural stereotypes the entertainment industry has placed on maturing women. In the Netflix series, "Grace and Frankie," the vanguard stars alongside fellow icon Lily Tomlin as two divorced, older women who start a pleasure toy business. When discussing the show, Fonda often describes her pride in her part of breaking the taboo around mature female representation and on-screen sexuality.
Being a sex-positive advocate and breaking the stigma of mature sexuality seems like it would be second-hand for Fonda. In 2017, while promoting their film "Our Souls At Night" Fonda was asked about sharing love scenes with her frequent co-star Robert Redford. As reported by Deadline, she told the interviewer, "I live for sex scenes with him" and continued gushing about her intimate feelings for Redford rooted in their many onscreen make-outs, and their profound friendship throughout the years. And she didn't say this in past-tense. She was eight decades in and discussing current Hollywood sex scenes as a charge to her libido and not just her art. '
Sex positive, shame negative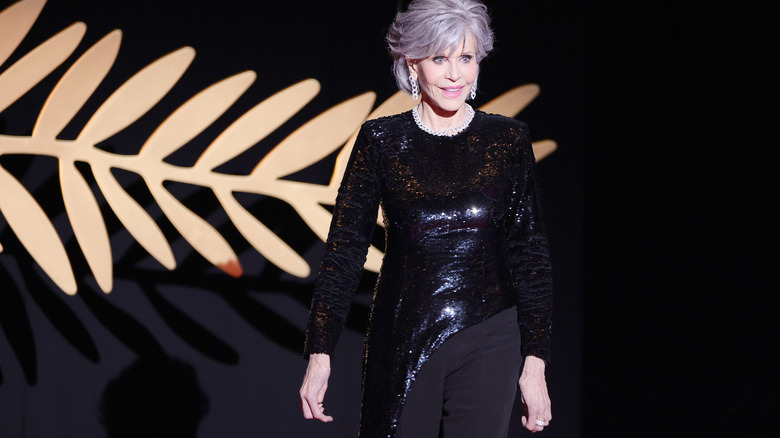 Getty Images
Mature sexual couples have little information nor representation as it is without Hollywood's potentially condescending influence on the novelty of it all. When Emma Thompson famously stared at her own, older naked body in the 2022 film "Good Luck to You, Leo Grande," some saw this as commentary on self-love and acceptance, while others looked at the scene as a battle against agism and promoting body-positivity. As obsessed as our culture might be with sex, it's disconcerting that an aging nude body and its ability for desiring sexual intimacy would make headline news on the entertainment cycle for so long. The bravery of exposing something that's literally happening to each and everyone of us at any given moment: aging. 
Beyond perpetuating stereotypes, misrepresentation can have deep psychological effects on our society. "Symbolic annihilation" is a term coined in the '70s by George Gerbner who contributed to studies regarding the social disempowerment that can occur from persistently poor representation on certain groups. Writer Aaron Rahsaan Thomas says, "lack of inclusion sends a hostile message, whether intended or not." Per The Lancet, one consequence of this has been that elderly people are less likely to speak up about sexual health issues with their doctors.
Fonda has no problem looking a "normative" in the face and questioning its authority over our lives, and the way she talks about the realities of mature sex and aging bodies is yet another stigma she's helping dissolve. She has even admitted that portraying Grace in "Grace and Frankie" helped her face her own insecurities as a sexually active, mature woman. In an interview with Harper's Bazaar, Fonda spoke honestly about her (and many of our own) end-of-life fears saying, "It's not the getting old part. It's the finiteness of third acts."